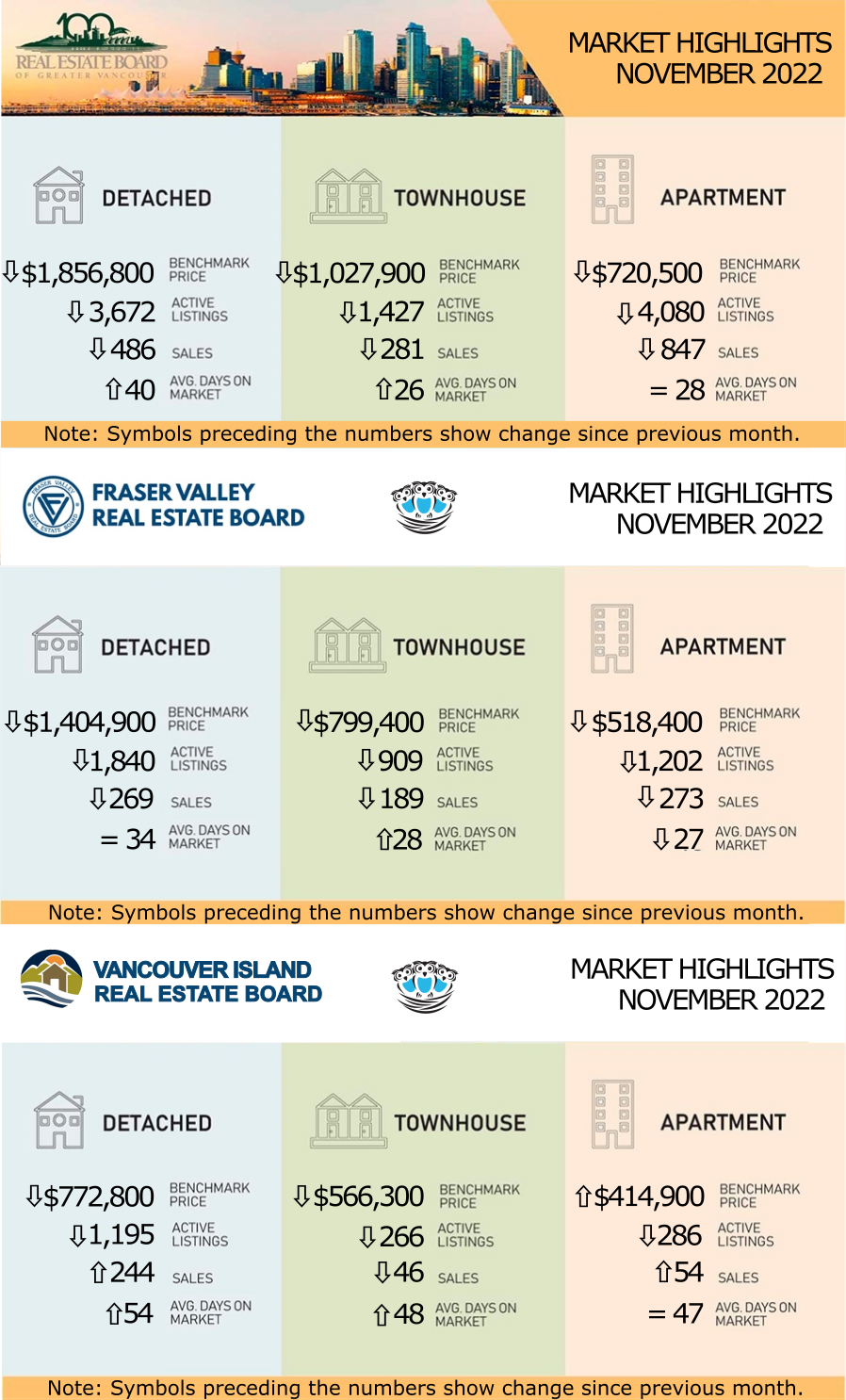 We hope that everyone survived the wind and snowstorms of the last few weeks. Reading about the incredible misadventures of commuters just trying to get home was pretty sobering. Spending over 12 hours in their car, potentially running out of gas, and fighting hunger and other basic needs was just one of the stories I heard of someone that had the misfortune of living on the other side of a bridge. 

In real estate news, most of you have probably heard about a very swift change in BC laws that brought about the end of rental and age restrictions in strata properties, with the exception of 55+ and higher stratas. Bylaws restricting short-term rentals, such as AirBnB, though, will continue to be allowed. The change was proposed on November 21st and passed with immediate implementation on November 24th, catching many people by surprise. We were contacted by a number of our clients whose buildings are currently considering implementing a 55+ restriction. 
Normally, 55+ buildings sell for slightly less in the marketplace because there is a smaller pool of buyers available to bid up the price. That may change now, as they will be the only buildings that will be able to exclude families with children.
Of course, this change in the rental rules will not be an overnight change in many stratas, as it would still mean that an owner would have to move out to make way for a tenant, or for the property to change hands to an investor who will subsequently rent the property. Even in the busiest of markets, the change will be gradual. In our current slow market, the change will be glacial.
In a recent article, Vancouver has been included in a report of the 100 best cities in the world, sharing that list with four other Canadian cities: Calgary, Montreal, Toronto, and Ottawa. Vancouver landed in the 69th spot on the list, described as the "most Asian city out of Asia" that is "smart" and "gorgeous" but extremely expensive. "In one day, locals can work in a downtown office and then hit the slopes or enjoy a mountain bike run within an hour or two. Vancouver's international appeal is also clear because it is " safe, smart (the University of British Columbia ranks #18 globally) and socially minded (Income Equality ranks #20)." See the full article here: 
ARTICLE
  Regardless of the rankings and methodology, the article does have some beautiful pictures from the 100 top cities.
Now, on to the market reports...
REBGV: HOME SALE AND LISTING ACTIVITY CONTINUE TRENDING BELOW LONG-TERM AVERAGES IN NOVEMBER
While typically a quiet month of market activity based on seasonal patterns, November home sale and listing totals lagged below the region's long-term averages.
"With the most recent core inflation metrics showing a stubborn reluctance to respond significantly to the furious pace of rate increases, the Bank of Canada may choose to act more forcefully to bring inflation back toward target levels." Andrew Lis, REBGV's director, economics and data analytics said. "While it's always difficult to predict what the bank will do with certainty, this persistent inflationary backdrop sets up the December 7 rate announcement to be yet another increase, making holiday-season home purchases something many people may end up foregoing this year."
"Heading into 2023, the market continues the trend of shifting toward historical averages and typical seasonal norms," Lis said. "Whether these trends continue will depend on looming economic factors and forthcoming housing policy measures on the horizon, which hold the potential to reignite uncertainty in our market."
"With that said, from a long-term structural standpoint, the current pace of listings and available inventory remain relatively tight when considered against a backdrop of continued in-migration to the province. With the recently announced increase in federal immigration targets, the state of available supply in our market remains one demand surge away from renewed price escalation, despite the inflationary environment and elevated mortgage rates."
LINK to the November 2022 REBGV statistics.
FVREB: NEW LISTINGS LAG AS FRASER VALLEY REAL ESTATE MARKET SEES THIRD MONTH OF DECLINING SALES
With sales down almost 7% from October, and new listings off by more than 20%, the Fraser Valley housing market continues its slowing trend heading into the holiday season. Despite the market slowdown, opportunities are available, as evidenced by brisk turnover time frames.
"The trends we've seen over the past several months will likely continue through to year-end," said Sandra Benz, President of the Fraser Valley Real Estate Board. "While rate hikes have effectively put many buyers and sellers in a holding pattern, we're still seeing relatively quick turnover for all housing categories, indicating robust opportunities for properties that are strategically priced."
"The market continues to tighten in response to rising interest rates," said Board CEO Baldev Gill. "As a result, individuals are facing additional levels of uncertainty regarding the decision to buy or sell a home, underscoring the importance of seeking advice and guidance from a local REALTOR® to mitigate the risks involved."
LINK to the November 2022 FVREB statistics.
VIREB: CONTINUING INVENTORY GAINS POSITIVE SIGN FOR NEW YEAR
"Our statistics indicate that active listings are nearing our 10-year average, which is a positive development and good news for buyers," says Erica Kavanaugh, 2022 VIREB Chair. "Lack of inventory contributed to the creation of a long-standing sellers' market that presented many challenges for our buyers, particularly those purchasing a home for the first time."
Although the scale of year-over-year price increases has decreased, it still costs more to buy a home in the VIREB area than in November 2021.
LINK to the November 2022 VIREB statistics.
The Stats Centre Reports for the REBGV for November are available now on our website at this link under the 

"BLOG AND STATS" heading

.  They are automatically updated every month on our website as they become available

. LINK 
Note that you may have to refresh the screen a few times until all the reports come up. This is a problem with the Real Estate Board website.