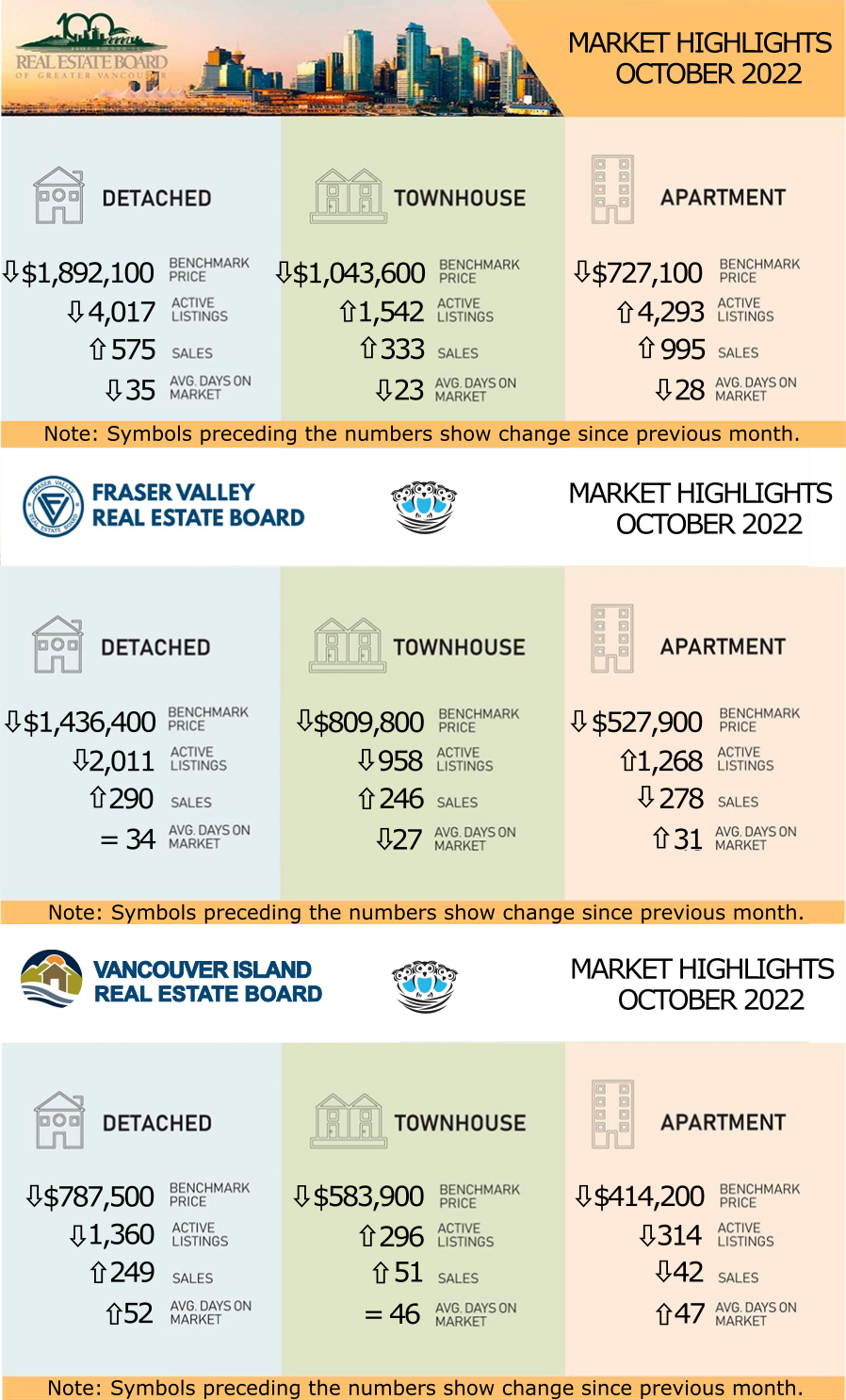 We hope that everyone came out of the recent windstorm unscathed. Driving around, we saw lots of uprooted trees and some fences and signs that had been blown about. We lost power for over 24 hours, but there are others that are still without power from the storm! 
This recent storm has made us really appreciate the linemen and women that were furiously repairing all the downed lines and replacing fuses and transformers in the middle of the night in order to restore our power. As well, the storm has caused us to rethink our level of preparedness for the next one.
Here's a link to a government website that can help us ensure that we aren't caught flat-footed this time:
LINK
I'd also add that, if you have some room, it would be worthwhile to fill an empty milk jug to about 80% full and put it in your freezer. 
Now, on to the market reports...
REBGV: INFLATION, RISING INTEREST RATES CREATE CAUTION ACROSS METRO VANCOUVER'S HOUSING MARKET
Home sale activity across the Metro Vancouver housing market continued to trend well below historical averages in October.
"Inflation and rising interest rates continue to dominate headlines, leading many buyers and sellers to assess how these factors impact their housing options," Andrew Lis, REBGV's director of economics and data analytics said. "With sales remaining near historic lows, the number of active listings continues to inch upward, causing home prices to recede from the record highs set in the spring of 2022."
"Recent years have been characterized by a frenetic pace of sales amplified by scarce listings on the market to choose from. Today's market cycle is a marked departure, with a slower pace of sales and more selection to choose from," Lis said. "This environment provides buyers and sellers more time to conduct home inspections, strata minute reviews, and other due diligence. With the possibility of yet another rate hike by the Bank of Canada this December, it has become even more important to secure financing as early in the process as possible."
LINK to the October 2022 REBGV statistics.
FVREB: HOUSING PRICES REMAIN SOFT, SALES FLAT, THROUGHOUT THE FRASER VALLEY
Fraser Valley housing market sales for October remained relatively unchanged from last month as prices dipped slightly across all categories.
With a sales-to-active listings ratio of 16%, the overall market was again balanced for the fifth straight month after a prolonged sellers' market earlier in the year. (The market is considered balanced when the sales-to-active listings ratio is between 12% and 20%.)
"These trends suggest that the market is looking to re-establish equilibrium in the wake of last year's intense activity and in the face of continued interest rate pressures," said Sandra Benz, President of the Fraser Valley Real Estate Board. "With sales continuing to lag and new inventory slow to come on stream, we're seeing a holding pattern regarding whether to buy or list a property and expect this to continue through to year-end."
Prices continued to soften, with month-over-month Benchmark prices down slightly across all property categories. For detached homes, prices are on par with October 2021 levels, while townhomes and apartments are up 7.7% and 11.5%, respectively, over 2021.
"With interest rates at their highest levels since 2006, it's understandable that buyers and sellers are hesitant," said Board CEO Baldev Gill.
LINK to the October 2022 FVREB statistics.
VIREB: HOUSING MARKET QUIETS AS YEAR-END APPROACHES
"More inventory and weaker demand mean it's a perfect time to buy. Well-priced and well-maintained properties are still generating multiple offers and selling briskly, but the market has shifted from the heated conditions REALTORS® saw for much of the year," says Erica Kavanaugh, 2022 VIREB Chair.
"Buyers and sellers need to be realistic and flexible about prices, and a local REALTOR® can help develop a winning strategy no matter which side of the real estate transaction you occupy." Kavanaugh adds that the underlying supply issues contributing to low inventory and high prices are still factors working behind the scenes; they've just taken a back seat for now." On the surface, it looks like the market is levelling out, and additional inventory is certainly good news for buyers. But active listings are still not where they need to be," notes Kavanaugh.
In October 2013, there were 2,362 single-family homes for sale. Every year since then, except for 2018 and 2019, active listings dropped from the previous year, reaching a historic low of 394 in 2021. So, it will take a substantial decrease in demand or a significant increase in supply to achieve healthy inventory levels that can accommodate Vancouver Island's expected population growth in the coming years.
LINK to the October 2022 VIREB statistics.
The Stats Centre Reports for the REBGV for October are available now on our website at this link under the 
"BLOG AND STATS" heading
.  They are automatically updated every month on our website as they become available
.
LINK
Note that you may have to refresh the screen a few times until all the reports come up. This is a problem with the Real Estate Board website.