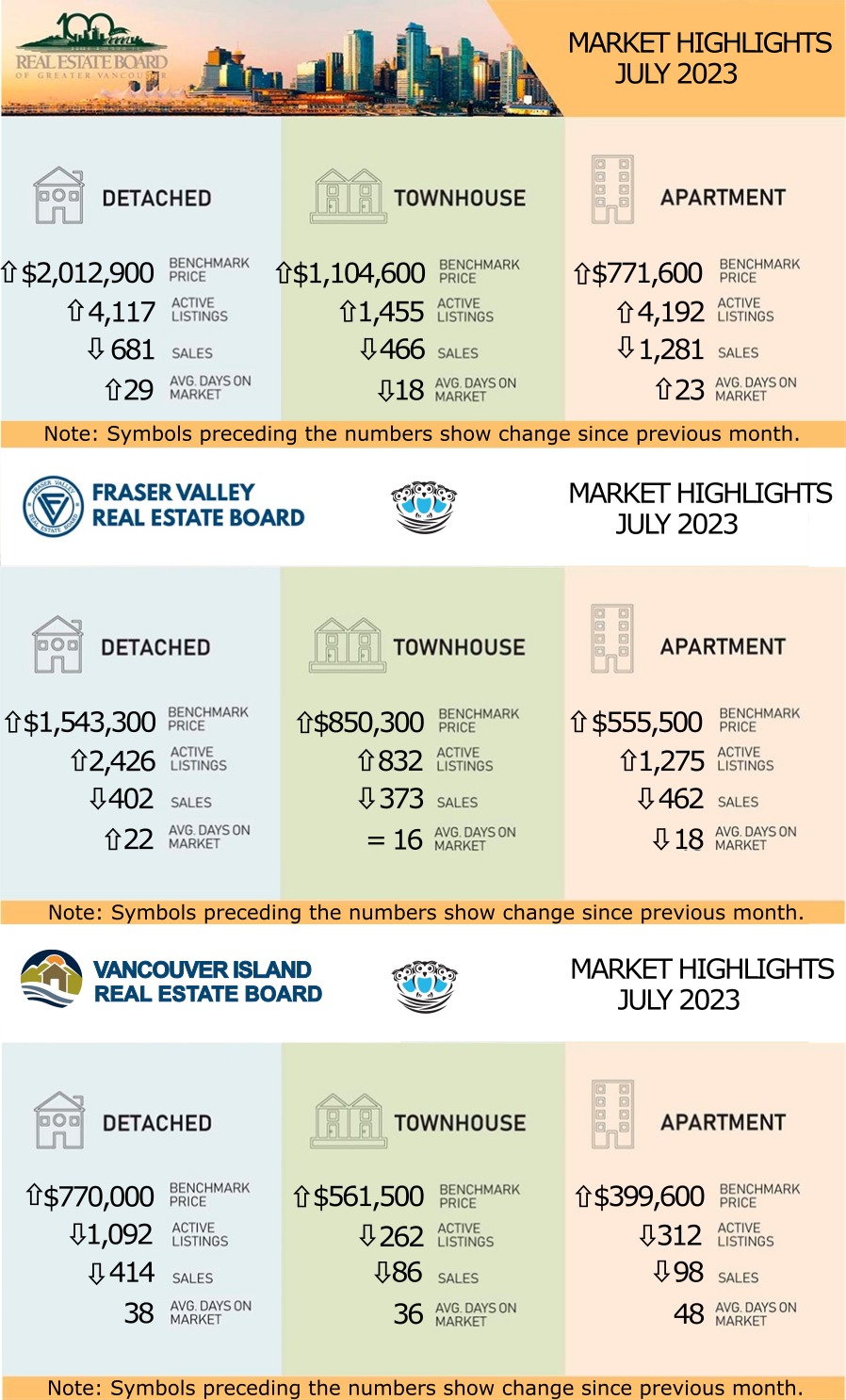 THE REAL ESTATE MARKET OF 2023 TO DATE
In January 2023, Greater Vancouver experienced a notable shift in the real estate market with house prices increasing for the first time in eight months. This price decline was a consequence of seven rate hikes by the Bank of Canada, which led to a 10-20% drop in home prices, with even higher declines in the Fraser Valley. Many homeowners refrained from listing their properties, waiting for the market to recover, and Canadian banks extended amortization periods to help new homeowners cope with financial pressures, avoiding the expected flood of panic sellers.

Low inventory levels and pent-up buyer demand resulted in an unexpectedly active market. The Bank of Canada's decision to pause rate hikes in March sparked positive sentiment, leading to multiple offers and continuous home price increases for six consecutive months, with at least a 7% rise in the MLS index.

However, in June and July, the Bank of Canada surprised the market by raising rates by a cumulative 0.5%, reaching a 5% overnight rate—the highest rate since 2001. Fixed rates also increased by over 1%, significantly impacting buyers' monthly payments.

Furthermore, the real estate market faced significant influences from immigration. The Canadian population grew by nearly 1.2 million individuals in the past year, three times the 10-year average. BC experienced a remarkable surge in population, with a growth rate of 2.8% in 2022, the highest since 1996. This influx of people, particularly renters, contributed to the current rental crisis.

This July, new listings increased by 12% year-over-year and inventory levels have remained at their lowest in the past decade, down 4% year-over-year. Condo prices turned positive year over year for the first time since late 2022, and new home construction, especially in the rental segment, saw a notable increase of 15% in just six months. This means that houses on the lower end of the market that have the vast majority of their value in the land will be prime targets for builders. This will increase competition for those homes.

As the market entered the summer season, sales were expected to slow down by 10-15%, and if rates remained high for an extended period, downward pressure on prices was anticipated. This didn't happen as there has been a rush to purchase for those buyers that have an expiring mortgage rate hold. Waiting could mean a higher monthly mortgage cost if rates continue to rise.
Overall, the real estate landscape in Greater Vancouver has been influenced by various factors, from interest rates to population growth and inventory levels, shaping the market's dynamics.
REBGV: STRONG SALES PUSH METRO VANCOUVER HOME PRICES PAST THE RATE HIKE IN JULY

Home prices across all home types in Metro Vancouver rose again in July, as strong sales figures continue to push up against low levels of housing inventory in the region.

"While sales remain about 15% below the ten-year average, they are also up about 30% year-over-year, which is not insignificant," Andrew Lis, REBGV's director of economics and data analytics said. "Looking under the hood of these figures, it's easy to see why sales are posting such a large year-over-year percentage increase. Last July marked the point when the Bank of Canada announced their 'super-sized' increase to the policy rate of one full percent, catching buyers and sellers off guard, and putting a chill on market activity at that time."

"What's interesting to see in the current market environment is that, while the Bank of Canada rate hike this July was only a quarter of a percent, mortgage rates are now at the highest levels we've seen in Canada in over ten years," Lis said. "Yet despite borrowing costs being even higher than last July, sales activity surpassed the levels we saw last year, which I think says a lot about the strength of demand in our market and buyers' ability to adapt to and qualify for higher borrowing costs."
LINK to the July 2023 REBGV statistics.
FVREB: SEASONALITY, INTEREST RATES TEMPER SALES IN THE FRASER VALLEY
After five months of successive increases, real estate sales in the Fraser Valley dropped in response to a combination of continued rising interest rates and the summer sales cycle.
"Summer is typically a slower period for the real estate sector and the higher interest rates are contributing to the market slowdown," said Narinder Bains, Chair of the Fraser Valley Real Estate Board. "We're seeing less traffic and fewer multiple offers as buyers and sellers put a pause on decisions and we expect this trend to continue until the fall cycle."
"With rates at their highest levels in over 20 years and inflation still elevated, buyers and sellers are taking time to reevaluate their objectives," said FVREB CEO Baldev Gill. "As housing options begin to take center stage on the Provincial agenda, consumers will want to consult a professional REALTOR® for a detailed picture of the market in their communities and to stay up to date on upcoming changes that may impact their decisions."
LINK to the July 2023 FVREB statistics.
VIREB: STEADY SALES MAKE FOR A BUSIER-THAN-USUAL JULY
"We're busier this summer than is typical despite rising interest rates," says Kelly O'Dwyer, 2023 Chair. "After a rate increase is posted, clients tend to pull back and sit for a bit, but then the desire to buy takes precedence. Consumers tend to be resilient and are determined to find a way to make things work." O'Dwyer notes that while multiple offers are still happening, they tend to be on well-priced properties. "Some sellers of higher-end properties are sitting on a preconceived price they're expecting to get based on last year's numbers," adds O'Dwyer. "They're not recognizing that market conditions have changed, at least for now."
LINK to the July 2023 VIREB statistics.