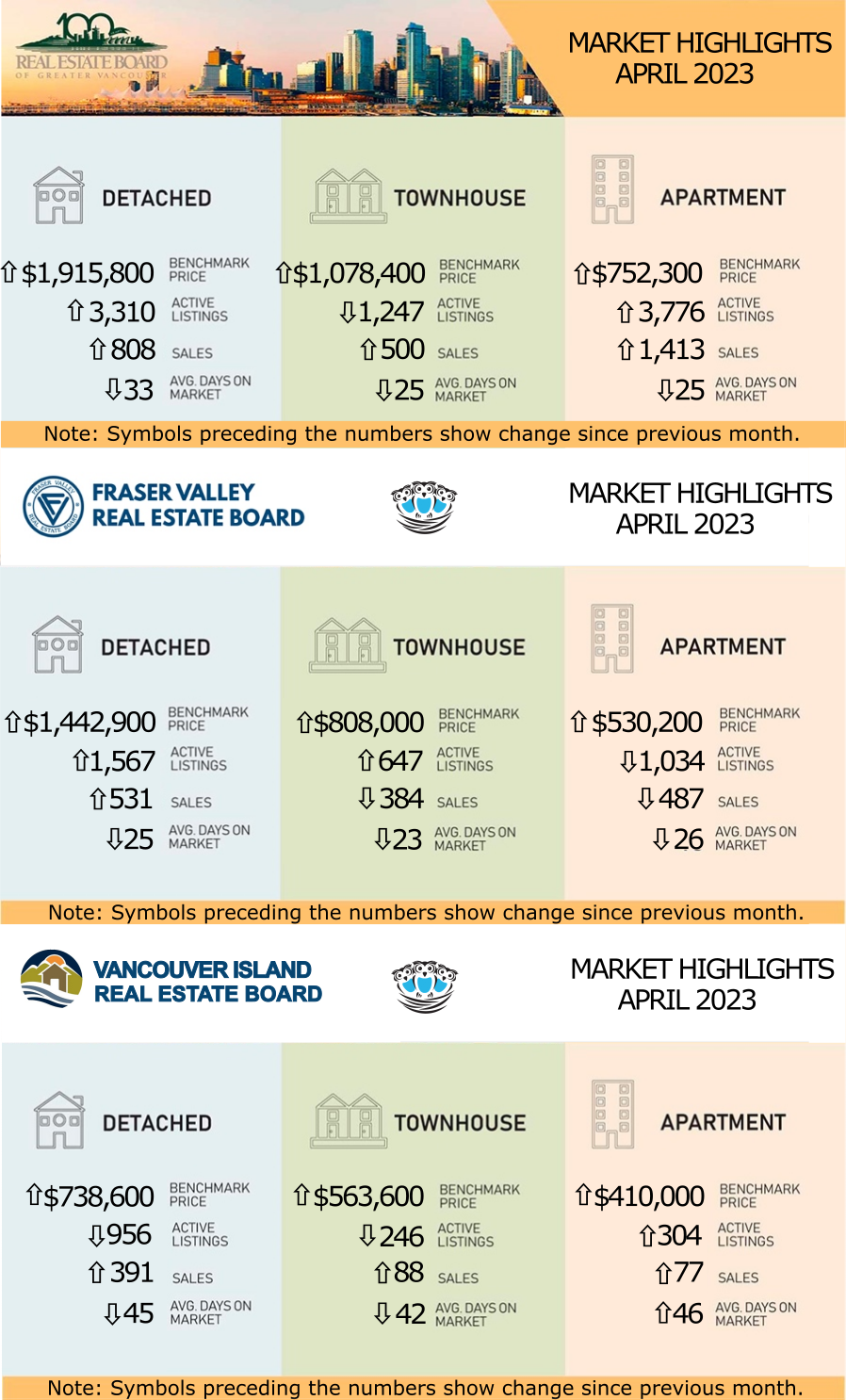 The cork in the bottle of buyer demand here on the West Coast has finally popped. This can be seen by looking at the average sale price of all properties sold in April, which is 99.2% of the asking price. This means that that there are many properties that are selling for over their asking price. This might also imply that sellers have become more pragmatic about their profit expectations.

The current housing market is experiencing high demand, which has led to limited inventory of available properties. However, this presents an opportunity for sellers to receive competitive offers and potentially sell their property quickly. For buyers, although the market may be challenging, there are still less buyers in the market than there would be in an average year, as some buyers are still being kept out of the market because of the high mortgage rates and qualification criteria.
REBGV: PRICES CONTINUE RISING ACROSS METRO VANCOUVER AS HOME BUYER CONFIDENCE RETURNS
With listing activity remaining below historical norms, home sales in Metro Vancouver have mounted a surprising comeback, rising near levels seen last spring, before eight consecutive interest rate hikes eroded borrowing power and brought home sales activity down along with it.
"The fact we are seeing prices rising and sales rebounding this spring tells us home buyers are returning with confidence after a challenging year for our market, with mortgage rates roughly doubling," Lis said. "The latest MLS HPI® data show home prices have increased about 5% year-to-date, which already outpaces our forecast of 1 to 2% by year-end. The year is far from over, however, and it remains to be seen if these price increases will be sustained into 2024."
"When we released our market forecast in January, we were one of the only organizations taking the contrarian view that prices were likely to appreciate in 2023," Lis said. "And what we're seeing unfold so far this year is consistent with our prediction that near record-low inventory levels would create competitive conditions where almost any resurgence in demand would translate to price escalation, despite the elevated borrowing cost environment. At the crux of it, the issue remains a matter of far too little resale supply available relative to the pool of active buyers in our market."
The MLS® Home Price Index composite benchmark price for all residential properties in Metro Vancouver is currently $1,170,700. This represents a 7.4% decrease over April 2022 and a 2.4% increase compared to March 2023.
LINK to the April 2023 REBGV statistics.
FVREB: MSPRING SALES HOLD STEADY IN FRASER VALLEY REAL ESTATE MARKET
Despite persistent inventory shortfalls, housing sales in the Fraser Valley remained steady in April as buyers took advantage of the continued pause in interest rate hikes.
"Buyers are continuing to find opportunities in the Fraser Valley, even in the face of lower inventories," said Narinder Bains, Chair of the Fraser Valley Real Estate Board. "With prices remaining strong, we expect to see inventories increase over the coming months as sellers seek to capitalize on price growth after sitting out for so long."
"Our members are starting to see a rise in multiple offers on properties as the spring market kicks in," said Board CEO, Baldev Gill. "With the heightened activity, many homeowners are asking: is now the right time to buy or sell? There is no simple – or single – answer to this question, but a wise first step would be to consult with a professional REALTOR® to determine the best path to meet your personal objectives."
LINK to the April 2023 FVREB statistics.
VIREB: BUYERS TAKING MEASURED APPROACH IN SPRING MARKET
"We're seeing a lot of positivity among buyers, but they're taking a more thoughtful approach this spring compared to last year, when the fear of missing out contributed to a frenetic market," says Kelly O'Dywer, 2023 Chair. She notes that a "perfect storm" of factors last year – including record-low supply, historically low mortgage rates, and lifestyle changes resulting from the COVID-19 pandemic – fuelled dramatic price increases and highly competitive real estate transactions.

"It isn't a balanced market yet, largely because inventory is still lower than what's needed on Vancouver Island," says O'Dwyer. "But prices are down board-wide from last year, so homes are definitely more affordable this spring."

O'Dwyer says that sellers must recognize their home isn't going to fetch the same amount of money that it would have last year but cautions buyers not to expect large price decreases. If demand continues at the current pace or escalates, there will be upward pressure on home prices. From March to April, single-family homes, condo apartments, and row/townhouses posted modest price increases in several zones.
LINK to the April 2023 VIREB statistics.