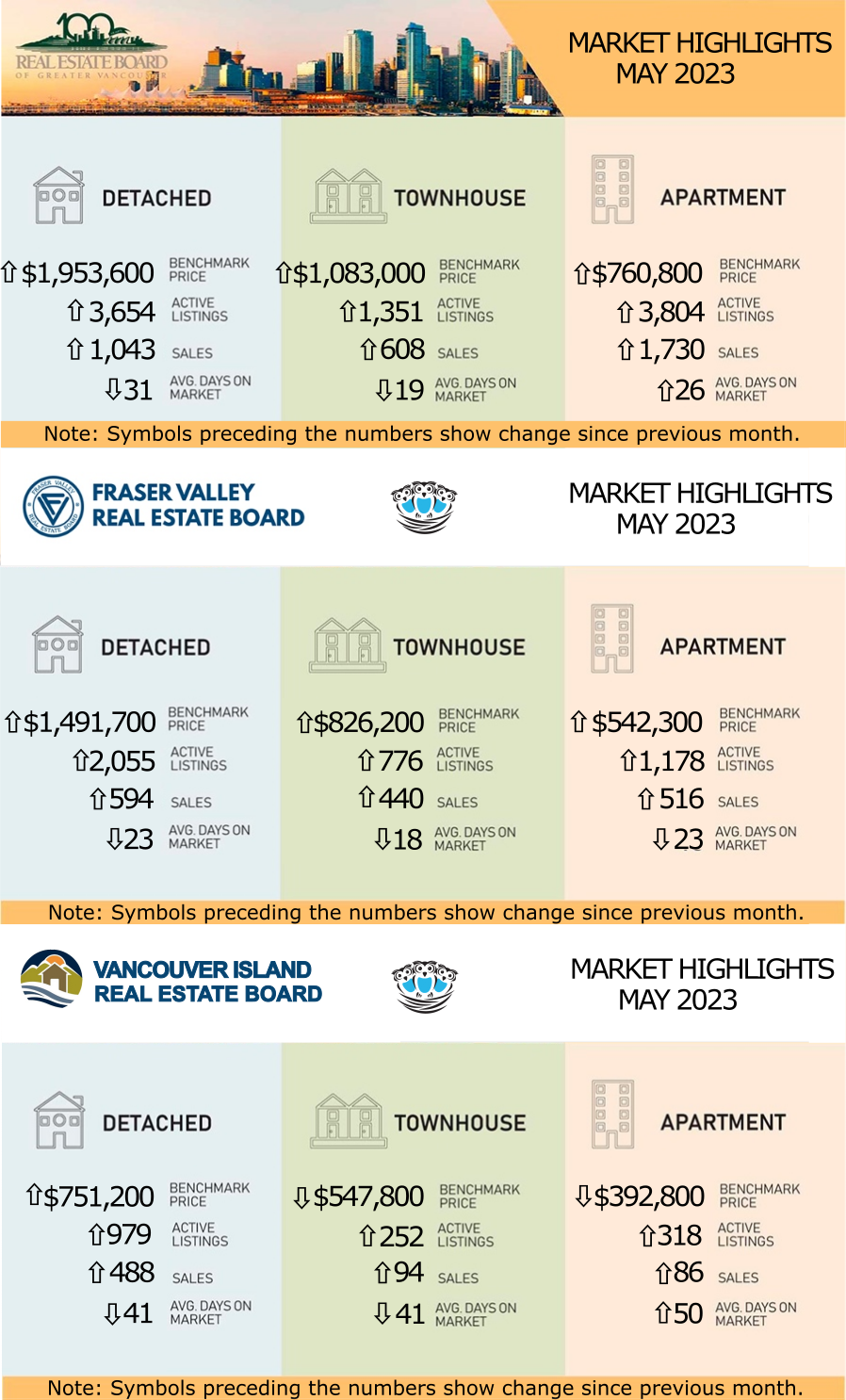 In May, there has been a noticeable increase in activity within the real estate market. Properties that are priced appropriately are garnering significant attention, leading to the resurgence of multiple offers. It's worth reminding potential buyers that the current prices are still generally lower than a year ago.

Since this time last year:
Condos are down 3%
Townhouses are down 7%
Houses are down 9%

Despite the recent 25-point interest rate hike announced today, we expect that prices will continue to rise and that buyer interest will remain high. This high buyer activity Current prices remain relatively lower compared to the prices from a year ago. This indicates that the market has adapted to the current interest rates, and there are no immediate expectations for a reduction in rates.
REBGV: COMPETITION AMONG BUYERS IN METRO VANCOUVER'S HOUSING MARKET HEATS UP AS SUMMER ARRIVES
While the year started slower than usual, Metro Vancouver's housing market is showing signs of heating up as summer arrives, with prices
increasing for the sixth consecutive month.
"Back in January, few people would have predicted prices to be up as much as they are – ourselves included," Andrew Lis, REBGV's director of economics and data analytics said. "Our forecast projected prices to be up modestly in 2023 by about 2% at year-end. Instead, Metro Vancouver home prices are already up about 6% or more across all home types at the midway point of the year."
"You don't have to squint to see the reason prices continue to increase. The fundamental issue remains that there are more buyers relative to the number of willing sellers in the market. This is keeping the amount of resale homes available in short supply," Lis said. "And in a surprising twist, MLS® sales in May snapped back closer to historical averages than we've seen in the recent past, despite mortgage rates being where they are now, and new listing activity having been slower than usual this spring. If mortgage rates weren't holding back market activity so much right now, I think our market would look a lot like the heydays of 2021/22, or even 2016/17."
The MLS® Home Price Index composite benchmark price for all residential properties in Metro Vancouver is currently $1,188,0003. This represents a 5.6% decrease over May 2022 and a 1.3% increase compared to April 2023.
LINK to the May 2023 REBGV statistics.
FVREB: DELAYED SPRING ACTIVITY BOOSTS SUPPLY OF PROPERTY LISTINGS IN THE FRASER VALLEY
The Fraser Valley real estate market saw an injection of supply in May as new listings surged by more than 40% over April. A welcome trend towards alleviating housing supply issues.
"Typically we would see an influx of inventory earlier in the spring sales cycle," said Narinder Bains, Chair of the Fraser Valley Real Estate Board. "The series of interest rate hikes during the latter half of 2022 had many sellers and buyers in a holding pattern for most of the year. What we're seeing now is a recovery and adjustment to the new financing landscape."
The strong supply trend was met with healthy demand. In May, the Board processed 1,711 sales on its Multiple Listing Service®, a 10% increase over last month and a 25.8% jump over May of last year. Prices continued to edge upward across all categories as buyer confidence grew, with the composite Benchmark price topping the one-million mark at $1.01 million, a level not seen since September 2022.
"It's encouraging to see more typically cyclical activity this spring," said FVREB CEO, Baldev Gill. "Inventory has been trending upwards since December 2022, providing more choice, which in turn will hopefully spur on even more listings. That said, with inflation tracking at elevated levels the potential for further rate hikes is very real. Buyers and sellers would be well-advised to work with real estate professionals to factor this into their decisions."
LINK to the May 2023 FVREB statistics.
VIREB: RETURN TO A MORE TRADITIONAL SPRING MARKET IS WELCOME
"We're seeing smartly priced homes and measured offers compared to last year, when the fear of missing out created a frenetic market," says Kelly O'Dwyer, 2023 Chair. "It feels more reminiscent of a traditional pre-COVID spring." O'Dwyer adds that inventory is still a hurdle, and sales would be higher if more homes were available. Vancouver Island has been chronically undersupplied for a long time, and that dearth of inventory continues to be a roadblock for potential buyers.

"We're encouraged by the provincial government's Homes for People action plan and its commitment to reduce the red tape that sometimes hinders the construction of new homes," says O'Dwyer. "However, the supply issue won't be resolved overnight, as it can take 18 months or more to bring new inventory to the market."

The board-wide benchmark price (MLS® Home Price Index) of a single-family home was $751,200 in May 2023, down 11% from one year ago and up by 2% from April. In the apartment category, the benchmark price was $392,800 last month, an 8% decrease from May 2022 and up by 1% from April. The year-over-year benchmark price of a townhouse was $547,800 in May, down 9% from one year ago and a 2% increase from April.
LINK to the May 2023 VIREB statistics.
The Stats Centre Reports for the REBGV for May are available now on our website at this link under the 

"BLOG AND STATS" heading

.  They are automatically updated every month on our website as they become available

. LINK 
Note that you may have to refresh the screen a few times until all the reports come up. This is a problem with the Real Estate Board website. 
SUMMER DROUGHT-TOLERANT YARD IDEAS
With hot summer days upon us, here are a few suggestions on how to deal with the drier, hotter summers in your yards from Better Homes and Gardens: Drought Tolerant Landscaping Ideas