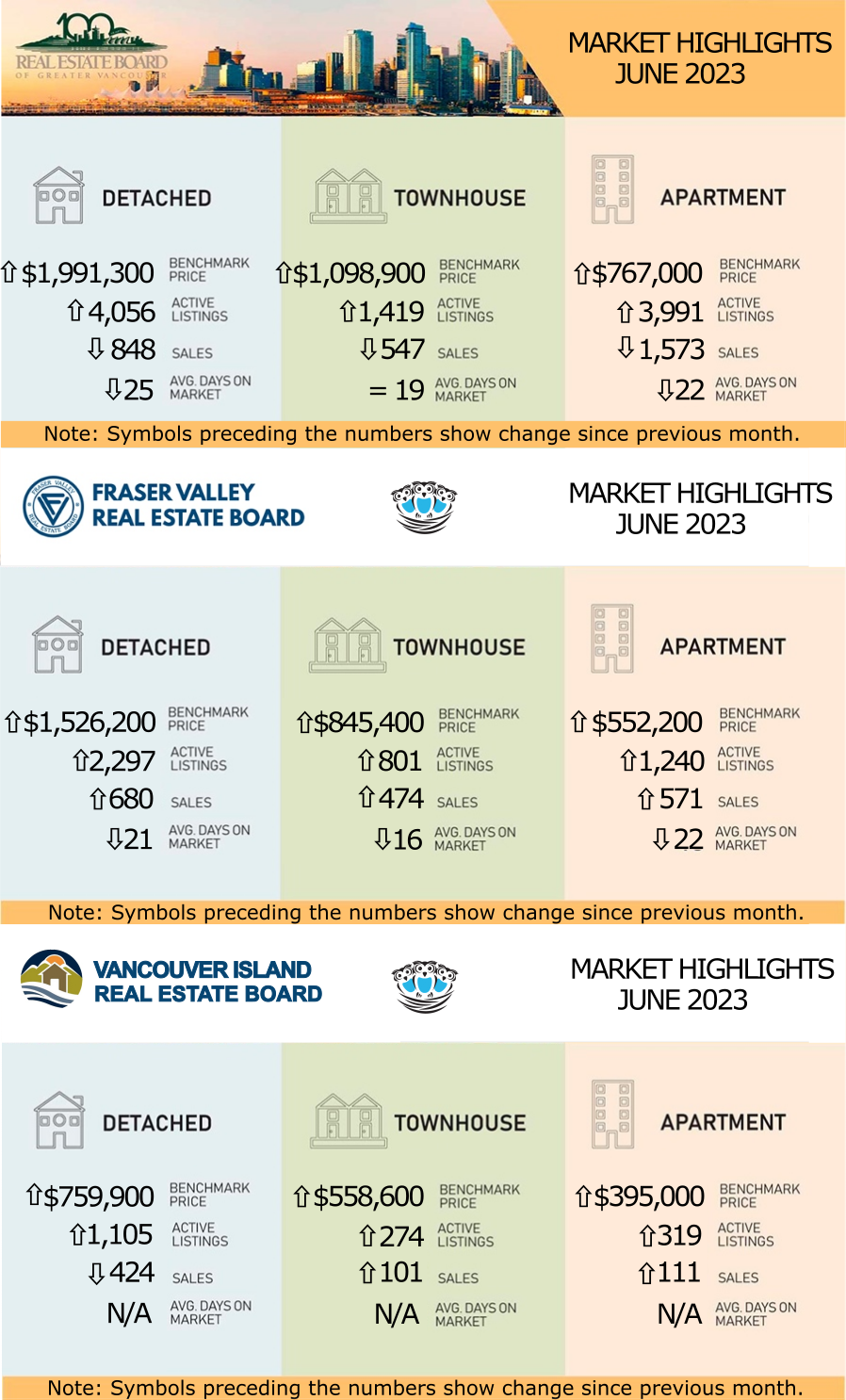 Last month, as we were just about to send out our May newsletter, we received the news of the Bank of Canada raising its key lending rate to 4.75%, the highest level in 22 years. You would expect that to dampen the number of sales across all cities, however, June sales results were actually positive in the more affordable areas. In the Greater Vancouver market, the number of sales have dropped significantly, whereas, in the Fraser Valley and Vancouver Island, they have continued to climb across all property types.


On June 16th, a week after the rate hike, Canada's population surpassed 40 million people, adding over half a million new residents in the last year. This presents a contrasting scenario where record-breaking population growth is occurring alongside elevated interest rates, which are impeding homebuying capacity and new home starts. It is worth noting that despite a decline in sales figures, home prices have continued to rise, and multiple offers have become more prevalent.
REBGV: HOME PRICES CONTINUE TO RISE IN METRO VANCOUVER'S HOUSING MARKET TO KICK OFF THE SUMMER
Continuing the trend that has emerged in the housing market this year, the benchmark price for all home types in Metro Vancouver increased in June as home buyer demand butted up against a limited inventory of homes for sale in the region.
"The market continues to outperform expectations across all segments, but the apartment segment showed the most relative strength in June," Andrew Lis, REBGV's director of economics and data analytics said. "The benchmark price of apartment homes is almost cresting the peak reached in 2022, while sales of apartments are now above the region's ten-year seasonal average. This uniquely positions the apartment segment relative to the attached and detached segments where sales remained below the ten-year seasonal averages."
"Despite elevated borrowing costs, there continues to be too little resale inventory available relative to the pool of buyers in Metro Vancouver. This is the fundamental reason we continue to see prices increase month over month across all segments," Lis said. "With the benchmark price for apartments now standing at $767,000, we repeat our call to the provincial government to adjust the $525,000 threshold exempting first-time home buyers from the Property Transfer Tax to better reflect the price of entry-level homes in our region. This is a simple policy adjustment that could help more first-time buyers afford a home right now."
LINK to the June 2023 REBGV statistics.
FVREB: LOW SUPPLY CONTINUES TO IMPACT HOME PRICING IN THE FRASER VALLEY: SALES INCREASING DESPITE RATE HIKES
The Fraser Valley real estate market saw strong sales activity in June with levels on par with the 10-year average for the month, amid on-going challenges with supply.
"As seen in recent months, prices continue to trend upward, with lack of supply and high demand for housing," said Narinder Bains, Chair of the Fraser Valley Real Estate Board. "What we're seeing is sales increasing, with buyers entering the market despite current financial implications of anticipated rate hikes."
"A number of factors are at play in the Fraser Valley market, from low supply to unprecedented interest rates – the highest in more than 20 years," said Board CEO, Baldev Gill. "For those seeking to enter the market, whether buying or selling, only a professional REALTOR® can provide the expert guidance and advice to fully evaluate each clients' needs, and to protect their interests."
LINK to the June 2023 FVREB statistics.
VIREB: BUSIER JUNE THAN EXPECTED DESPITE RATE HIKE
"After a temporary slowdown likely influenced by the most recent interest-rate hike, June ended up being busier than we expected," says Kelly O'Dwyer, 2023 Chair. "Buyers and sellers are sort of meeting in the middle, with reasonable expectations at either end. Overall, it's looking like we're headed for a pretty normal summer market." However, O'Dwyer is quick to note that lack of inventory continues to be a roadblock for potential buyers. "There is no doubt that sales would be higher if there more listings," says O'Dwyer. "I know that we sound like a broken record, but the reality is that Vancouver Island has been chronically undersupplied for decades when it comes to housing."
LINK to the June 2023 VIREB statistics.