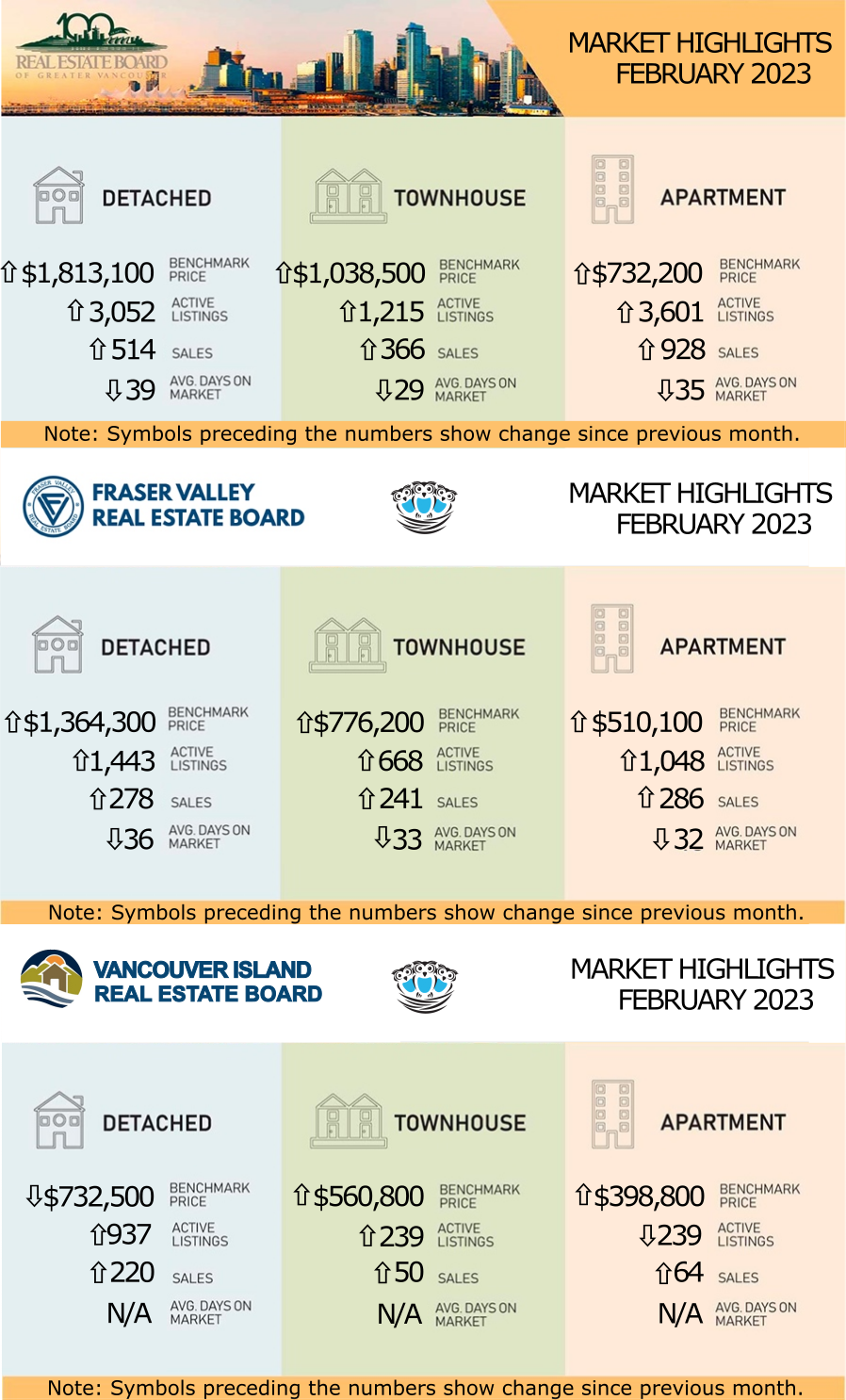 Hope you all enjoyed the unexpectedly snowy February. We were thinking of taking the snow tires off already and then, Bam! another big snowfall. You would think that would have cooled the already cool real estate market but the opposite has become true. We are returning to the time when multiple offers are in the mix, unfortunately. Maybe our perception of real estate is skewed since we are in the Greater Vancouver area, but I can't remember a time when either the sellers or the buyers didn't have a distinct advantage over the other. The local market seems to eternally flip flop between FOMO (fear of missing out) Sellers' markets to "fear of loss" Buyers' markets.

Saying that, we are in a buyers' market that is quickly heading back into a sellers' market. Those buyers that can still qualify for mortgages are taking advantage of prices being at September 2021 levels and banking on future interest rates being lower by taking 1 or 2 year open mortgages. 
REBGV: BELOW AVERAGE HOME SALES ALLOW INVENTORY TO INCH UPWARDS
February listing data show a continued reluctance among prospective home sellers to engage in Metro Vancouver's* housing market, leading to below-average sales activity. With sales remaining well-below historical norms, the number of available homes for sale in the region have continued inching upwards.
"It's hard to sell what you don't have, and with new listing activity remaining among the lowest in recent history, sales are struggling to hit typical levels for this point in the year," said Andrew Lis, REBGV's director, economics and data analytics. "On the plus side for prospective buyers, the below-average sales activity is allowing inventory to accumulate, which is keeping market conditions from straying too deeply into sellers' market territory, particularly in the more affordably priced segments."
For all property types, the sales-to-active listings ratio for February 2023 is 23 per cent. By property type, the ratio is 16.8 per cent for detached homes, 30.1 per cent for townhomes, and 25.8 per cent for apartments.
LINK to the February 2023 REBGV statistics.
FVREB: SIGNS OF STABILITY IN FRASER VALLEY CREATE OPPORTUNITIES FOR HOME BUYERS AND SELLERS
While there was a large increase in sales over a slow January, February of 2023 had only half of the sales of February of last year. Prices rose marginally over last month but anecdotal evidence points to a more robust actual increase. As we've mentioned before, the HPI (housing price index) is a lagging indicator of price changes.
"In recent months, the level of uncertainty regarding rates and prices has negatively impacted inventory and that's kept a lot of clients on the sidelines," said Sandra Benz, President of the Fraser Valley Real Estate Board. "Together with a growing consensus suggesting that a pause on rate hikes is imminent, the positive signals from the market give families something to build on and plan for. As that starts to happen we expect to see sales pick up slowly but steadily heading into spring."
With a sales-to-active listings ratio of 20 per cent, the overall market was once again in balance, however the ratio for townhomes was higher at 36 per cent, indicating a seller's market for this category. The market is considered in balance when the ratio is between 12 per cent and 20 per cent.
"All indications suggest that the market is on track to re-establish a level of stability, which is encouraging for both demand and supply sides," said Baldev Gill, Chief Executive Officer of the Board. "With solid opportunities for properties that are appropriately priced, investing in the expertise of a professional REALTOR® should be the first decision buyers and sellers make to ensure the best local strategies before jumping back into the market."
LINK to the February 2023 FVREB statistics.
VIREB: MARKET PICKING UP STEAM AS WE HEAD TOWARDS SPRING
Last month, 220 single-family homes sold in the Vancouver Island Real Estate Board (VIREB) area, a 37 per cent decrease from one year ago (350) and a 33 per cent increase from January 2023 (165). Sales of condo apartments in February 2023 came in at 64, declining by 40 per cent year over year and increasing by 52 per cent from the previous month. In the row/townhouse category, 50 units changed hands in February, down 44 per cent from one year ago and up by 39 per cent from January.

"The higher sales seen in February are no real surprise, as the housing market typically begins to pick up steam as we head towards spring," says Kelly O'Dywer, 2023 Chair. "We're still seeing some multiple offers on well-priced properties, but the market is more price-sensitive than we've seen in some time. Buyers are savvy and unwilling to stretch their budget by more than they can comfortably afford."

Inventory continues to post gains but is still below ideal for a balanced market. Active listings of single family homes were 937 in February, up from 345 one year ago and 861 in January. VIREB's inventory of condo apartments hit 253 last month, up from 116 listings one year ago and 239 in January. There were 251 row/townhouses for sale last month compared to 66 one year ago and 239 the previous month.
LINK to the February 2023 VIREB statistics.
The Stats Centre Reports for the REBGV for February are available now on our website at this link under the 

"BLOG AND STATS" heading

.  They are automatically updated every month on our website as they become available

. LINK 
Note that you may have to refresh the screen a few times until all the reports come up. This is a problem with the Real Estate Board website.