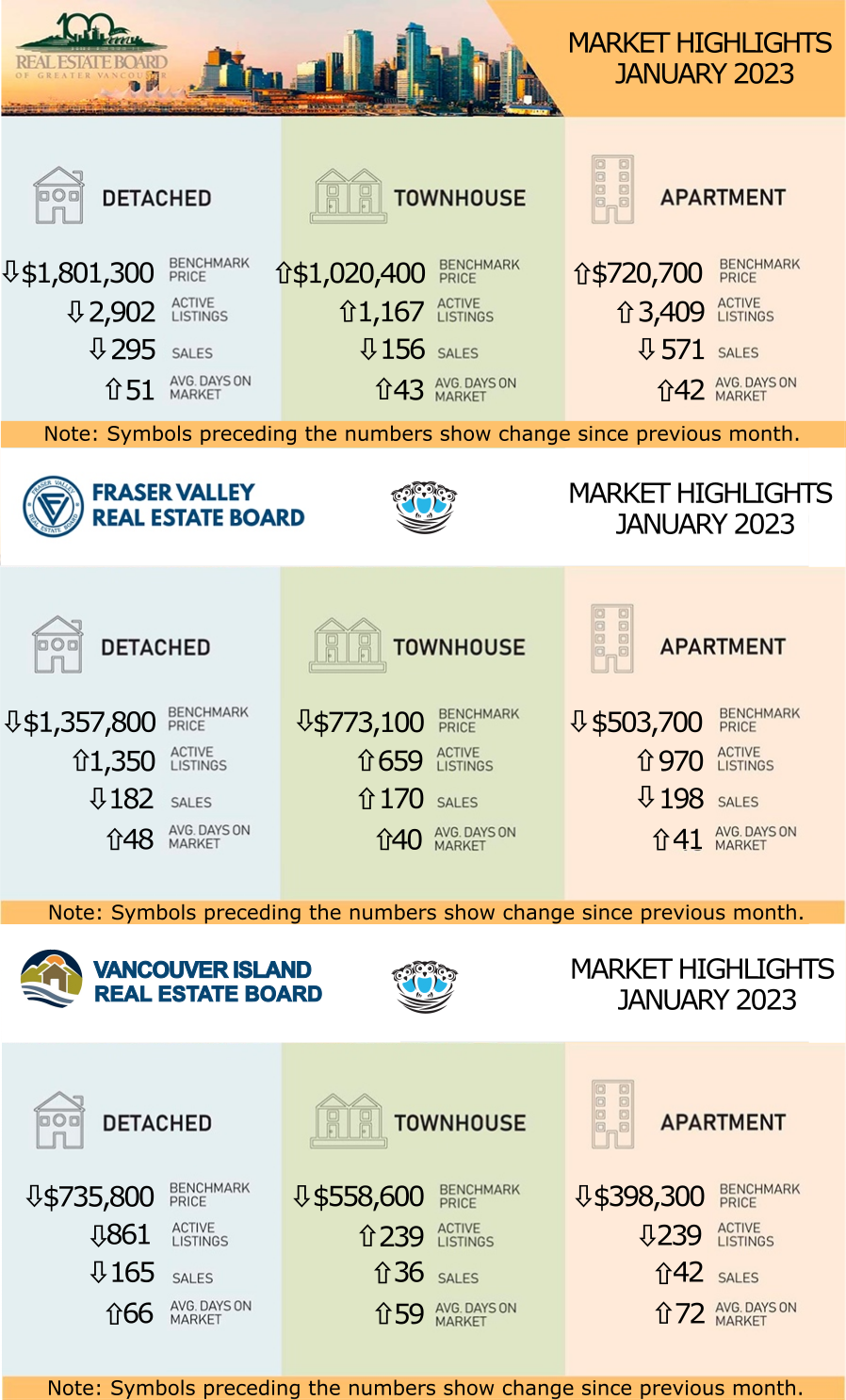 This past January market was one of the quietest so far. Yet, on the policy change front, there is much news. We are going to highlight some of the major events and changes.
BANK OF CANADA RATE HIKE
The Bank of Canada has raised its key rate by 0.25% to 4.50% which is the 8th consecutive rate hike. The BoC expects inflation to return to 2% by 2024 and plans to hold rates while it assesses the impact. The BoC believes that there is enough tightening in place to start seeing its effects on the economy. It highlighted that the full impact of previous rate hikes hasn't been felt yet and is mindful of the risks of over-tightening and under-tightening. The bank sees evidence that goods inflation is likely to decrease, but services inflation is seen as a wild card. It's expected to reach target inflation by next year, with the majority of inflation from last year not being included in the calculation by the end of 2023.
THE ANTI-FLIPPING RULE (effective January 1st, 2023)
The new anti-flipping rule in Canada is aimed at addressing improper use of the principal residence exemption, classifying capital gains as business income, and cooling the housing market. The rule considers a residential property to be flipping if held for less than 365 consecutive days before its disposition, and it is considered to be business income which is 100% taxable. There are exceptions to the rule, such as death or disability, breakdown of marriage, job relocation, and natural disasters.
THE MULTIGENERATIONAL HOME RENOVATION CREDIT (effective January 1st, 2023)
The new multigenerational home renovation tax credit provides a 15% credit on eligible expenses up to a maximum of $50,000 for the renovation or construction of a self-contained unit for a family member who is at least 65 years old or disabled. The eligible expenses must be for a family member who is a grandparent, grandchild, aunt, uncle, niece, or nephew and the dwelling must be inhabited or expected to be inhabited within 12 months.
REBGV: HOME SALES DECLINE BELOW LONG-TERM AVERAGES AND INVENTORY REMAINS LOW TO START 2023
Inventory remains low in Metro Vancouver while home sales dipped well below monthly historical averages in January. "Due to seasonality, market activity is quieter in January. With mortgage rates having risen so rapidly over the last year, we anticipated sales this month would be among the lowest in recent history," said Andrew Lis, REBGV's director, economics and data analytics. "Looking forward, however, the Bank of Canada has said that it will pause further rate increases as long as the incoming economic data continues to support this policy stance. This should provide more certainty for home buyers and sellers in the market."
"We know the peak for prices in our market occurred last spring. Over the coming months, year-over-year data comparisons will show larger price declines than we've been reporting up to now," said Lis. "It's important to understand that year-over-year calculations are backward-looking. These price declines already happened, and what we are seeing today is that prices may have found a footing, even if it's an awkward one sandwiched between low inventory and higher borrowing costs."
The MLS® Home Price Index composite benchmark price for all residential properties in Metro Vancouver is currently $1,111,400. This represents a 6.6% decrease over a year ago.
LINK to the January 2023 REBGV statistics.
FVREB: FRASER VALLEY REAL ESTATE SALES RECORD SLOWEST ANNUAL START IN TEN YEARS; JANUARY NEW LISTINGS LOWEST IN OVER THIRTY YEARS
The downward trend in Fraser Valley real estate sales continued in January as further interest rate hikes kept buyers sidelined.
"Buyers are understandably cautious, which explains the slow start to the year," said Sandra Benz, President of the Fraser Valley Real Estate Board. "That said, the pent-up demand that has been building since the last quarter of 2022 will likely give rise to a sales uptick, especially if rate hikes subside, which we expect will be the case."
"We also expect inventory to start increasing over the coming months as sellers act on decisions that have been on hold, waiting for rates to peak" added Benz. "As we start to see greater selection across all property categories, we should see demand pick up."
At $942,200, the composite Benchmark home price continued to edge downward, slipping by 15% compared to January of last year.
"After a market slowdown for the past several months, the Board is expecting a return to seasonal activity leading into spring," said FVREB CEO Baldev Gill. "With rates still elevated, however, buyers and sellers would be well advised to seek out the guidance of a professional REALTOR® to determine the best strategy and timing to take advantage of the anticipated market upswing."
LINK to the January 2023 FVREB statistics.
VIREB: 2023 CALM START TO THE YEAR HERALDS A GREAT TIME TO BUY
"Our statistics indicate that we're off to a somewhat slow start, but our January sales numbers don't reflect the activity REALTORS® are seeing on the street," says Kelly O'Dywer, 2023 Chair. "Overall, it's actually a great time to buy a home." If potential buyers are worried about more interest-rate hikes or that rates will drop after they've locked in, O'Dwyer reminds purchasers that they can renegotiate their rate later.
One notable policy change affecting the real estate industry is the Home Buyer Rescission Period (HBRP), which took effect on January 3, 2023. The HBRP gives home buyers up to three business days to rescind an offer on a home after the seller has accepted it. "While the HBRP provides for a period of three business days, we're seeing longer subject-removal periods in some cases," says O'Dwyer. "Depending on acceptance day, and because weekends and holidays are excluded from the rescission period, our sales dates appear to be slowing, to ensure there is enough time to satisfy buyer subjects as well."
Regarding prices, the board-wide benchmark price (MLS® Home Price Index) of a single-family home was $735,800 in January 2023, down 5% from one year ago. In the apartment category, the benchmark price was $398,300 last month, a 2% increase from January 2022. The year-over-year benchmark price of a townhouse dropped slightly from one year ago.
LINK to the January 2023 VIREB statistics.
The Stats Centre Reports for the REBGV for January are available now on our website at this link under the 

"BLOG AND STATS" heading

.  They are automatically updated every month on our website as they become available

. LINK 
Note that you may have to refresh the screen a few times until all the reports come up. This is a problem with the Real Estate Board website.