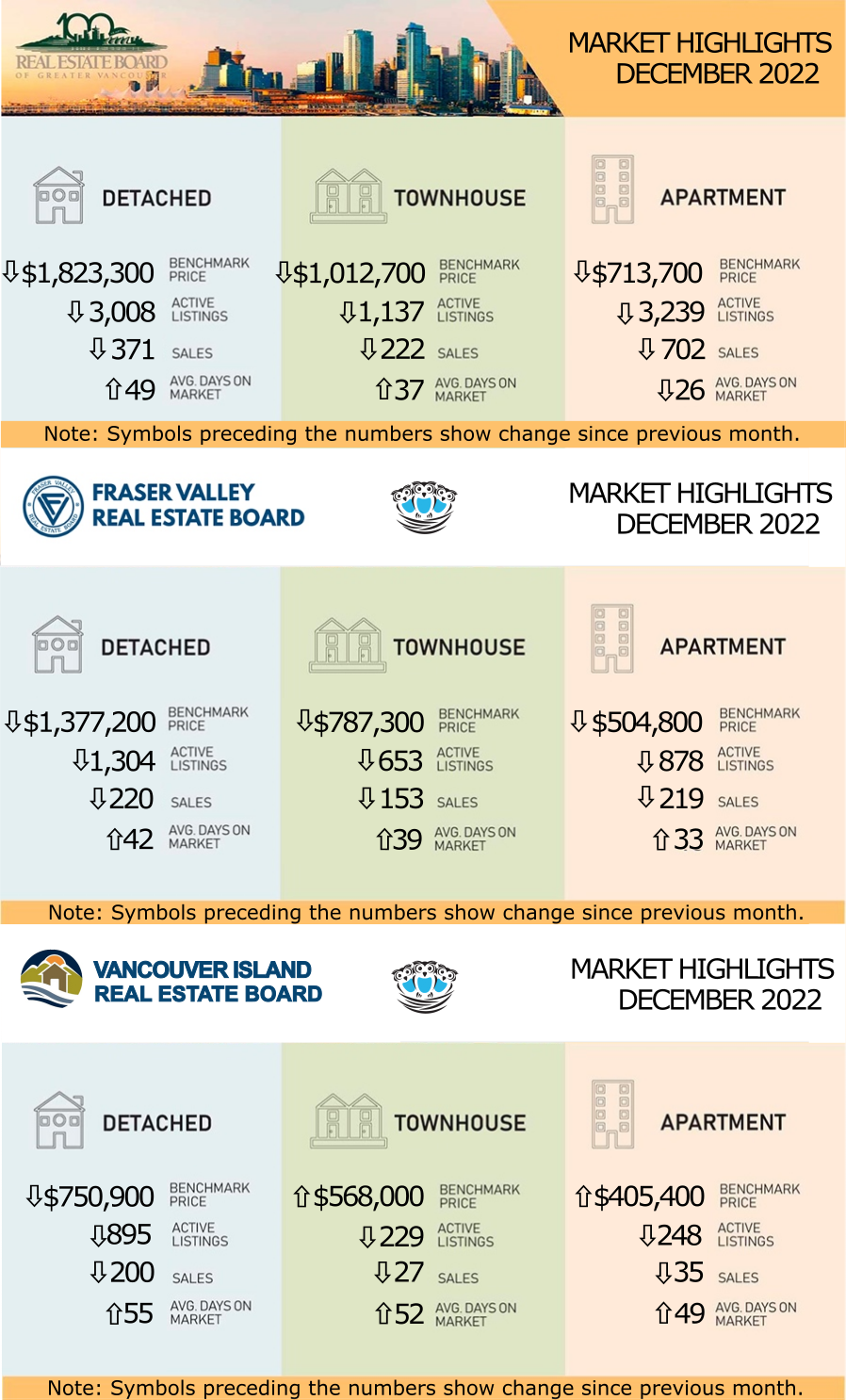 Well, goodbye to 2022 and welcome 2023!

As we enter 2023, the housing market is generally experiencing depressed prices. However, it is expected that there will be an increased demand for condos due to the
record levels of immigration in 2022,
which is likely to continue. This increased demand is expected to drive up condo prices even as townhouses and single family homes remain flat or even lose value.
Interest rates are predicted to rise marginally in the short term, but they are expected to level out or even drop later in the year if the Bank of Canada feels that inflation is largely under control. This presents a good opportunity for buyers who have the financial means to take advantage of the current buyer's market. Purchasing a home with a variable rate mortgage may mean short-term pain, but it could lead to long-term gain if mortgage rates fall.
Now is a good time for those who have been considering purchasing a home to make a move, as the combination of lower prices and motivated sellers can create a favorable buying environment. However, it's important to keep in mind that real estate markets can vary significantly depending on location and other factors, so it's always a good idea to do your research and make an informed decision before making a purchase.
Let us know if you would like a copy of my Rent vs Buy spreadsheet to determine if you are better off renting or buying in this market.

REBGV: RISING MORTGAGE RATES BROUGHT UNCERTAINTY AND CAUTION TO METRO VANCOUVER'S HOUSING MARKET IN 2022
After seeing record sales and prices during the pandemic, Metro Vancouver's housing market experienced a year of caution in 2022 due to rising borrowing costs fueled by the Bank of Canada's ongoing battle with inflation.
"The headline story in our market in 2022 was all about inflation and the Bank of Canada's efforts to bring inflation back to target by rapidly raising the policy rate. This is a story we expect to continue to make headlines into 2023, as inflationary pressures remain persistent across Canada," Andrew Lis, REBGV's director, economics and data analytics said.
"Closing out 2022, the data show that the Bank of Canada's decisions to increase the policy rate at seven of the eight interest rate announcement dates in 2022 has translated into downward pressure on home sale activity and, to a lesser extent, home prices in Metro Vancouver," Lis said. "While the consensus among many economists and forecasters suggests the Bank of Canada may be near the end of this tightening cycle, rates may remain elevated for longer than previously expected since the latest inflation figures aren't showing signs of abating quickly. We'll watch the 2023 spring market closely to see if buyers and sellers have adjusted to the higher borrowing costs and are participating more actively in the market than we have seen over the last 12 months."
LINK to the December 2022 REBGV statistics.
FVREB: FRASER VALLEY REAL ESTATE MARKET 2022 – HIGHS, LOWS, AND A RETURN TO BALANCE
In a year that saw prices peak early on, feeding off the momentum of record-breaking sales in 2021, the Fraser Valley real estate market came back down to earth by the close of 2022, due largely to interest rate increases designed to stave off inflation.
"As the market has adjusted to rate hikes, we're starting to see a resumption of interest among the public," said Sandra Benz, President of the Fraser Valley Real Estate Board. "For some time, buyers and sellers alike have delayed decisions in somewhat of a watch-and-wait mode. This has dampened sales as well as supply since fewer new listings come onto the market. We expect activity to pick up in the coming months as this pent-up supply and demand start to emerge." Benz added that, under more stable market conditions, there will be strong opportunities for well-priced, well-positioned properties across all categories.
"If the real estate market has shown us anything this year, it's that we must be prepared to adjust and adapt to uncertainty," said Board CEO Baldev Gill. "Market reaction to the many variables at play – be the interest rates, regulatory changes or supply chain issues, for example – is tough to predict at the best of times. It requires detailed analysis and intimate knowledge, often down to the street level, to fully evaluate. Only a professional REALTOR® can provide the kind of intelligence required to ensure a decision to buy or sell is made with clients' best interests in mind."
LINK to the December 2022 FVREB statistics.
VIREB: QUIET DECEMBER CLOSES OUT THE YEAR
"December sales activity reflected a typical end-of-year market, which is usually slower during the holiday season," says Erica Kavanaugh, 2022 VIREB Chair. "REALTORS® are reporting that some clients are taking a wait-and-see approach, opting to wait until spring, which typically sees more interest from buyers and an uptick in listings."
Two notable policy changes affecting the real estate industry take effect this month, although their potential impact on VIREB's housing market is unknown. The Home Buyer Rescission Period (HBRP) launched in British Columbia on January 3. This provincial policy gives buyers the right to withdraw from a purchase agreement within three business days of an accepted offer. On the federal level, the Prohibition on the Purchase of Residential Property by Non-Canadians Act (colloquially known as the Foreign Buyer Ban) went into effect on January 1. This legislation bans non-Canadians from buying residential property across Canada for two years. However, since foreign buyers represent a minimal component of VIREB's market, this legislation is unlikely to have much impact on sales in the VIREB area.
LINK to the December 2022 VIREB statistics.
The Stats Centre Reports for the REBGV for December are available now on our website at this link under the 

"BLOG AND STATS" heading

.  They are automatically updated every month on our website as they become available

. LINK 
Note that you may have to refresh the screen a few times until all the reports come up. This is a problem with the Real Estate Board website.