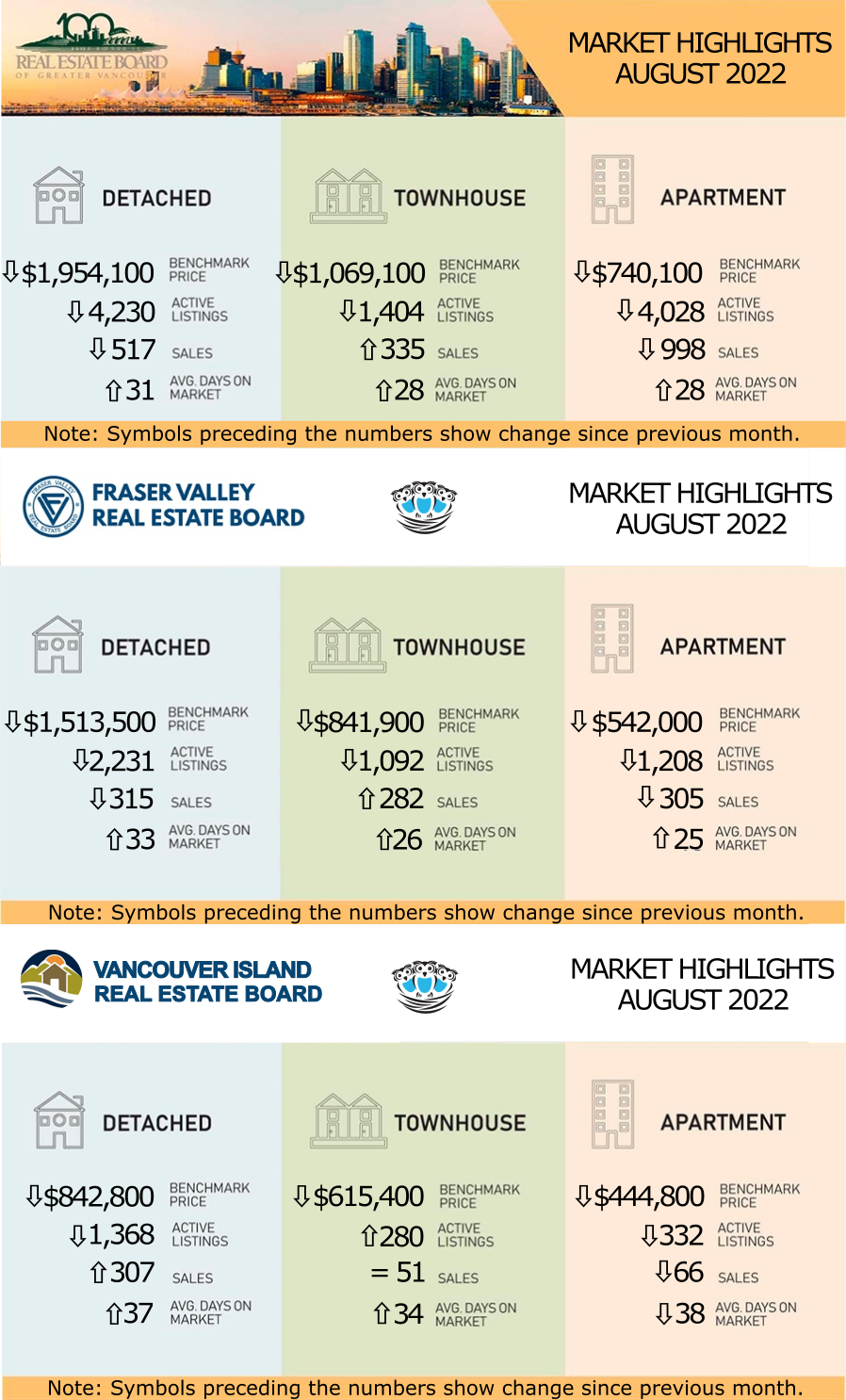 We hope that everyone has had a great summer, so far. There are just a few short weeks left and hopefully, we'll get some nice weather through that stretch.
August was a pretty sleepy month for real estate, with about 40% fewer sales than August of last year. There has been a large amount of uncertainty regarding recent and upcoming interest rate increases and how that will affect property values. Rental rates continue to climb at a disproportionate rate, however, which is really pinching those that haven't been able to climb onto the property ladder yet. 
With over 30% of households having paid off their mortgage, and many more still within their existing 5-year term, the recent sharp hike in interest rates will only hurt those that took the chance and picked a variable rate loan. It may be many months before we see significant downward pressure on home prices. Hopefully, the Bank of Canada will have gotten inflation under control enough to ease the interest rates downwards again.
REBGV: METRO VANCOUVER'S HOUSING MARKET SEES FEWER HOME BUYERS AND SELLERS IN AUGUST
Metro Vancouver's housing market is experiencing a quieter summer season marked by reduced sale and listing activity.
"With inflationary pressure and interest rates on the rise, home buyer and seller activity shifted below our long-term seasonal averages this summer," Andrew Lis, REBGV's director, economics and data analytics said. "This shift in market conditions caused prices to edge down over the past four months."
"Home buyers and sellers are taking more time to assess what this changing landscape means for their housing needs," Lis said. "Preparation is critical in today's market. Work with your Realtor to assess what today's home prices, financing options, and other considerations mean for you."
LINK to the August 2022 REBGV statistics.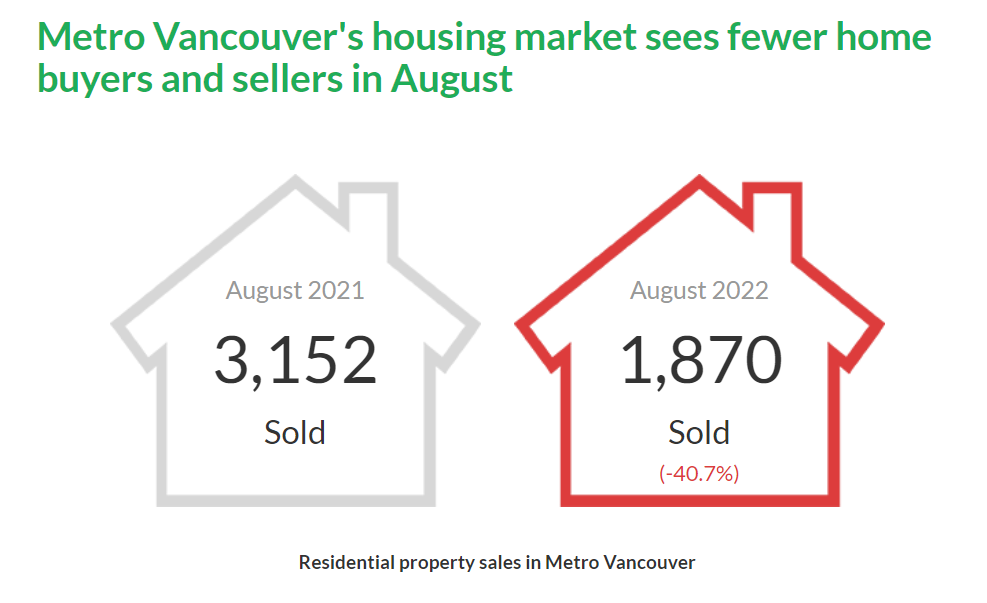 FVREB: FRASER VALLEY HOUSING MARKET SIGNALS FURTHER SETTLING AS SALES CONTINUE TO STALL IN RESPONSE TO INTEREST RATE RISES
Robust active listings and relatively steady sales continued to bring balance to the Fraser Valley real estate market in August. The past several months of rising inventory combined with a slowing trend in sales have also seen benchmark prices return to levels not seen since last year.
Once again August saw a balanced market in the Fraser Valley with an overall sales-to-active ratio of 17% (the market is considered balanced when the sales-to-active ratio is between 12% and 20%).
"For the past three months we've seen the local market return to a more balanced state," said Board President,
Sandra Benz. "With the Fraser Valley continuing to settle after months of record sales and prices, we expect to see more activity this coming fall as buyers look to capitalize on the region's reputation for providing greater value for the real estate dollar."
"With possible further hikes in interest rates this fall, homebuyers need to augment their decisions with critical advice and guidance," said Baldev Gill, Board CEO. "Along with other professionals such as mortgage brokers and lawyers, Fraser Valley REALTORS® are a vital part of the team advising buyers and sellers on market realities and identifying potential opportunities that align with their objectives."
LINK to the August 2022 FVREB statistics.
VIREB: CALMER MARKET CONDITIONS AS SUMMER DRAWS TO A CLOSE
Inventory was up, and sales were down in August, reminiscent of a typical summer market in pre-COVID times.
The quieter August gave consumers and REALTORS® time to catch their breath after the frenetic pace VIREB's housing market has been setting since 2020. Additional inventory is good news for buyers, giving them more options to choose from and easing the pressure to move too quickly when making an offer. On the other side of the transaction, sellers may have to adjust their expectations somewhat.
"After months of historically low listings, January posted a small inventory bump, and active listings have risen steadily since then accompanied by slightly lower demand," says Erica Kavanaugh, 2022 VIREB Chair. "What we're seeing now is more about conditions returning to what they were before the pandemic. We'll have to see how the rest of the year shapes up to determine whether we're looking at a more significant trend." Kavanaugh adds that while demand has dipped, the underlying supply issues that caused low inventory and rising prices still exist. "The British Columbia Real Estate Association crunched the numbers and determined that it will take a substantial decline in demand to return active listings to a healthy state on Vancouver Island," says Kavanaugh. "Province-wide, we're dealing with decades of insufficient supply, and that's not a quick fix."
After a long period of steadily rising prices in virtually every VIREB region, slight month-over-month price dips began appearing in June. However, 2022 continues to post higher prices than seen in 2021.
LINK to the August 2022 VIREB statistics.