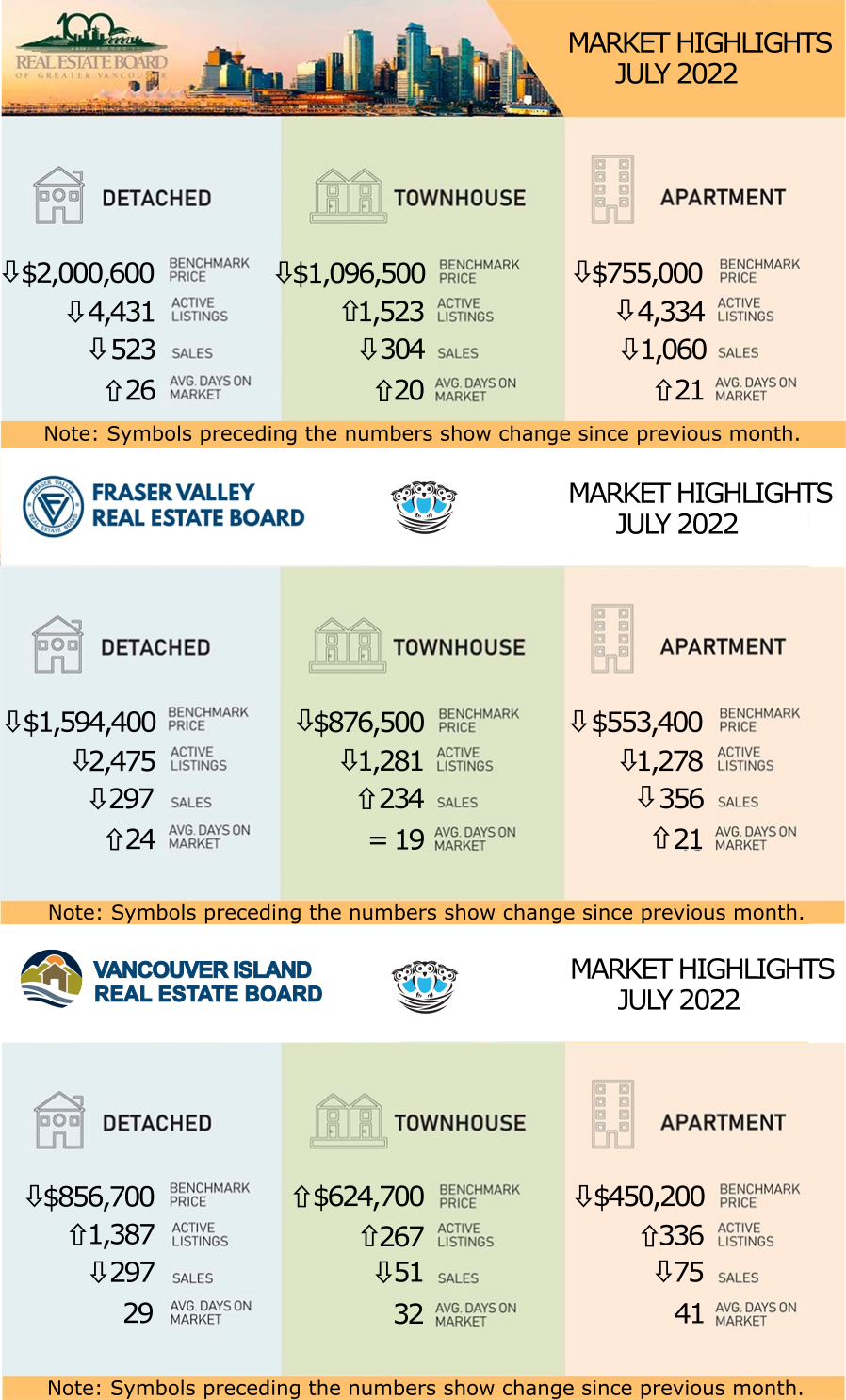 Our real estate market rolled into a summer lull. The number of transactions has dropped across all sub-areas (although you may have noticed from our weekly statistics that the west side of Vancouver and Richmond have seen the highest share of deals). Many buyers are still watching the market rather than pulling the trigger as the media and news are full of negative themes. Everything from an upcoming recession to interest rate hikes to worldwide energy and food shortages. 
When reading the news, we would like to point out one very important piece of information. When an article refers to the real estate market drop, very often that article is referencing "sales", i.e. the number of deals struck and NOT the price level. For instance, when you read the newest RBC forecast or, even worse, articles that reference this RBC forecast, it sounds like the market will drop cumulatively (from early 2021 to early 2023) by 42% in price. We are unfortunately wired to focus on sensational headlines. If you read the article carefully, the 42% "cumulative" drop refers to the drop in the number of sales. Again, not price levels. In fact, if you read further, they finally get to their projection of price drops: "With demand weakening significantly and affordability exceptionally stressed in parts of the country, we believe prices will have to give. We project RPS' national aggregate home price index will slump more than 12% by early 2023." So...a forecasted decline of 12%, not 42%. Here is the link to the full RBC article:
RBC forecast - July 22, 2022
As much as we don't like making predictions, we believe that the market may begin to pick up after the summer months.
REBGV: HOMEBUYER DEMAND CONTINUES TO EASE ACROSS METRO VANCOUVER
Metro Vancouver's housing market has entered a new cycle marked by quieter home buyer demand and a gradual rise in the supply of homes for sale.
"Home buyers are exercising more caution in today's market in response to rising interest rates and inflationary concerns," Daniel John, REBGV Chair said. "This allowed the selection of homes for sale to increase and prices to edge down in the region over the last three months."
"After two years of market conditions that favoured home sellers, home buyers now have more selection to choose from and more time to make their decision," John said. "In today's changing housing market, both home buyers and sellers should invest the time to understand what these changes mean for their personal circumstances."
LINK to the July 2022 REBGV statistics.
FVREB: SALES SLIDE FOR FOURTH STRAIGHT MONTH AS RISING INTEREST RATES PUT BRAKES ON FRASER VALLEY REAL ESTATE MARKET
The Fraser Valley real estate market saw sales fall again in July due to continued interest rate hikes, as the government struggles to bring inflation under control.
The weaker demand resulted in prices dropping for the fourth consecutive month, most notably for detached homes which ended the month with a benchmark price of $1,594,400, down 3.5% from last month and by 10% since peaking at $1,776,700 in March.
"It is important to keep in mind that real estate is and always will be an asset with considerable upside over the long-term," said Fraser Valley Real Estate Board President, Sandra Benz. "As prices come down from the highs of recent months, there are opportunities for buyers who have been waiting to re-enter the market and shop for the right property."
LINK to the July 2022 FVREB statistics.
VIREB: JULY BRINGS MORE OPTIONS FOR BUYERS
Due to a significant increase in inventory, July brought more options for buyers in the Vancouver Island Real Estate Board (VIREB) area.
The additional inventory gives buyers more choices and mitigates the need to move too quickly when making an offer. Kelly O'Dwyer, 2022 VIREB President-Elect, notes that while sales have slowed, the tempo is more reminiscent of a typical summer market, but one the board has not seen in several years.
"While higher interest rates are certainly impacting the market, some buyers are postponing their home purchase and planning to revisit the process in the fall," says O'Dwyer. "The pandemic threw a wrench into the real estate market, but what we're experiencing now feels more like a typical summer."
O'Dwyer also notes that REALTORS are seeing price reductions on higher-priced properties, and multiple offers have decreased. Sellers may have to adjust their price expectations now that the market has shifted, although it is too early to say how long these conditions will persist.
LINK to the July 2022 VIREB statistics.