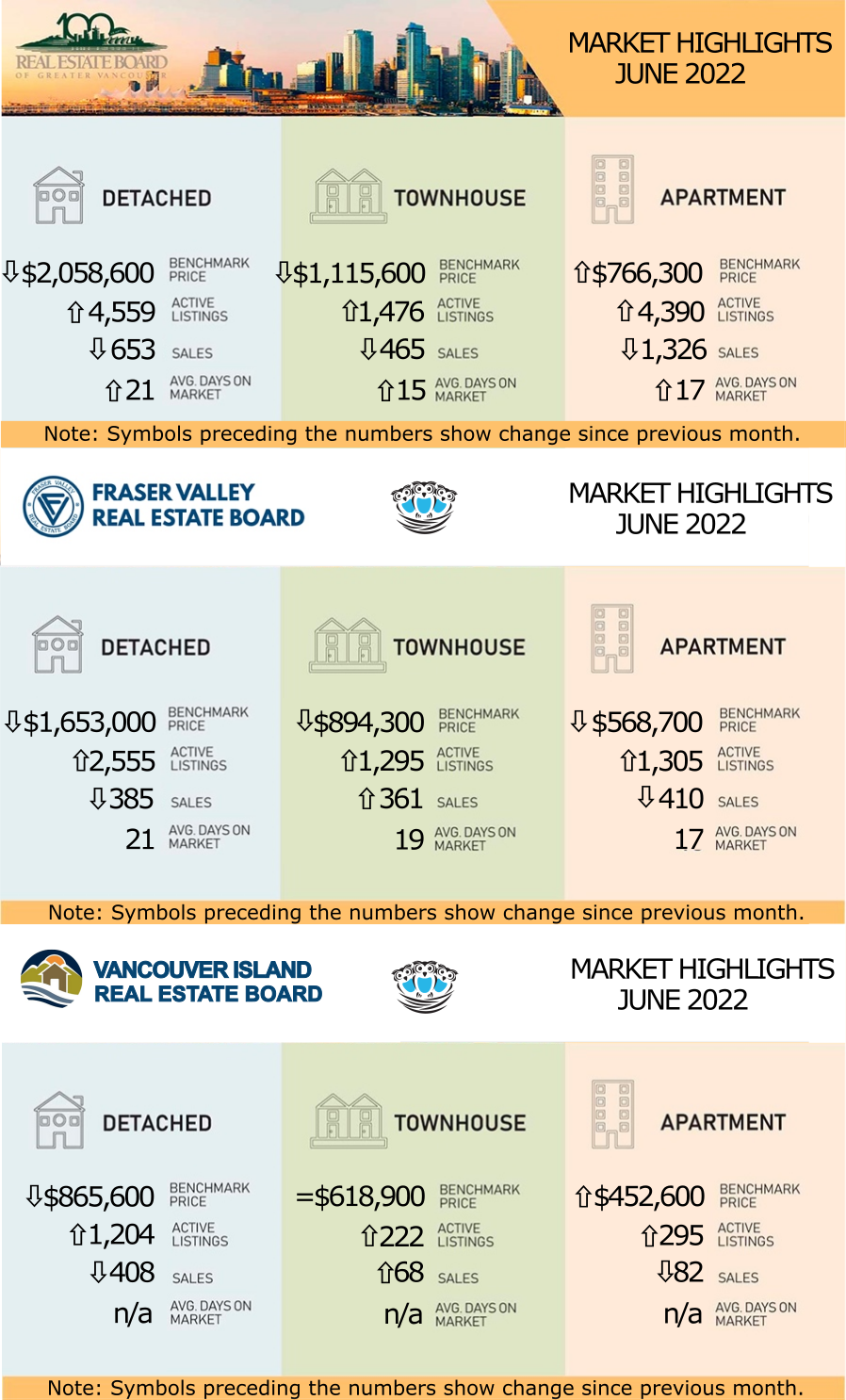 The summer season has begun and we are seeing dramatic changes in the real estate market! Over the last month, housing inventories and interest rates have both increased. Looking at our graphic above, all the arrows are pointing in the direction that are conducive to buyers:
Listing inventory is up so buyers now have many more options to choose from. They also have more time to find their dream home with the average days on the market increasing. Counter to these positive buyer trends are the higher costs from rising interest rates and increasingly difficult bank approval rules. This has caused buyers to be more cautious in their decisions and to take a wait and see attitude. 
In this market, buyers have the upper hand and we are seeing significant discounts in sale prices versus just a few months ago. It's been a long time since that was the case in Vancouver.

If it's your time to make a move, contact us now and we would love to help guide you in today's market!
REBGV: SPRING HOME LISTINGS UP, SALES DOWN AND PRICES STARTING TO DECREASE TO START THE SUMMER SEASON
With interest rates and housing supply increasing, Metro Vancouver home buyers are operating in a changing marketplace to begin the summer season. "Home buyers have more selection to choose from and more time to make decisions than they did over the past year," Daniel John, REBGV Chair said. "Rising interest rates and inflationary concerns are making buyers more cautious in today's housing market, which is allowing listings to accumulate."
"We're seeing downward pressure on home prices as we enter summer in Metro Vancouver due to declining home buyer activity, not increased supply," John said. "To meet Metro Vancouver's long-term housing demands, we still need to significantly increase housing supply."
LINK to the June 2022 REBGV statistics.
FVREB: FRASER VALLEY HOUSING MARKET CONTINUES TO COOL AMID SLOWER SALES, SOFTER PRICES
Overall sales in the Fraser Valley fell for the third straight month as prices for all property types continued to soften, bringing greater balance to the region's real estate market.
Sandra Benz, President of the Board, said, "In just two months our market overall has shifted into balance mainly due to a softening of demand for single-family detached homes. "The condo and townhome markets, although they have moderated, they continue to favour sellers as the sales-to-active listings ratios continue to trend higher, however with fewer multiple offer situations compared to previous months, it's likely that we will see further softening in these property types as we return to pre-COVID work-life routines."
Baldev Gill, Chief Executive Officer of the Board, added, "With five-year fixed rates at their highest levels in a decade and residential prices, though softening month-over-month, are still more than 20% higher than a year ago, we expect to see sales continue to decline over the near term. "The combination of higher rates and low inventory will present a barrier to first-time buyers and could result in even slower sales over the coming months and erase price gains from the past 10 months or so."
LINK to the June 2022 FVREB statistics.
VIREB: RISING INVENTORY A HOPEFUL SIGN FOR BUYERS
Inventory in the Vancouver Island Real Estate Board (VIREB) area rose significantly last month, with listings of single-family homes more than doubling from June 2021. At the same time, sales dipped across the board area in most markets.
The additional inventory is a positive development for buyers, providing more options and easing the pressure to move too quickly when making an offer. Higher interest rates are causing some buyers to put the brakes on purchasing a home, and REALTORS® are seeing price reductions in the higher end of the market. However, it is too early to speculate whether VIREB's housing market is moving towards a buyers' or balanced market.
"While we're happy to see more listings coming onto the system, that doesn't change the conversations we're having with stakeholders regarding supply," says Erica Kavanaugh, 2022 VIREB President. "Vancouver Island has had historically low inventory for many months now, so unless demand drops significantly, it will take a lot of new housing stock to create a balanced market."
LINK to the June 2022 VIREB statistics.
Note:
MLS® Home Price Index 2022 update: Following the implementation of the national MLS® Home Price Index (MLS® HPI) updated methodology in May 2022 by the Greater Vancouver Real Estate Board and Fraser Valley Real Estate Board, the Vancouver Island Real Estate Board updated their methodology in June of 2022.
The Stats Centre Reports for the REBGV for May are available now on our website at this link under the 

"BLOG AND STATS" heading

.  They are automatically updated every month on our website as they become available

. LINK 
Note that you may have to refresh the screen a few times until all the reports come up. This is a problem with the Real Estate Board website.