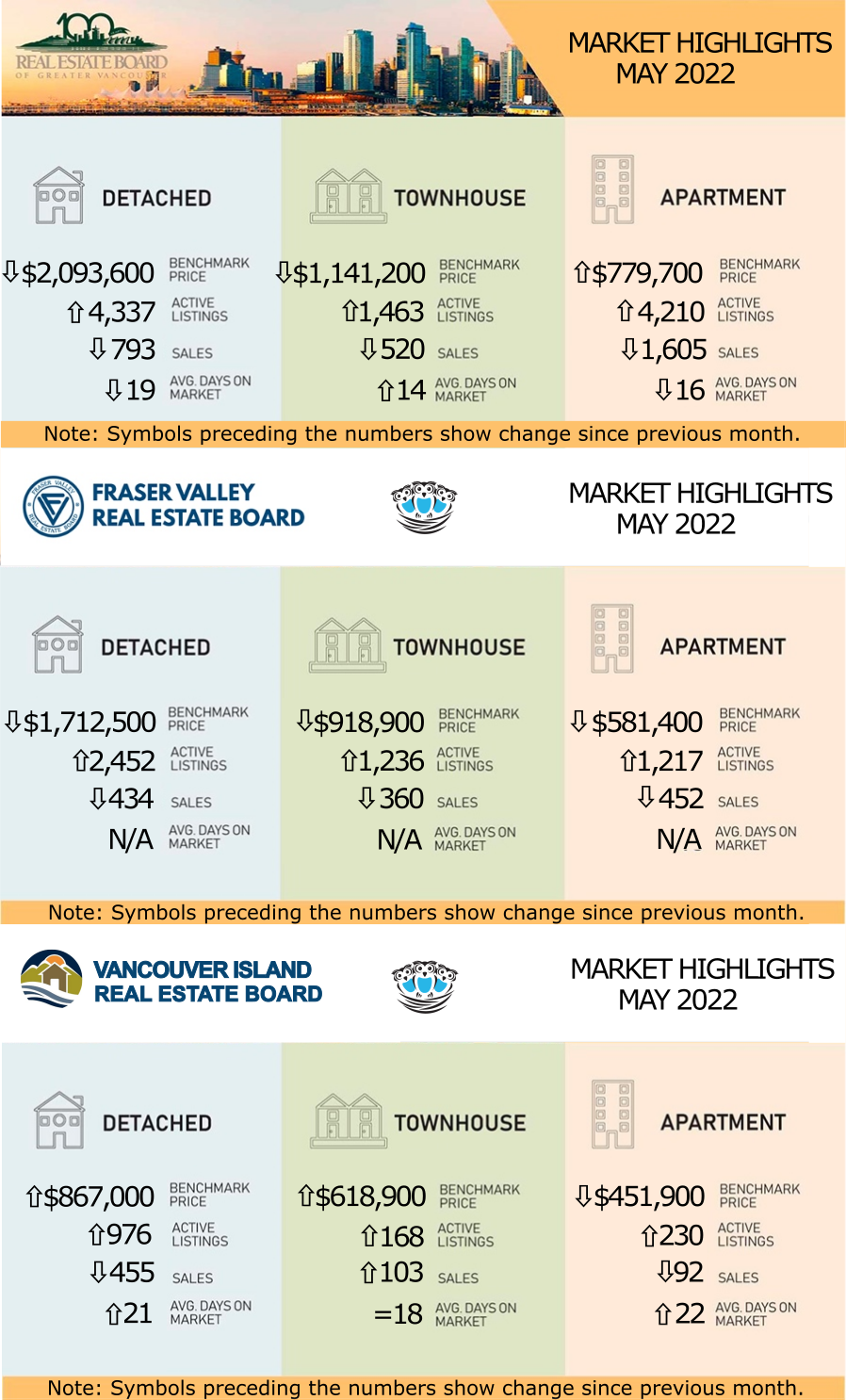 The market continued to move at a slower pace in May while housing inventory increased. Many buyers are choosing to wait on the sidelines in hopes that the market will ease off further. While this might be a reasonable approach, it is hard to predict market sentiment. This more "balanced" market does provide a welcome relief and an opportunity for fatigued buyers.  

REBGV: SPRING USHERS IN CALMER HOUSING MARKET TRENDS IN METRO VANCOUVER
After reaching record-setting levels in 2021, home sale activity has returned to more typical seasonal levels in Metro Vancouver this spring due, in large part, to rising interest rates.
"With interest rates rising, home buyers are taking more time to make their decisions in today's housing market," said Daniel John, REBGV Chair. "Home buyers have been operating in a frenzied environment for much of the past two years. This spring is providing a calmer environment, with fewer multiple offer situations, which is allowing buyers to explore their housing options, understand the changing mortgage market, and do their due diligence."
"Upward pressure on home prices has begun to ease in the housing market over the last two months," John said. "Where home prices go next will depend on housing supply. While we're beginning to see modest increases in home listings, we still need housing supply totals to more than double to bring the market close to balanced territory."
LINK to the May 2022 REBGV statistics.
FVREB: HOME PRICES SOFTEN AS FRASER VALLEY HOUSING MARKET COOLS AMID LOWER SALES AND HIGHER INVENTORY
As property sales continue to fall in the Fraser Valley and active listings continue to grow, the region is edging towards more balanced levels not seen since the pre-pandemic period.
"Since March, we've seen sales come down with an accompanying increase in inventory, subsequently restoring much-needed balance and cooling our heated market," said Fraser Valley Real Estate Board President, Sandra Benz. "While still early, it suggests that as we gradually settle into a post-pandemic state of work and life, the big pandemic-era drivers – working from home and record low interest rates – may have run their course."
In May, MLS® HPI Benchmark prices for all three main property types decreased month-over-month for the first time since September 2019.
"The softening of prices will be welcome news for homebuyers, especially in the face of rising mortgage rates," said Fraser Valley Real Estate Board CEO, Baldev Gill. "The volatility we've witnessed over the past couple of years not only underscores the power of external events to affect the market but, in light of recent trends, the ability of the market itself, to adapt and trigger corrective mechanisms."
LINK to the May 2022 FVREB statistics.
VIREB: MARKET SHIFTING AMIDST LIGHTER DEMAND AND MORE INVENTORY
The Vancouver Island Real Estate Board (VIREB) housing market appears to be shifting amidst lighter demand and increased inventory.
The increased inventory is good news for buyers, giving them more options to choose from and easing the pressure to move too quickly when making an offer. However, the market still favours sellers, and balanced conditions seem to be some distance away. According to the British Columbia Real Estate Association (BCREA), it will take a substantial decline in demand to return active listings on Vancouver Island to a healthy state.
Looking to the future, VIREB cautiously aligns with the BC Financial Services Authority (BCFSA) regarding its recently released report recommending a package of measures intended to enhance consumer protections in British Columbia's real estate sector.
"Consumer protection is of utmost importance to REALTORS®, and the proposed five-day pre-offer period is one of the suggested measures introduced in BCREA's white paper, A Better Way Home," says Erica Kavanaugh, 2022 VIREB President. "However, the success of the proposed measures hinges on the next steps taken by BCFSA and the provincial government."
Kavanaugh adds that more time, research, and consultation with all parties involved in the real estate transaction process – including REALTORS® – are needed to ensure the nuances of such substantial changes are carefully considered, and unintended consequences on consumers are avoided.
LINK to the May 2022 VIREB statistics.
Note:
MLS® Home Price Index 2022 update: The national MLS® Home Price Index (MLS® HPI) methodology was updated during an annual review of the model in May.
The Stats Centre Reports for the REBGV for May are available now on our website at this link under the 

"BLOG AND STATS" heading

.  They are automatically updated every month on our website as they become available

. LINK 
Note that you may have to refresh the screen a few times until all the reports come up. This is a problem with the Real Estate Board website.