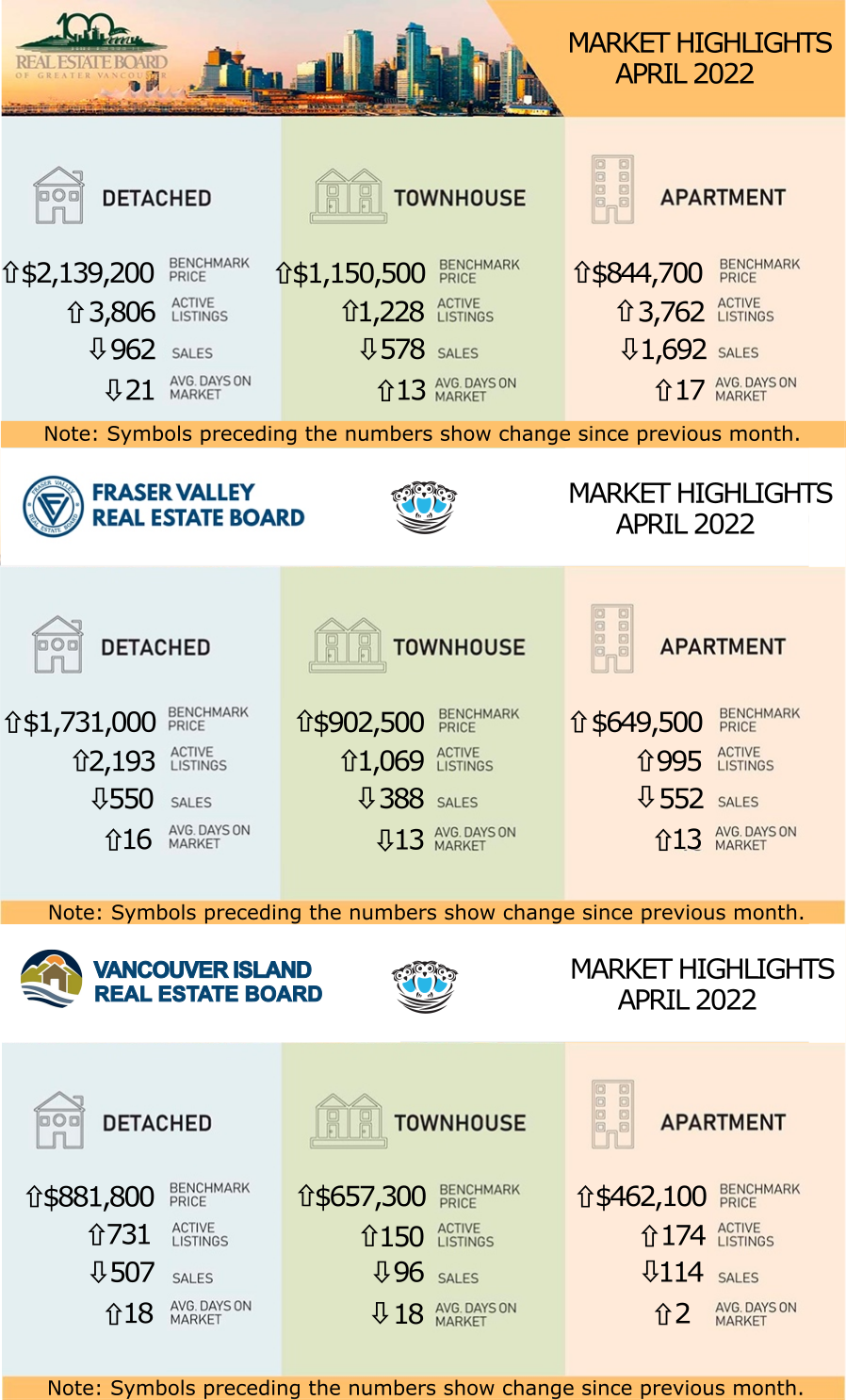 The month of April was a turning point for many buyers. April brought the expected increase in interest rates, the government bringing in the proposed 2022 budget that introduced a 2-year ban on foreign buyers and an anti-flipping tax, and continuously increasing inflation that has skyrocketed the cost of building new homes.

April statistics show a significant drop in the number of property sales being completed in comparison to April of 2021. Just a few months ago, the buyers had to prepare themselves for a bidding war if they wanted to buy a home. Last month, there was a major drop in the number of multiple-offer situations and we saw more properties entering the market which alleviated some of the pent-up buying pressure. We don't know whether this "cooler" real estate period is a trend that will stay or a temporary reaction of the market, but for those looking to buy, this is definitely a more comfortable and less stressful time.


REBGV: METRO VANCOUVER HOME SALES RETURN TO MORE TRADITIONAL LEVELS IN APRIL
Homebuyer demand in Metro Vancouver returned to more historically typical levels in April.

"So far this spring, we've seen home sales ease down from the record-breaking pace of the last year," Daniel John, REBGV Chair said. "While a small sample size, the return to a more traditional pace of home sales that we've experienced over the last two months provides hopeful home buyers more time to make decisions, secure financing and perform other due diligence such as home inspections."

"With interest rates climbing and the total inventory of homes for sale inching higher, it's important to work with your local Realtor to understand how these factors could affect your home buying or selling situation," John said.
LINK to the April 2022 REBGV statistics.
FVREB: FRASER VALLEY SALES DIP BELOW 10-YEAR AVERAGE FOR THE FIRST TIME IN NEARLY TWO YEARS
Property sales in the Fraser Valley decreased by over 35% in April 2022 compared to the previous month, and while the figure is still the sixth-highest April on record for the past ten years, it marks the first time monthly sales have fallen below the ten-year average since June 2020.

"We would typically see a flurry of activity around this time of the year," said, FVREB President, Sandra Benz, "however that's not been the case so far. While it's still too early to say whether this trend will endure, the slowing of sales combined with an increase in active listings is helping to restore a semblance of balance to the market, which is encouraging for homebuyers."

"In an effort to stem inflation worries, the government has moved quickly to implement interest rate hikes," added FVREB CEO Baldev Gill. "In fact, we're already back to rate levels we haven't seen since 2019. This will put an added burden on homebuyers, particularly on first-timers, who will have to meet more stringent stress test conditions. Ultimately, this will likely result in a decrease in demand, which may slow price growth, however, it will do little to resolve the underlying issue of low inventory."
LINK to the April 2022 FVREB statistics.
VIREB: ADDITIONAL INVENTORY POSITIVE NEWS FOR BUYERS
Inventory in the Vancouver Island Real Estate Board (VIREB) area is climbing, but the housing supply is still far below the level needed to satisfy current demand.
A "perfect storm" of factors – including record-low supply, historically low mortgage rates, and lifestyle changes resulting from the COVID-19 pandemic – has fuelled dramatic price increases and highly competitive real estate transactions. However, REALTORS® have noticed that current demand is not equally distributed throughout VIREB's zones, resulting in "micro-markets." These pockets of heightened activity favour particular price points and property types within an area.
Demographics also play a significant role in British Columbia's robust housing market. A large contingent of 30-39-year-olds – the largest we have seen in Canada since the 1970s – are entering their homebuying years. Intergenerational wealth transfer is helping many get onto or climb the property ladder, placing additional pressure on inventory and prices.
The increased inventory observed in April is positive news for buyers, and some REALTORS® are seeing more conditional offers, indicating that the "fear of missing out" has abated somewhat. Higher interest rates may also be tempering how much buyers are willing to spend when making an offer. However, it is too early to say whether conditions are beginning to shift towards a more balanced market.
According to the British Columbia Real Estate Association, housing markets in British Columbia are so lopsided that it will take a substantial decline in demand to return active listings to a healthy state. That said, sales did dip in April. The cause behind these decreases is somewhat muddy: whether the numbers reflect "true" decreased demand or merely supply-induced buyer fatigue should become more apparent in the coming months.
LINK to the April 2022 VIREB statistics.
The Stats Centre Reports for the REBGV for April are available now on our website at this link under the 

"BLOG AND STATS" heading

.  They are automatically updated every month on our website as they become available

. LINK 
Note that you may have to refresh the screen a few times until all the reports come up. This is a problem with the Real Estate Board website.