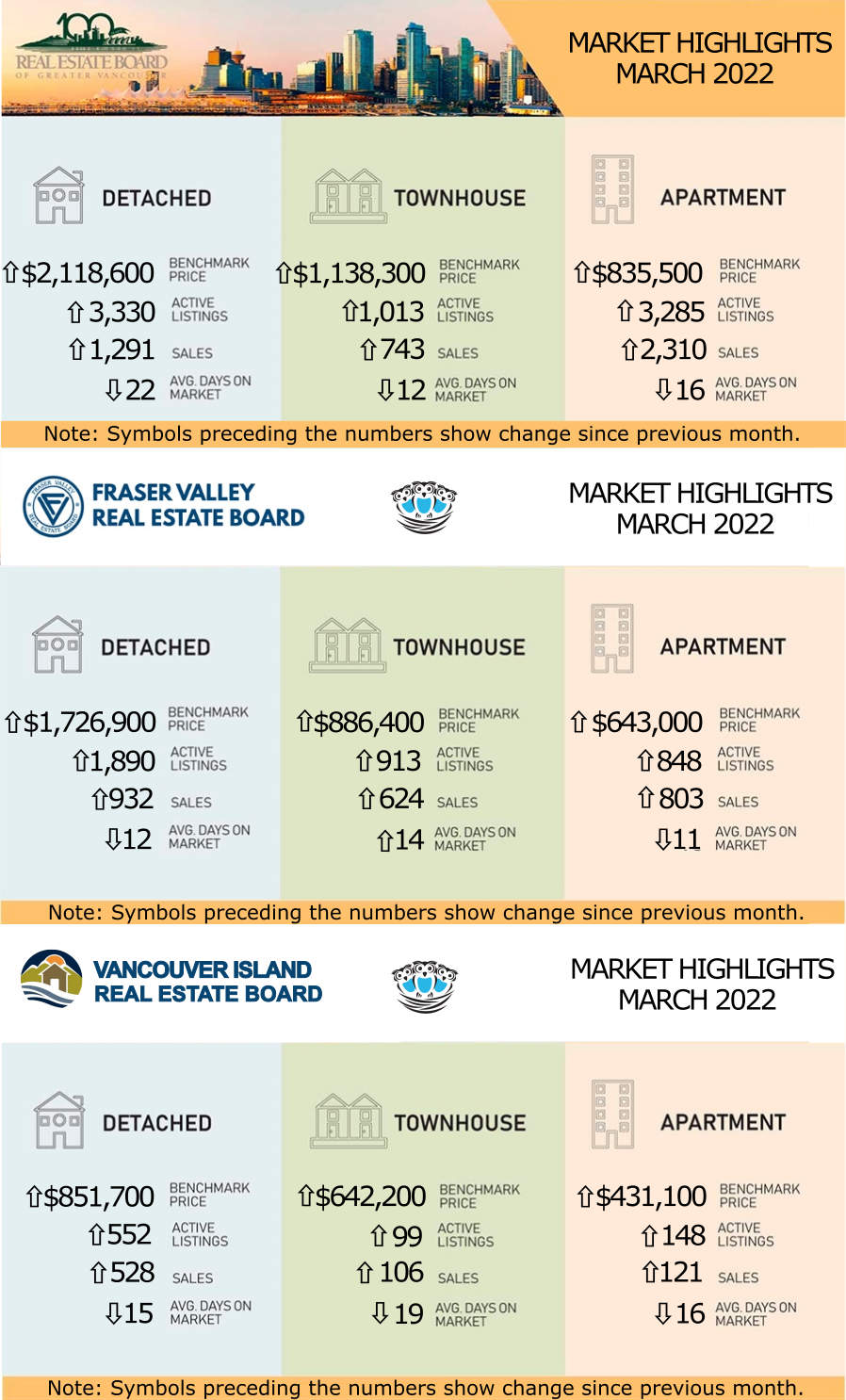 We saw a significant increase in new listings on the market in March and some sectors showed signs of a slowing down or, rather, normalizing. It will be interesting to see what the anticipated "cooling-off" period will look like and how it will affect the market. We will be sending more information about it in a separate newsletter.
REBGV: CALMER THAN LAST SPRING'S RECORD PACE, METRO VANCOUVER HOME BUYER DEMAND REMAINS ELEVATED
While down from last year's record numbers, home sale activity in Metro Vancouver's housing market remained elevated in March.
"March of 2021 was the highest selling month in our history. This year's activity, while still elevated, is happening at a calmer pace than we experienced 12 months ago," Daniel John, REBGV Chair said. "Home buyers are keeping a close eye on rising interest rates, hoping to make a move before their locked-in rates expire."
"We're still seeing upward pressure on prices across all housing categories in the region. Lack of supply is driving this pressure," John said. "The number of homes listed for sale on our MLS® system today is less than half of what's needed to shift the market into balanced territory."
LINK to the March 2022 REBGV statistics.
FVREB: CONTINUED GROWTH IN NEW LISTINGS A HOPEFUL SIGN FOR HOME BUYERS IN THE FRASER VALLEY
For the third consecutive month, new listings in the Fraser Valley continued to climb in March giving buyers more to choose from, helping to increase overall active inventory to levels not seen since last July. Property sales remain robust, as Benchmark prices, the price of a 'typical' home, continued to increase month-over-month.
Sandra Benz, President of the Board, said of this month's statistics, "Sales were strong again in March as more new listings continued to come on stream. We're hopeful this will contribute to a slowing in price growth, which is good news for the home-buying public. Other encouraging signs, such as less open house traffic and fewer multiple offers, may help us get to a more balanced market, however until the fundamental issue of lack of supply is addressed, we won't see that happen anytime soon."
Baldev Gill, Chief Executive Officer of the Board, added, "We may not see the impact of recent interest rate hikes on the market trends until later in 2022. With fixed rates nearly double what they were a year ago, new homebuyers will likely be more impacted than other segments of the home-buying public, as mortgage stress test conditions become more stringent. We hope to see equal efforts from government to address inventory issues to help make housing more affordable."
LINK to the March 2022 FVREB statistics.
VIREB: INVENTORY INCHING UP BUT STILL FAR FROM IDEAL
Inventory in the Vancouver Island Real Estate Board (VIREB) area is slowly inching up but is still far from ideal.
The British Columbia Real Estate Association (BCREA) says that with housing markets so out-of-balance, it will take a substantial decline in demand to return active listings to a healthy state. A "perfect storm" of factors – including record-low supply, historically low mortgage rates, and lifestyle changes resulting from the COVID-19 pandemic – have resulted in dramatic price increases and highly competitive real estate transactions. This storm of factors is motivating some buyers to make unconditional offers, a potentially dangerous situation when making what is likely the biggest purchase of their lives.
The provincial government's recently announced Homebuyer Protection Period is an attempt to protect consumers by introducing a five-day "cooling-off" period for real estate transactions. However, industry data indicates that it will not benefit British Columbians and could create an unequal playing field favouring buyers over sellers.

"Policy should equally protect all parties involved in real estate transactions while also contributing to a smooth functioning market and improved housing affordability," says Erica Kavanaugh, 2022 VIREB President. "A cooling-off period will likely increase competition for any given property, has the potential to increase prices, and doesn't account for risks to sellers."

Instead, organized real estate proposes a pre-offer period that would mandate a listing be available for five business days before allowing offers. The primary difference between the two recommendations is that a pre-offer period is proactive, allowing due diligence before making an offer, while a cooling-off period is reactive. (For additional context, visit the website for BCREA's white paper, A Better Way Home.)
LINK to the March 2022 VIREB statistics.