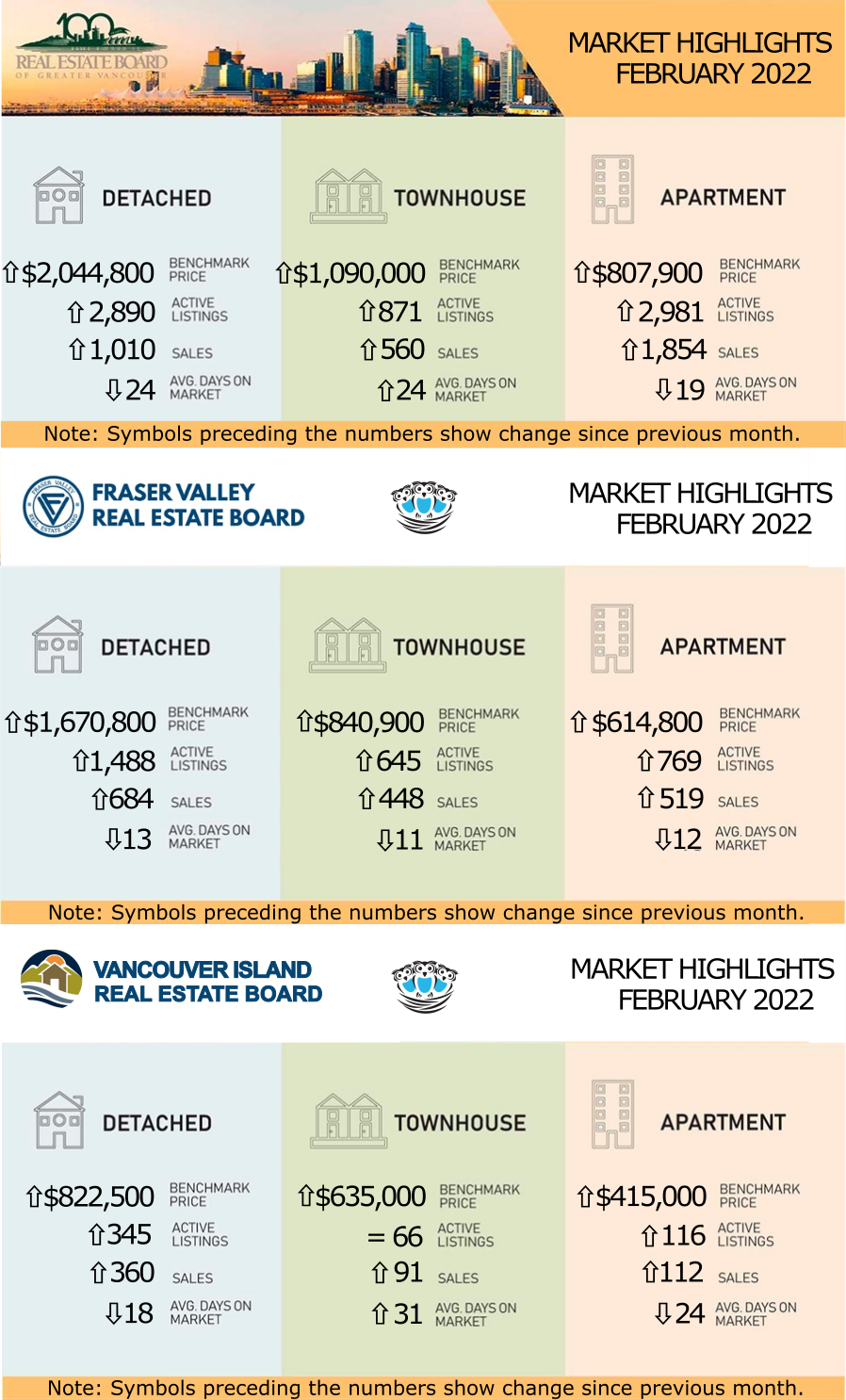 Last month, we saw an increase in the number of listings but multiple offers continued in many areas and property classes. Interestingly, in the last week or so, the number of offers on any given property has begun to dwindle and there are even properties that didn't receive any offers on their "offer" date. This is based on our own observations and those of some of our colleagues so this may not represent the whole market. Buyers have been hoping for this day for a long time!
Because of the recent Bank of Canada rate increase, we may see more desperation from buyers that have an existing 90-day rate hold (pre-approval) from the bank. The rate holds will eventually expire and those buyers will most likely have to absorb an additional 1/2% increase in their mortgage rates which will hurt their buying power. 
The invasion of Ukraine is de-stabilizing virtually all financial markets as we all hold our collective breaths hoping that this doesn't push us into another World War. It's been 77 years since the end of WWII and all bets are off on where our economy goes if the war activity spreads.
LISTINGS INCH UP, DEMAND REMAINS STEADY AND PRICE GAINS CONTINUE IN METRO VANCOUVER'S HOUSING MARKET IN FEBRUARY 
The Metro Vancouver housing market saw steady home sales activity, modest increases in home listings and continued upward trends in pricing in February.
"As we prepare to enter what's traditionally the busiest season of the year, the Metro Vancouver housing market is seeing more historically typical home sale activity and a modest uptick in home listing activity compared to last year," Taylor Biggar, REBGV Chair said.
"Despite having a higher volume of people listing their homes for sale in February, the region's housing market remains significantly undersupplied, which has been pushing home prices to new highs month after month," Biggar said.
"A lack of housing supply is at the heart of the affordability challenges in Metro Vancouver today. We need more coordinated action from stakeholders at all levels to help create an ample, diverse supply of housing options for residents in the region today and into the future," Biggar said.
LINK to the February 2022 REBGV statistics.
FVREB POSTS RECORD VOLUME OF NEW LISTINGS IN FEBRUARY
Buyers of Fraser Valley real estate had significantly more inventory to choose from last month due to a record-breaking volume of new listings received for the month of February.
"Although the market is still far from balanced, it is encouraging to see new listings increase again for the second month in a row," said Fraser Valley Real Estate Board President, Larry Anderson. "We're hopeful that this trend will be sustained leading into the spring season as more sellers come on stream to help soften the market and provide opportunities for the many buyers who've been sidelined over the past year and a half."
"Buyers are looking for value for their real estate dollar and the Fraser Valley market still delivers compared to other regions throughout the Lower Mainland," said Baldev Gill CEO of the Fraser Valley Real Estate Board. "That said, supply fundamentals continue to be the number one issue facing real estate markets in all regions across the province. Until there is a concerted effort to address inventory, buyers will continue to face challenging market conditions."
LINK to the February 2022 FVREB statistics.
ADDITIONAL INVENTORY OFFERS LITTLE RELIEF FOR BUYERS IN THE VIREB
February brought additional inventory to the table in the Vancouver Island Real Estate Board (VIREB) area. However, listings are still far below where they need to be to satisfy buyer demand.
The British Columbia Real Estate Association (BCREA) says that with housing markets so out-of-balance, it will take a substantial decline in demand to return active listings to a healthy state. A "perfect storm" of factors – including record-low supply, historically low mortgage rates, and lifestyle changes resulting from the COVID-19 pandemic – have resulted in dramatic price increases and highly competitive real estate transactions.
"British Columbia is in the midst of a housing crisis," says Erica Kavanaugh, 2022 VIREB President. "Organized real estate has data-driven insights into potential solutions, which is why BCREA just released a white paper on
market conditions in the province."
In a Better Way Home: Strengthening Consumer Protection in Real Estate, BCREA presents over 30 recommendations to the provincial government on how it can protect consumers today and provide affordable housing in the future. Using extensive data and expert analysis, BCREA focuses on real-life solutions in the paper instead of ineffective and temporary demand-side fixes, adds Kavanaugh. (To read or download the white paper, visit bcrea.bc.ca/whitepaper.)
"The price of a home is primarily driven by the market fundamentals of supply and demand," says Kavanaugh.
"Government interventions that only target the transaction process, such as the recently announced cooling-off period, will never be enough to make housing more affordable. The bottom line is that we need more supply."
LINK to the February 2022 VIREB statistics.