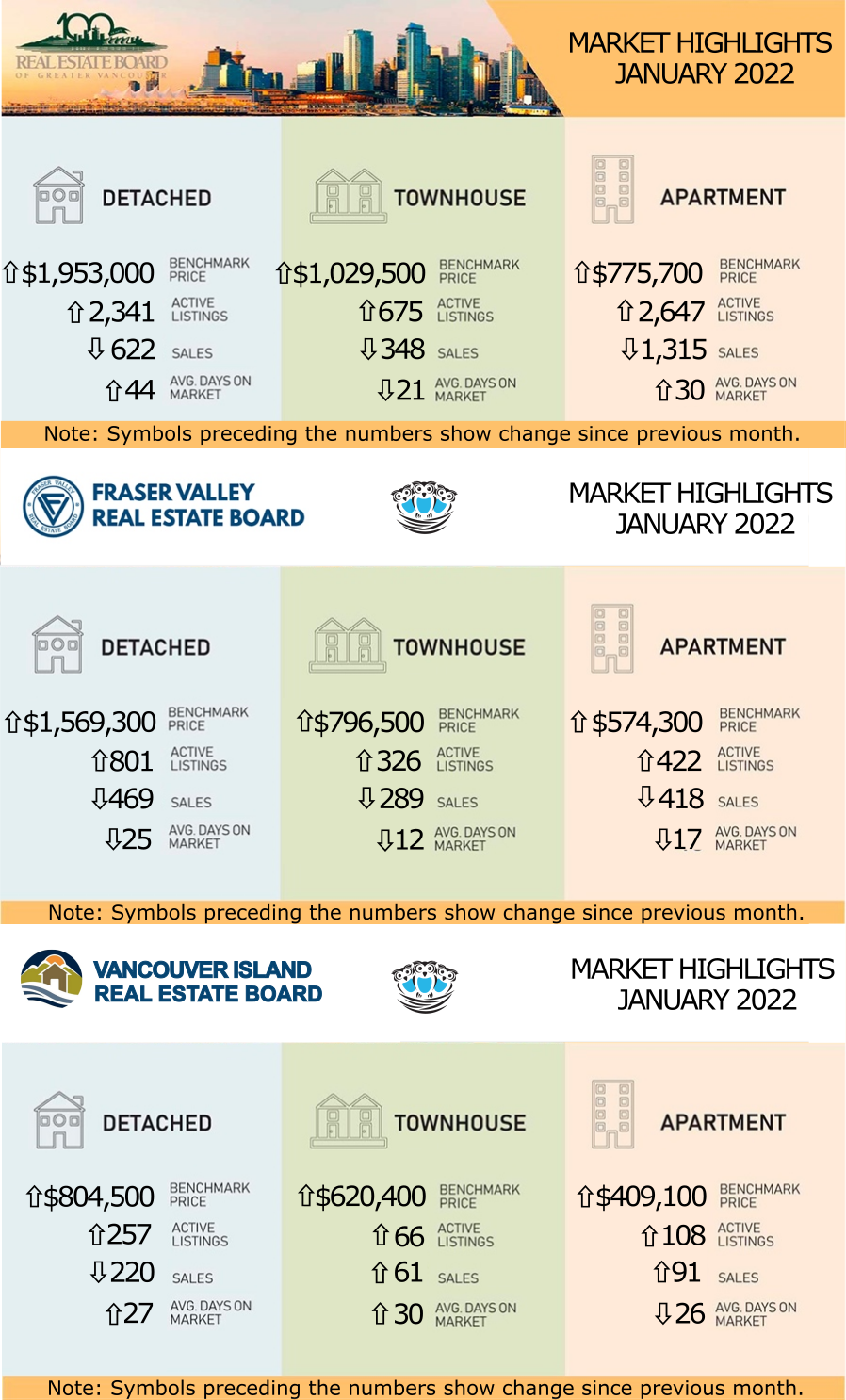 LOW SUPPLY KEEPS UPWARD PRESSURE ON HOME PRICES ACROSS METRO VANCOUVER'S HOUSING MARKET
The first month of 2022 saw home sales come down from last year's record-setting pace, while low supply continued to cause home prices to edge higher across Metro Vancouver.
"Our listing inventory on MLS® is less than half of what would be optimal to begin the year. As a result, hopeful home buyers have limited choices in the market today. This trend is causing fierce competition for a scarce number of homes for sale, which, in turn, increases prices," Keith Stewart, REBGV economist said.
"As we approach spring, we'll keep a close eye on the impact of rising interest rates on buyers' willingness to buy and on whether more homeowners will opt to become sellers in what's traditionally the busiest season of the year," Stewart said. "With home prices reaching new highs in recent months, the need has never been greater for government to collaborate with the building community to expedite the creation of housing supply and provide more choice for those struggling to buy a home today."
LINK to the January 2022 REBGV statistics.
GLIMMER OF HOPE FOR FRASER VALLEY HOME BUYERS AS NEW LISTINGS SURGE IN JANUARY
On the heels of the busiest year in history for Fraser Valley real estate, January activity saw the beginnings of a market rebalancing. Overall property sales – still the third-highest ever for January – cooled compared to December while the volume of new listings improved significantly.
Larry Anderson, President of the Board, said, "In January, REALTORS® saw the return of home sellers. Yes, sales in our region remain elevated, but a positive, early trend for 2022 is we experienced a significant increase in requests from sellers to list. "It's early days yet, but if this trend continues into spring, we could see an easing of the supply-demand dynamic in our region. We have a long way to go to replenish our housing stock and bring much-needed balance to the market, but this is a step in the right direction."
Baldev Gill, Chief Executive Officer of the Board, said, "For almost two years, Fraser Valley REALTORS® have worked hard to help their clients navigate safely during the longest, most intense seller's market in our Board's history. This protracted pandemic market has resulted in considerable upward pressure on home prices.
"We anticipate the seasonal influx of new inventory, such as we're already seeing, could provide a welcome, albeit far from fully adequate, easing of price growth moving into 2022."
LINK to the January 2022 FVREB statistics.
NEW YEAR BRINGS SMALL INVENTORY BUMP
The new year brought a small inventory bump, but demand is still far outpacing supply in the Vancouver Island Real Estate Board (VIREB) area.
In its recent Market Intelligence Report, the British Columbia Real Estate Association (BCREA) states that with markets so out-of-balance, it will take a substantial decline in demand to return active listings to a healthy state. Further, the Bank of Canada is signalling that it will begin raising its policy rate or "tightening" monetary policy this year in response to elevated Canadian inflation.
Historically, the Bank of Canada's tightening has led to falling home sales and flattening home prices. BCREA's model simulations show that the most likely outcome of this round of Bank of Canada tightening will be home sales falling to near their historical averages and for home price growth to moderate. However, any tightening is unlikely to result in significant price decreases because of severely low supply.
Erica Kavanaugh, 2022 VIREB President, echoes the real estate sector's repeated calls for new measures to increase housing stock. "Unless demand drops significantly or more inventory comes online through new construction, VIREB's inventory situation likely won't improve," says Kavanaugh. "The issue of supply isn't a new one in British Columbia, but the lack of inventory we're experiencing has been compounded by the pandemic and decades of insufficient planning."
LINK to the January 2022 VIREB statistics.