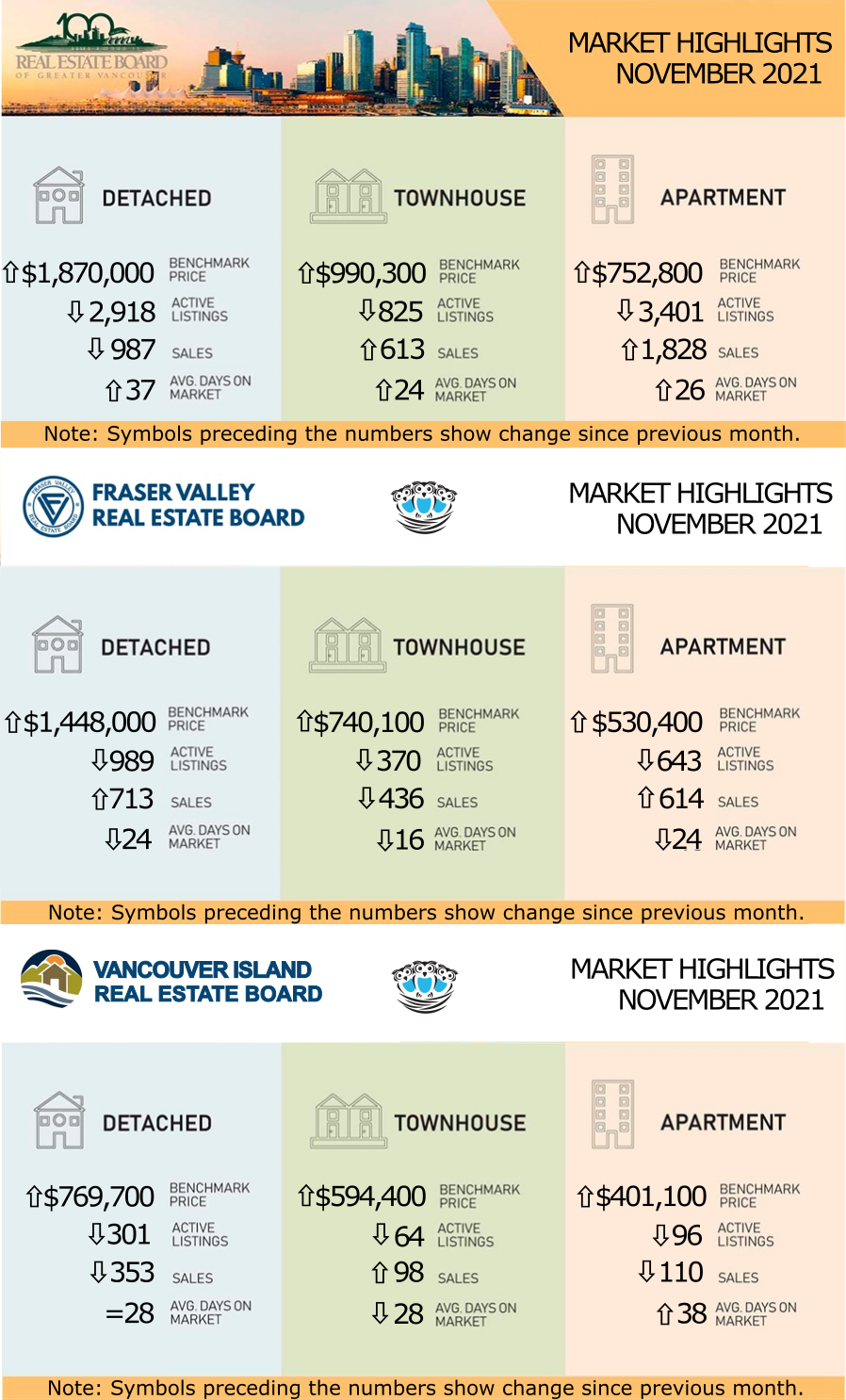 HOME SALES ACTIVITY REMAINS UP, LISTINGS DOWN ACROSS METRO VANCOUVER'S HOUSING MARKET
As we near the end of 2021, home buyer demand remains well in excess of long-term averages and the supply of homes for sale continues to decline across Metro Vancouver's housing market.
The Real Estate Board of Greater Vancouver reports that residential home sales in the region in November 2021 were up by 11.9% year-over-year and dropped by 1.9% from last month.
"We expect home sale totals to end the year at or near an all-time record in our region," Keith Stewart, REBGV economist said. "We've had elevated home sale activity throughout 2021 despite persistently low levels of homes available for sale. With a new year around the corner, it's critical that this supply crunch remains the focus for addressing the housing affordability challenges in our region."
Newly listed properties were down by 2.6% compared to November of 2020 and down by 2.1% compared to October 2021. The total number of homes currently listed for sale on the MLS® system in Metro Vancouver is down by 35.7% compared to November 2020 and down by 11.1% compared to October 2021.
"The imbalance between supply and demand, coupled with some buyers wanting to use rate holds on lower rate fixed-term mortgages, is keeping upward pressure on home prices in this traditionally quieter time of year for the market," Stewart said.
LINK to the November 2021 REBGV statistics.
FRASER VALLEY HOME SALES CONTINUED TO SOAR IN NOVEMBER FURTHER DEPLETING SUPPLY
Robust demand for Fraser Valley real estate continued in November, with the Fraser Valley Real Estate Board recording the region's second-highest volume of sales of all property types for the month – second only to November 2020.
In November, the recorded sales were 9.2% lower compared to November of last year, and up by 1.8% compared to the sales in October. The number of new listings received by the Board in November was down by 4.2% compared to October's intake and a down by 5.5% compared to the same month last year.
Larry Anderson, President of the Board, said, "Lack of supply continues to be the biggest factor impacting the market. To see sales increase from October to November, even slightly, is unusual. Typically, as the weather changes and the holiday season approaches, we see sales start to decline, but not this year.
"This is not an easy market. Buyers and sellers alike are relying on the experience and skill of their REALTOR® to help them navigate a lack of supply, multiple offer situations, and very fast turnaround times."
Baldev Gill, Chief Executive Officer of the Board said, "We're seeing a number of factors at play, including historically low-interest rates fueling purchases, with buyers aware that rates are likely to increase next year. Our province has seen a strong economic recovery in most sectors through this pandemic, and this strength bolsters home purchasing decisions."
LINK to the November 2021 FVREB statistics.
VANCOUVER ISLAND: HOW LOW CAN HOUSING INVENTORY GO?
Active listings in the Vancouver Island Real Estate Board area continue to drop, with demand far outpacing supply. Inventory has hit consecutive historical lows for several months running.
Active listings of single-family homes were 44% lower last month than in November 2020 and dropped by 24% from the previous month. VIREB's inventory of condo apartments declined by 69% from one year ago and was 23% lower than in October. Row/townhouse inventory dropped by 55% year over year and was 47% lower than the previous month.
By category, 353 single-family homes sold on the MLS® System in November, a 16% decrease from one year ago. There were 110 condo apartment sales last month compared to 107 one year ago and 122 the previous month. In the row/townhouse category, 98 units sold compared to 90 the previous November and 88 in October 2021.
According to the British Columbia Real Estate Association, the supply situation is especially critical in markets outside the Lower Mainland. One of the worst inventory situations is on Vancouver Island. Even if sales were to return to long-run average levels, total listings would need to nearly double to achieve a balanced market, and the road to doubling those listings lies in building more homes.
VIREB welcomes the news that the Government of British Columbia is giving local governments more tools and powers to simplify and speed up their development approvals processes. The changes announced by the government include removing requirements for local governments to hold public hearings for development proposals that already align with Official Community Plans and equipping municipal staff to make decisions for minor development variance permits.
"Increasing housing supply isn't a simple solution. It requires a coordinated effort from all levels of government and adequate incentives for municipalities to take action,' says Ian Mackay, 2021 VIREB President. "Homes need to be built in a reasonable time frame at a reasonable cost, and it cannot continue to take years to get a development off the ground. The public also has a role to play in being open to gentle densification in some areas."
LINK to the November 2021 VIREB statistics.
The Stats Centre Reports for the REBGV for November are available now on our website at this link under the

"BLOG AND STATS" heading

. They are automatically updated every month on our website as they become available

. LINK
Note that you may have to refresh the screen a few times until all the reports come up. This is a problem with the Real Estate Board website.
Below is a link to a graph showing the rise in prices in the Lower Mainland just for resale properties (no new homes) over the last year. This link is live so it will update when the new statistics come in each month. LINK to live graph