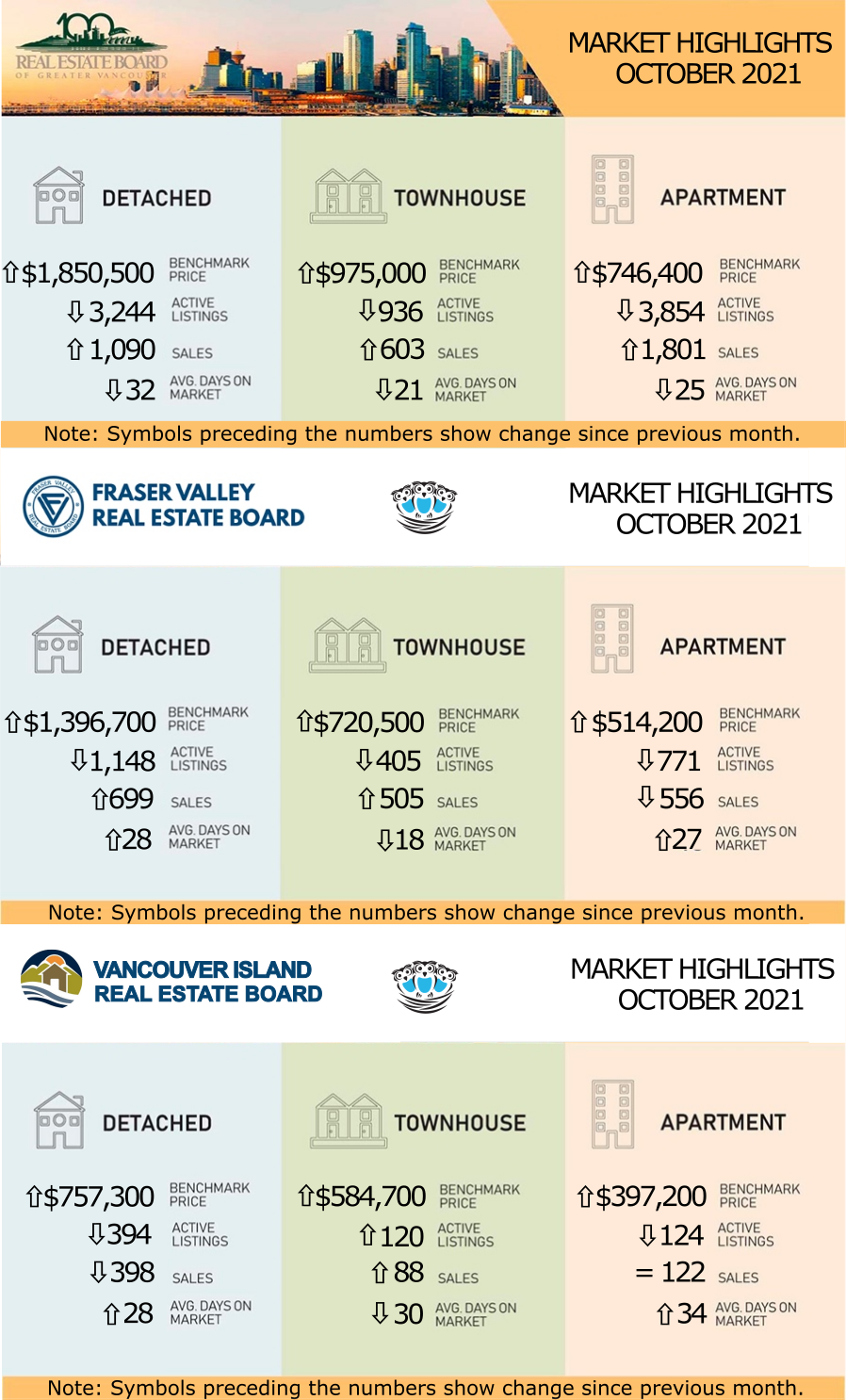 METRO VANCOUVER HOME BUYERS COMPETE FOR FEWER HOME LISTINGS IN OCTOBER
Home sale activity in Metro Vancouver remained above historical averages in October while the overall supply of homes for sale dipped to levels not seen in three years. Residential home sales in the region dropped by 5.2% from October last year and went up by 11% compared to last month. Sales were 22.4% above the 10-year October sales average.
"Home sale activity continues to outpace what's typical for this time of year and the pool of homes available for sale is in decline. This dynamic between supply and demand is causing home prices to continue to edge up across the region," Keith Stewart, REBGV economist said.
The number of attached and apartment properties newly listed for sale in Metro Vancouver in October dropped by 27.3% compared to October of last year and by 21.7% compared to last month.
"Rising fixed mortgage rates should eventually help ease demand, but for now sales remain strong and buyers with rate holds will remain motivated to find a property for the rest of the year," Stewart said.
The MLS® Home Price Index composite benchmark price for all residential homes in Metro Vancouver is $1,199,400. This represents a 14.7% increase over October 2020 and a 1.1% increase compared to September 2021.
LINK to the October 2021 REBGV statistics.
MLS® SALES IN THE FRASER VALLEY REMAINED STRONG IN OCTOBER WHILE SUPPLY CONTINUED TO DIMINISH
Demand for Fraser Valley real estate remained solid in October with overall sales the third-highest on record.
The Board processed a total of 1,938 property sales in October, an increase of 3.9% compared to September and a decrease of 18.2% compared to the same month last year.
Larry Anderson, President of the Board, said, "What we're seeing is a combination of above-average sales with below-average new listings which is placing strong upward pressure on home prices, for all residential categories, month-over-month. "It is a very challenging time, particularly for buyers. I empathize with clients who have been trying to buy a home for more than a year without success after multiple attempts. Now, more than ever is the time when buyers and sellers alike must rely on their REALTOR® to guide and advise them in considering all available options, including a change in community or even property type."
After rebounding slightly in September, new listings decreased in October. New listings dropped by 29% compared to last year, and by 6.6% compared to September 2021.
Baldev Gill, Chief Executive Officer of the Board, said, "Fraser Valley is a top destination currently in BC for buyers looking for relatively affordable family-sized homes. Townhomes and single-family homes are selling on average within two to four weeks in our region, with buyers keenly watching the market for new listings."
LINK to the October 2021 FVREB statistics.
DIFFERENT MONTH BUT THE SAME ISSUES CONTINUE
The predominant theme running through the housing market in the Vancouver Island Real Estate Board (VIREB) area is one of "different month, same issues."
By category, 398 single-family homes sold in October, a 23% decrease from one year ago. There were 122 condo apartment sales last month, a 6% decrease from October 2020. In the row/townhouse category, 88 units sold compared to 98 the previous October. However, there is little doubt that a dearth of active listings is causing the sales decline.
Buyers continue to face frustrating hurdles caused by historically low inventory, with little relief in sight. Active listings of single-family homes were 46% lower last month than in October 2020 and dropped by 18% from September. VIREB's inventory of condo apartments declined by 63% from one year ago and was 26% lower than in September. However, there was some positive news for townhouse buyers. While active listings in this category dropped by 39% year over year, inventory increased by 13% from September.
In its most recent housing forecast, the British Columbia Real Estate Association (BCREA) stated that the supply situation is especially severe in markets outside the Lower Mainland, including Vancouver Island. Listings activity has been lacklustre, and even if sales come back down to long-run average levels, total listings would need to nearly double to bring markets back into balance. The road to doubling those listings lies in increasing the housing supply.
"Unless demand drops significantly or more inventory comes online through new construction, VIREB's inventory situation likely won't improve," says Ian Mackay, 2021 VIREB President.
Mackay welcomes the news that the Government of British Columbia is giving local governments more tools and powers to simplify and speed up their development approvals processes, helping to build the homes people need more quickly.
"Real estate is all about supply and demand. New construction isn't a quick solution, but it's the only one that can address the housing shortage, and, hopefully, temper prices," said Mackay.
LINK to the October 2021 VIREB statistics.
The Stats Centre Reports for the REBGV for September are available now on our website at this link under the

"BLOG AND STATS" heading

. They are automatically updated every month on our website as they become available

. LINK
Note that you may have to refresh the screen a few times until all the reports come up. This is a problem with the Real Estate Board website.
Below is a link to a graph showing the rise in prices in the Lower Mainland just for resale properties (no new homes) over the last year. This link is live so it will update when the new statistics come in each month. LINK to live graph