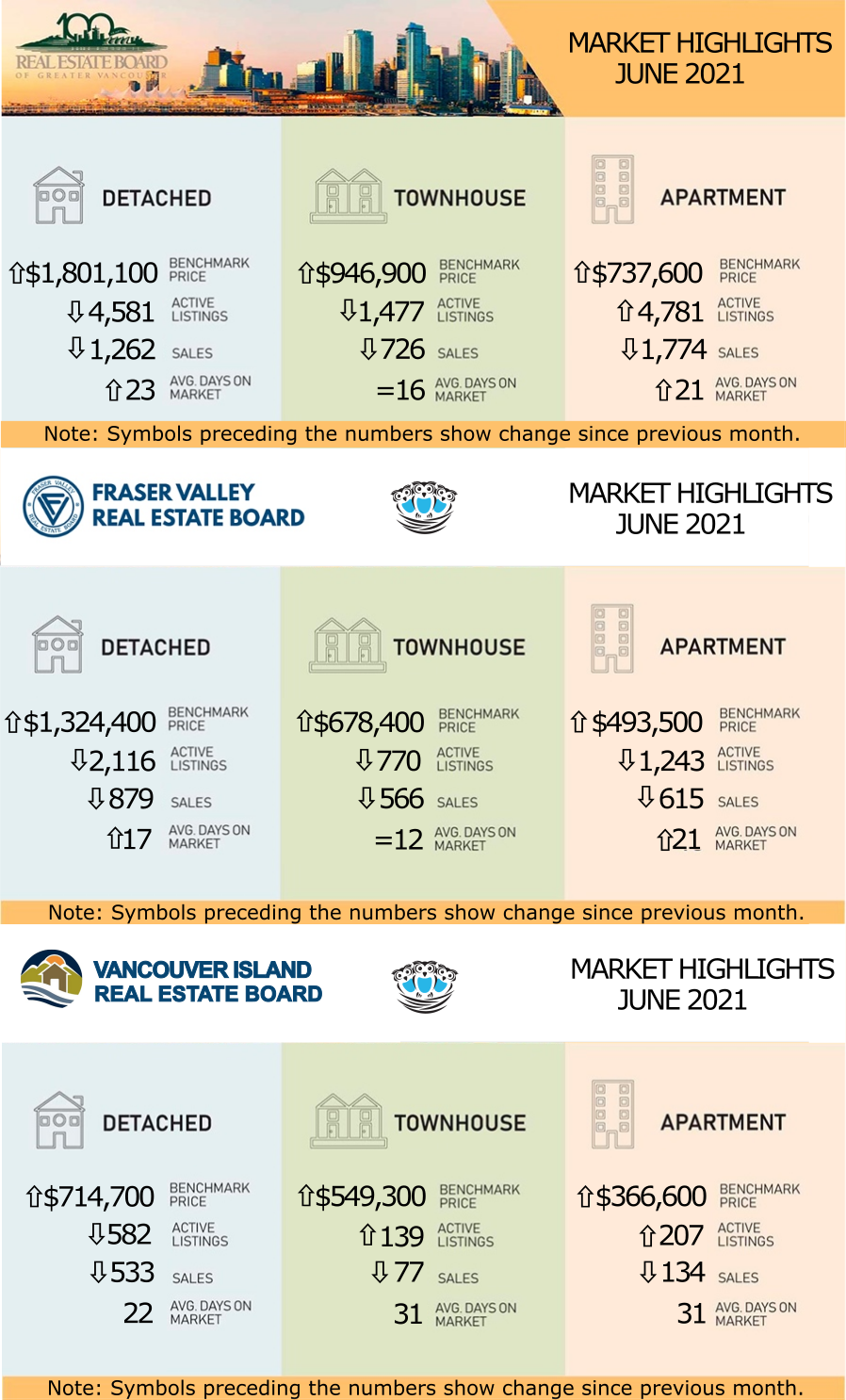 The last month has really tested the mettle of British Columbians with record high temperatures and fires. It's no wonder that many buyers took a breather and cooled their home searches. We can finally start to reunite with family and friends and begin to enjoy the summer months in earnest.
METRO VANCOUVER'S HOUSING MARKET SETS A STEADY, CALMER PACE TO BEGIN THE SUMMER SEASON


While still elevated, home sale and listing activity in Metro Vancouver has eased back from the record-setting pace seen in March and April of this year. Residential home sales in the region in June 2021 are 54% higher compared to sales a year ago but dropped by 12% from May 2021. Last month's sales were 18% above the 10-year June sales average.

"Metro Vancouver's housing market continues to experience strong seller's market conditions, although the intensity of demand has eased from what we saw throughout most of the spring," Keith Stewart, REBGV economist said. "The past two months have shown a market that's
shifting toward more historically typical conditions."

There were 5,849 detached, attached and apartment properties newly listed for sale on the MLS® in Metro Vancouver in June 2021. This represents a 1.1% increase compared to homes listed in June 2020 and an 18% decrease compared to May 2021.

"With low-interest rates, a growing economy and an improving job market, the Metro Vancouver housing market continues to enjoy solid economic fundamentals," Stewart said. "We're now seeing a market that's beginning to normalize from the torrid pace in the spring. This is making multiple offers less common, allowing subjects to be seen on offers more frequently again, and is making new price records less likely."

For all property types, the sales-to-active listings ratio for June 2021 is 35%. The ratio is 28% for detached homes, 49% for townhomes, and 37% for apartments by property type. Generally, analysts say downward pressure on home prices occurs when the ratio dips below 12% for a sustained period, while home prices often experience upward pressure when it surpasses 20% over several months.

The MLS® Home Price Index composite benchmark price for all residential properties in Metro Vancouver is currently $1,175,100. This represents a 14.5% increase over June 2020 and a 0.2% increase compared to May 2021. Sales of detached homes in June 2021 are 46% higher compared to June 2020. The benchmark price for detached properties is $1,801,100. This represents a 22% increase from June 2020 and is virtually unchanged from May 2021.
LINK
to the June 2021 REBGV statistics.
MIRRORING THE WEATHER, FRASER VALLEY'S HOT HOUSING MARKET COOLED SLIGHTLY IN JUNE GOING FRON A BOIL TO SIMMER
Sales on the Fraser Valley Real Estate Board's Multiple Listing Service® (MLS®) remained robust in June however, for the first time since last September, monthly sales did not break a historical record.
In June, the Board processed 2,247 sales on its MLS®, a 24% decrease compared to May and a 31% increase compared to June of last year. Sales continued to remain elevated compared to a typical June – 22% above the ten-year average.
Larry Anderson, President of the Board, said, "In June, we shifted from an extreme seller's market to a strong seller's market. Although demand for Fraser Valley homes remains very high – over 40% of active listings sold in June – we're seeing the market settle down giving buyers and sellers more room to maneuver. We're now seeing more subject offers and for the first time in months, we're starting to see price reductions."
In June, the Board received 3,108 new listings, a decrease of 10% compared to last year, and a decrease of 21% compared to May 2021. The month ended with total active inventory sitting at 5,474, a 7% decrease compared to May, and 23% fewer than June 2020.
Anderson continued, "A lack of supply continues to be the single largest factor affecting the market. Simply put, to meet current demand and get back to balance, we need about 3,500 more active listings in our region."
Baldev Gill, Chief Executive Officer of the Board, added, "Effective July 1, as part of Stage 3 of BC's Restart Plan, REALTORS® are again allowed to hold in-person showings and open houses while continuing to adhere to public safety recommendations."
LINK
to the June 2021 FVREB statistics.
JUNE MARKET COOLS SLIGHTLY BUT HIGH DEMAND CONTINUES
The blistering heat that finally gave way to slightly cooler temperatures mirrors what is happening in our housing market, as scorching real estate activity continued its cooling trend in June.
Last month, the Vancouver Island Real Estate Board (VIREB) saw sales of 533 single-family detached properties compared to 531 the previous month and 473 in June 2020. In the condo apartment category, sales dropped by 10% from May 2021. Row/townhouse sales decreased by 18% from May and were 15% lower than in June 2020.
Inventory is rising slightly, which opens up a few more opportunities for buyers, but it is still historically tight on Vancouver Island. Although active listings of single-family homes dropped by 2% from May, condo apartment and row/townhouse inventory rose by 16% and 23%, respectively.
The British Columbia Real Estate Association (BCREA) forecasts that market conditions may begin to even out somewhat by the end of the year. However, it would take approximately 2,500 new listings in the VIREB area to create an actual balanced market if activity continues at this pace. 
"More inventory is certainly good news for buyers, even if the increases are slight," says 2021 VIREB president Ian Mackay. "We're also relieved to see a few more conditional offers again, which means the frenzied fear-of-missing-out mentality is tempering a bit." That said, Mackay reiterates that unless demand drops significantly or more housing supply comes online through new construction, the need for VIREB's inventory situation will not move by much.
BCREA, VIREB, and other real estate boards continue advocating with policymakers at the provincial and regional levels to speed up the development process so that municipalities can expand supply more quickly to meet demand.
VIREB's heated housing market continues to impact prices, which are rising throughout the board area. The board-wide benchmark price of a single-family home broke the $700,000 mark in June, rising to $714,700, up 31% year over year and 3% from May. In the apartment category, the benchmark price was 3% higher than in May and 21% higher year over year. The benchmark price of a townhouse rose by 34% year over year and by 4% from May, climbing to $549,300.
In Campbell River, the benchmark price of a single-family home hit $627,600 in June, up by 29% from the previous year. In the Comox Valley, the year-over-year benchmark price rose by 30% to $756,400. The Cowichan Valley reported a benchmark price of $693,200, an increase of 29% from June 2021. Nanaimo's benchmark price rose by 31%, hitting $728,200, while the Parksville Qualicum area saw its benchmark price increase by 30% to $824,000. The cost of a benchmark single-family home in Port Alberni reached $468,100, a 41% year-over-year increase. The benchmark price for the North Island also rose by 41%, hitting $372,600 in June.
 LINK
to the June 2021 VIREB statistics.
The Stats Centre Reports for the REBGV for June are available now on our website at this link under the 

"BLOG AND STATS" heading

.  They are automatically updated every month on our website as they become available

. LINK 
Note that you may have to refresh the screen a few times until all the reports come up. This is a problem with the Real Estate Board website. 
Below is a link to a graph showing the rise in prices in the Lower Mainland just for resale properties (no new homes) over the last year. This link is live so it will update when the new statistics come in each month. LINK to live graph 
 I could have used this guy in the yard last weekend! (Click to go to Youtube) Happy Canada Day!!