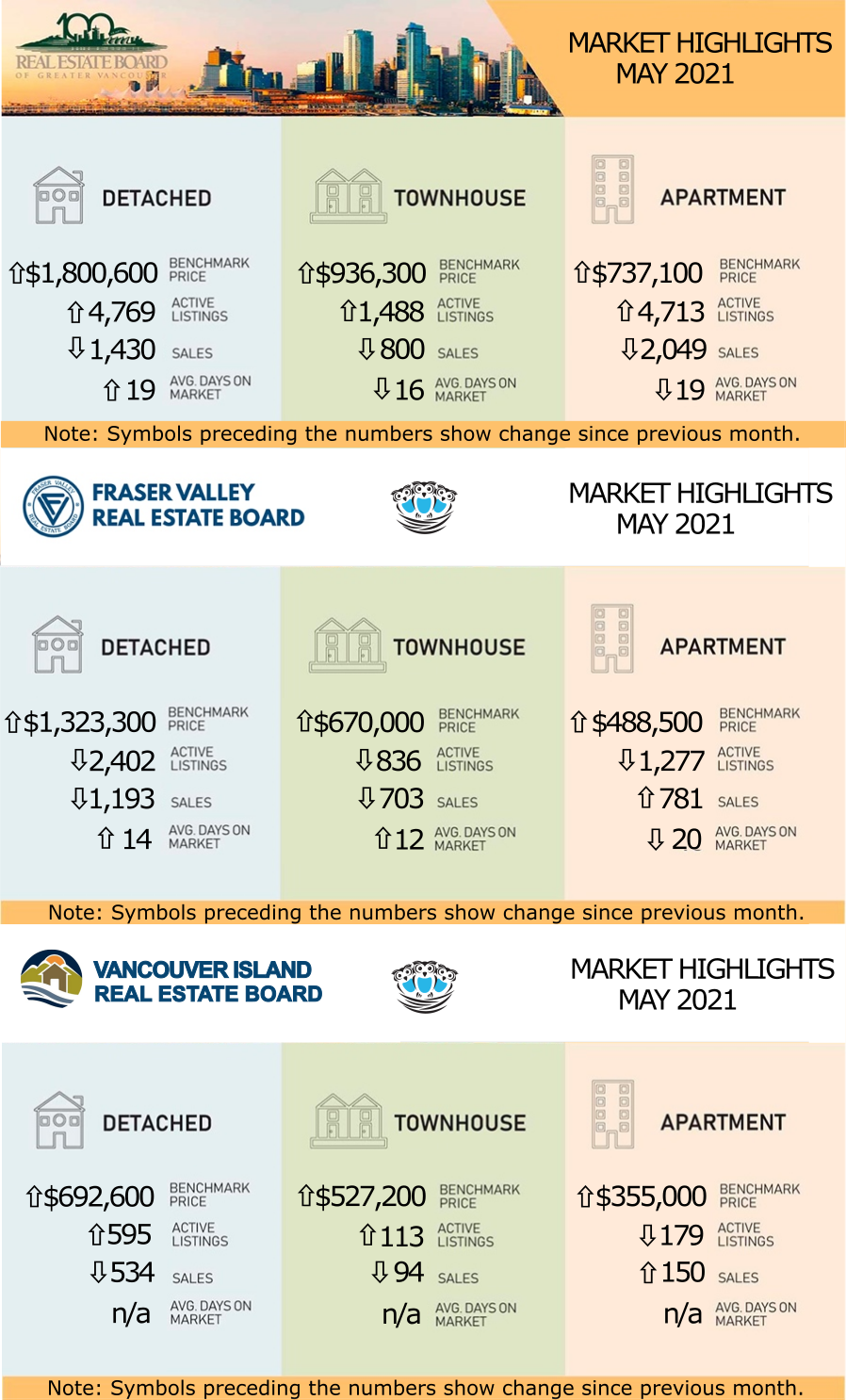 We hope that everyone has been enjoying the lovely spring weather that we've been having. Our hope is that by mid-Summer we'll start to see some rule changes that will allow our lives to get to some semblance of normality. :^)
 
HOME SALE AND LISTING ACTIVITY IN METRO VANCOUVER MOVES OFF OF ITS RECORD-BREAKING PACE


The Metro Vancouver* housing market saw steady home sale and listing activity in May, a shift back from the record-breaking activity seen in the earlier spring months. Residential home sales in the region totaled 4,268 in May 2021, a 187% increase from the 1,485 sales recorded in May 2020, and a 13% decrease from the 4,908 homes sold in April 2021.

"While home sale and listing activity remained above our long-term averages in May, conditions moved back from the record-setting pace experienced throughout Metro Vancouver in March and April of this year," Keith Stewart, REBGV economist said. "With a little less intensity in the market today than we saw earlier in the spring, home sellers need to ensure they're working with their REALTOR® to price their homes based on current market conditions."

"With sales easing down from record peaks, a revised mortgage stress test that reduces the maximum borrowing amounts by approximately 4.5%, and the average five-year fixed mortgage rate climbing back over 2% since the beginning of 2021, we'll pay close attention to these factors leading into the summer to understand what effect they'll have on the current market cycle," Stewart said.

The MLS® Home Price Index composite benchmark price for a detached home is $1,800,600 (23% increase over last year), for an apartment home is $737,100 (8% increase since May 2020) and of a townhouse is $936,300 (16% increase from May 2020). 
LINK
to the May 2021 REBGV statistics.
NEAR RECORD-BREAKING NEW LISTINGS IN THE FRASER VALLEY NOT ENOUGH TO MATCH INSATIABLE BUYER DEMAND
Fraser Valley's extraordinary pandemic real estate market continued to break sales records – for the ninth consecutive month – while at the same time, reaching near-historic levels of new listings in May.
In May, the Fraser Valley Real Estate Board (FVREB) processed 2,951 sales on its Multiple Listing Service® (MLS®), an increase of 267% compared to May 2020 and a 2% decrease compared to April. (Note that last year, the market was significantly restricted due to the lockdown.) The previous record high for sales in May for the Fraser Valley region was 2,911 in 2016.
Larry Anderson, President of the Board, said, "Demand hasn't changed. What's changed is supply. In the last three months, buyers have 40% more inventory to look at in the Fraser Valley and it's allowed them to take back a little control. We're seeing resistance to multiple offers and buyers adjusting their offers, or even waiting, because they have more selection. We're a long way from a balanced market, but supply is helping us to head in the right direction."
In May, the Board received the second-highest volume of new listings ever; approaching May 2018 levels. The Board received 3,926 new listings in May, an increase of 78% compared to last year, and a decrease of 22% compared to April 2021.
LINK
to the May 2021 FVREB statistics.
MARKET CALMS SLIGHTLY IN MAY BUT CONTINUES TO SIZZLE
May saw sales of 534 single-family detached properties compared to 590 in April, a dip of 9%. In the condo apartment category, 150 units sold last month versus 133 in April, up by 13%. In the townhouse market, sales dropped by 11%, with 94 units selling in May compared to 106 the previous month. (Since the pandemic began at this time last year, and the economic lockdown significantly slowed down the housing market – at least initially – our usual year-over-year sales comparisons are not particularly helpful right now.)
Slight upticks in active listings are opening up a few more opportunities for buyers, but inventory on Vancouver Island is still historically tight. Active listings of single-family homes rose by 9% month over month while townhouse inventory increased by five per cent. In the condo apartment category, however, active listings dropped by 10% from April. The British Columbia Real Estate Association (BCREA) reports that it would take approximately 2,500 new listings in the VIREB area to create a balanced housing market under current conditions. Sellers remain firmly in the driver's seat, and many buyers face fierce competition in their home search. Multiple offers are the norm rather than the exception, and many homes are selling over the asking price.
"Listings are up a little in certain markets, which is certainly good news for buyers," says 2021 VIREB president Ian Mackay. "However, unless demand drops significantly or more housing supply comes online through new construction, we don't see the inventory situation improving much."
VIREB's heated housing market continues to impact prices, which are rising throughout the board area. The benchmark price of a single-family home hit $692,600 last month, up by 5% from April and 27% higher than in May 2020. The benchmark price of an apartment reached $355,000, a year-over-year increase of 16 % and 3% higher than in April. The benchmark price of a townhouse rose by 29% year over year and by 4% from April, climbing to $527,200.
 LINK
to the May 2021 VIREB statistics.
The Stats Centre Reports for the REBGV for May are available now on our website at this link under the 

"BLOG AND STATS" heading

.  They are automatically updated every month on our website as they become available

. LINK 
Note that you may have to refresh the screen a few times until all the reports come up. This is a problem with the Real Estate Board website. 
Below is a link to a graph showing the rise in prices in the Lower Mainland just for resale properties (no new homes) over the last year. This link is live so it will update when the new statistics come in each month. LINK to live graph