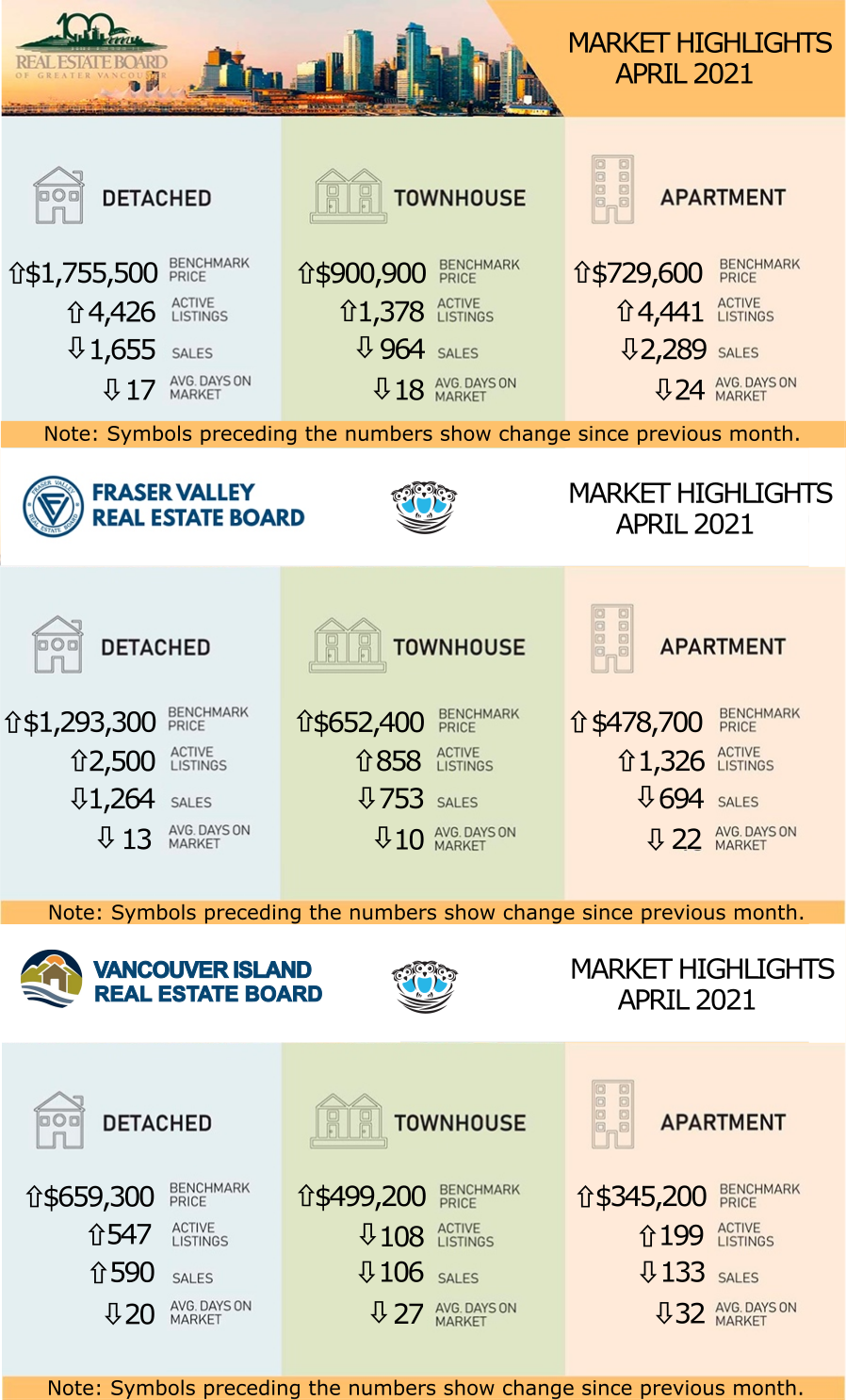 SUPPLY RESPONSE EMERGES IN METRO VANCOUVER'S ACTIVE HOUSING MARKET

Home sellers have become increasingly active in Metro Vancouver's housing market this spring in response to heightened demand and rising home values that have materialized during the pandemic. Residential home sales in the region totalled 4,908 in April 2021, a 343% increase from the 1,109 sales recorded in April 2020, and a 14% decrease from the 5,708 homes sold in March 2021.

April's sales were 56% above the 10-year April sales average and are the highest total on record for the month.

"Our housing market has changed considerably from one year ago when COVID-19 concerns brought activity to a near standstill," Keith Stewart, REBGV's economist said. "This was followed by a well-documented spike in home buyer demand across the region. So far this spring, we've seen a corresponding supply response from home sellers."

There were 7,938 detached, attached and apartment homes newly listed for sale on MLS in Metro Vancouver in April 2021. This represents a 243% increase compared to the 2,313 homes listed in April 2020, a 4% decrease compared to March 2021 when 8,287 homes were listed and is the highest new listing total ever recorded in the region in April.

"While homes are now being listed at record levels, more supply is needed to meet today's demand and help market conditions achieve greater balance," Stewart said.

"Record low-interest rates, increased household savings, a strengthening economy and a continued focus on living space during the pandemic are all factors that are helping to bolster demand while steady price growth is encouraging more sellers to list their homes," Stewart said.
LINK
to the April 2021 REBGV statistics.
MONTHLY SALES AND NEW LISTINGS IN THE FRASER VALLEY CONTINUE BLISTERING PACE; SURGE IN INVENTORY STARTING TO CALM PRICES
For the eighth consecutive month, Fraser Valley real estate saw record-breaking sales with April topping the previous monthly high set in 2016. The 2020/2021 pandemic seller's market in the Fraser Valley has now surpassed the previous longest stretch of seven consecutive, record-breaking months, last set in 2015/2016.

In April, the Fraser Valley Real Estate Board (FVREB) processed 3,016 sales on its MLS, an increase of 338% compared to April 2020 and a 9% decrease compared to March. (Note that sales and new listings in April 2020 were significantly restricted due to the pandemic lockdown.) The previous record high for sales in April was 2,969 in 2016.

Larry Anderson, President of the Board, said, "Although it remains very competitive and challenging for buyers, April could be the turning point in this historic market. In the last couple of weeks, we have seen evidence of a change in pace.

"In general, we're seeing fewer multiple offers, fewer subject-free offers, and homes over-priced are starting to sit longer. These are positive signs that the market is responding to near-record levels of new inventory."

The Board received the highest volume of new listings ever in March 2021 and that elevated pace continued in April. Last month, the Board received 5,018 new listings, an increase of 254% compared to April 2020, and a decrease of 1% compared to March 2021. The influx of new listings improved supply with total active inventory reaching 6,030 in April 2021, 20 percent higher than in March and the highest it's been in six months.

Baldev Gill, Chief Executive Officer of the Board, added, "Buyers and sellers will note that we're already seeing increases in home prices start to slow in response to the new supply.
LINK
to the April 2021 FVREB statistics.
LITTLE RELIEF FOR FRUSTRATED BUYERS IN APRIL
There was little relief for frustrated buyers in April despite an increase in active listings. Inventory of single-family homes and condo apartments rose by 8% and 16%, respectively, but active listings of townhouses dropped by 8%.
The pervasive lack of inventory has created a strong sellers' market, and buyers face fierce competition in their home search. Multiple offers are the norm rather than the exception, and many homes are selling over the asking price.
"Buyers are understandably frustrated, and it's also disheartening for REALTORS®," says 2021 VIREB president Ian Mackay. "Whether they're buyers or sellers, we want to make our clients happy." Mackay echoes the sentiments voiced by the British Columbia Real Estate Association (BCREA), which does not see the inventory situation improving until more supply comes online.
BCREA and local real estate boards are advocating with policymakers at the provincial and regional levels to speed up the development process so that municipalities can expand supply more quickly to meet demand. "We have seen that demand-side policies like taxes and higher mortgage rates are just not working," notes Mackay. "The best route to making housing more affordable, particularly for first-time buyers, is to increase supply. It's not a quick solution, but it's the only one that makes sense long-term."
 LINK
to the April 2021 VIREB statistics.
The Stats Centre Reports for the REBGV for April are available now on our website at this link under the 

"BLOG AND STATS" heading

.  They are automatically updated every month on our website as they become available

. LINK 
Note that you may have to refresh the screen a few times until all the reports come up. This is a problem with the Real Estate Board website. 
Below is a link to a graph showing the rise in prices in the Lower Mainland just for resale properties (no new homes) over the last year. This link is live so it will update when the new statistics come in each month. LINK to live graph