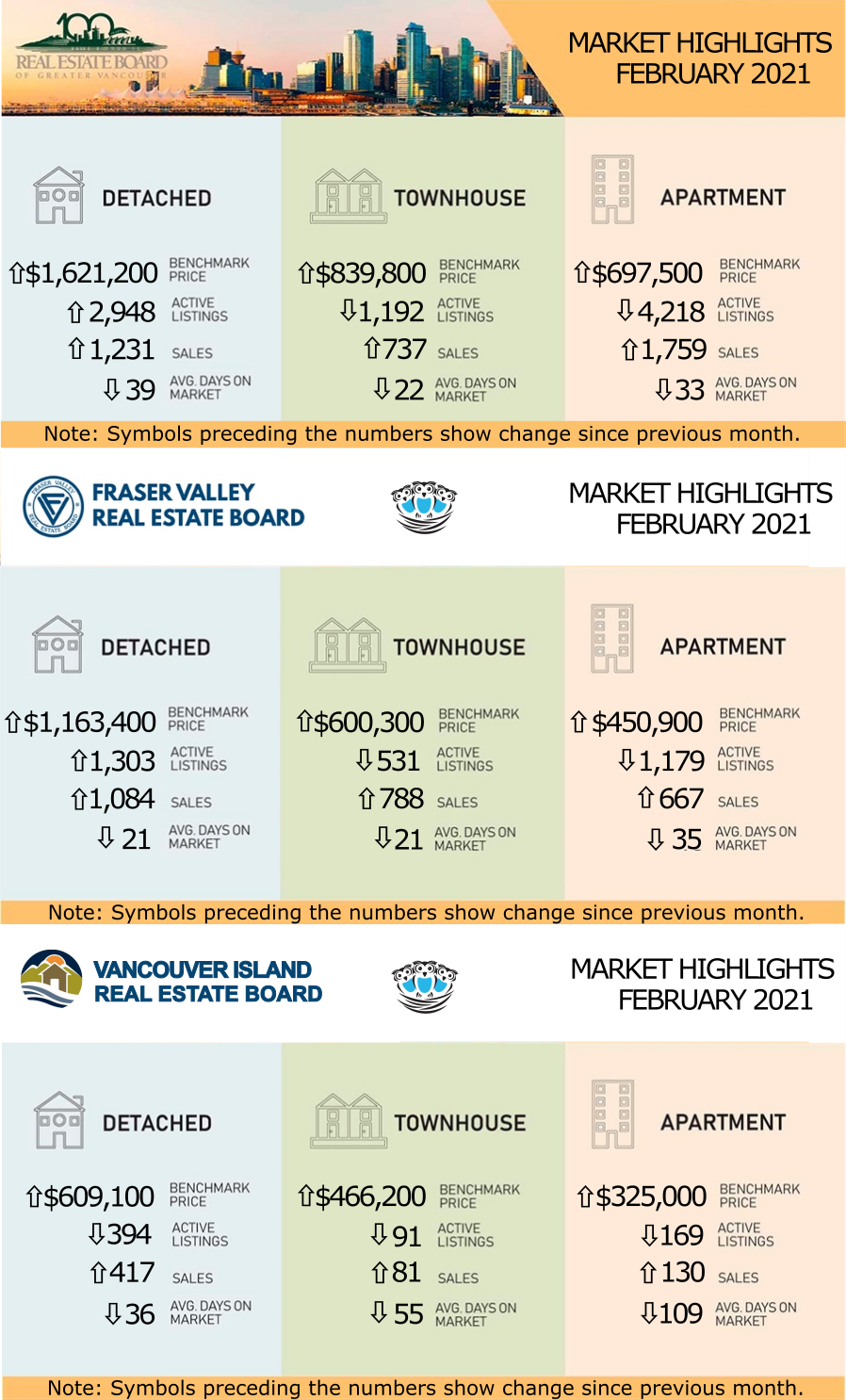 HOME BUYER COMPETITION INTENSIFIES ACROSS METRO VANCOUVER'S HOUSING MARKET

Last month's sales were 42.8 percent above the 10-year February sales average.

"Metro Vancouver's housing market is experiencing seller's market conditions. The supply of listings for sale isn't keeping up with the demand we're seeing. Competition amongst home buyers is causing upward pressure on home prices." 

"This is particularly true in the townhome market where demand is outstripping the available supply. Conditions differ depending on location and property type so it's important to work with your local REALTOR® to develop strategies to meet your needs." Colette Gerber, REBGV Chair

For all property types, the sales-to-active listings ratio for February 2021 is 44.6 percent. By property type, the ratio is 41.8 percent for detached homes, 61.8 percent for townhomes, and 41.7 percent for apartments.

Generally, analysts say downward pressure on home prices occurs when the ratio dips below 12 percent for a sustained period, while home prices often experience upward pressure when it surpasses 20 percent over several months.

"Low-interest rates remain a key driver in today's market. We're seeing steady numbers of first-time homebuyers and move-up buyers entering the market," Gerber said.

Less populated communities within the region continue to experience the largest year-over-year price increases across all property types. Examples include Bowen Island (34.4 percent increase), the Sunshine Coast (32.7 percent increase), West Vancouver (16.1 percent increase) Maple Ridge (14.8 percent increase) and Ladner (13.7 percent increase).
LINK
to the February 2021 REBGV statistics.
ANOTHER MONTH, ANOTHER RECORD FOR PROPERTY SALES IN THE FRASER VALLEY
For the sixth consecutive month, Fraser Valley's real estate market experienced property sales at levels never seen before in the 100-year history of the Fraser Valley Real Estate Board (FVREB).
In February, the FVREB processed a total of 2,815 sales on its Multiple Listing Service® (MLS®), an increase of 108 percent compared to February 2020 and 64 percent more than were processed in January 2021. To provide a historical perspective, sales in February were 88 percent above the 10-year average for that month; and 18 percent higher than the previous record of 2,387 sales in February 2016.
Chris Shields, President of the Board said of this month's record numbers, "
This is new territory for us. We have never seen such consistent and persistent demand for housing in the Fraser Valley."
"
What's fueling the demand is the combination of record-low interest rates and the response to the pandemic. It's not something that could have been predicted and it has created a very complex market for buyers that requires the knowledge and expertise of a professional. For family-sized homes, prices climbed 3 to 5 percent in February alone and sold on average in three weeks. We understand the stress and frustration with the market currently and we're here to help guide and protect home buyers.
"
Baldev Gill, Chief Executive Officer of the Board, added, "
We know more people are choosing to move to the Fraser Valley right now because they're seeking more usable space, a better quality of life, and they recognize that their housing dollar goes further. The challenge is selection. We anticipate as the vaccination roll-out accelerates, confidence to list will increase and we'll see inventory return to more normal levels.
"
LINK
to the February 2021 FVREB statistics.
BUYER DEMAND CONTINUES TO OUTSTRIP SUPPLY
Buyer demand in the VIREB area continues to outstrip supply, contributing to the lowest inventory on record for the board.
Low inventory continues to dampen sales and frustrate buyers. The demand is there, but there are not enough listings to satisfy it.
"
The federal and provincial governments tend to focus on demand-side policies instead of addressing the supply issue,
" says 2021 VIREB president Ian Mackay. "T
axes and tighter mortgage restrictions are stopgap measures that don't resolve the underlying problem.
"

The British Columbia Real Estate Association (BCREA) does not see the inventory situation improving until more supply comes online later in the year. BCREA and local real estate boards are advocating with policymakers at the provincial and regional levels to encourage streamlining the development process so that municipalities can expand supply more quickly to meet demand.

"The length of time it takes to get a development off the ground is a serious problem on Vancouver Island, which is becoming an increasingly popular destination for buyers of all ages," says Mackay. "While our area has always attracted retirees, we're seeing younger buyers more frequently than in the past."

Mackay advises that while obtaining the advice of a REALTOR® can help in any market, it is particularly crucial in a multiple-offer environment. "In a competitive housing market, using a REALTOR® can help streamline the buying and selling process to ensure the best possible outcome while mitigating associated risks," adds Mackay.
LINK
to the February 2021 VIREB statistics.
The Stats Centre Reports for the REBGV for February are available now on our website at this link under the 

"BLOG AND STATS" heading

.  They are automatically updated every month on our website as they become available

. LINK 
Note that you may have to refresh the screen a few times until all the reports come up. This is a problem with the Real Estate Board website. 
Below is a link to a graph showing the rise in prices in the Lower Mainland just for resale properties (no new homes) over the last year. This link is live so it will update when the new statistics come in each month. LINK to live graph 
7 MOTIVATIONS THAT ARE DRIVING HOMEOWNERS TO REFINANCE THEIR HOMES
Interest rates are at a historically low level right now and with those low rates comes opportunity. These opportunities include reducing your interest cost, borrowing to create wealth, or buying yourself some things that you've always wanted. To take advantage of these opportunities, you may need to refinance your current mortgage.
What does refinancing entail?
It involves accessing the equity in your home and changing the terms of your current mortgage (rate, amortization, and mortgage amount).  What you have to watch out for is the potential for mortgage penalties and there may be appraisal and closing costs, as well. Your lender looks at the mortgage as an investment, so if you are changing the terms of the deal prior to the renewal date, you are devaluing the investment that the lender has made. Therefore, penalties will apply. To cover these costs, you can often use the equity in your home. 
Why would you take out equity in your home right now?
Here are 7 reasons clients are currently refinancing their homes:

1) Optimize Your Current Rate: In simple terms, trade-in your higher rate for a lower rate. There would be a cost to do this and we'd have to factor in a mortgage penalty and closing costs to make sure it makes sense to do so. This typically won't cost you anything out of pocket as the equity in your home would cover this. Let's say your mortgage penalty and closing costs equal $7,000 but the savings from a lower interest rate is $12,000. This means you could save $5,000 and not pay anything out of pocket.
2) Home Renovations: You could use the equity in your home to finance that new kitchen you've always wanted, finish the basement and increase your livable space, add a pool to the backyard, add a rental suite to help offset your mortgage payments, etc. 
3) Increase Monthly Cash Flow: Are you carrying a balance on higher interest debt that you just can't seem to pay down? You could put your high-interest debt with large monthly payments into a lower single mortgage payment. This is done to increase your monthly cash flow while also replacing your high-interest debt with a much lower interest rate. Keep in mind that you have just traded a potentially shorter term "loan" for a loan that you could be paying off over 25 years or more. 
4) Investments: You could use the equity in your home for a down payment on an investment property. You could also put those funds into a more traditional investment like a mutual fund, stocks, etc.
5) Pay For School Or Higher Education: Do you have kids who are heading off to post-secondary education or is there some form of education that you've always wanted to do but didn't have the funds available?
6) Buy A Second Home: This could be a cottage-type property or even a second home for a family member who needs help.
7) Start A Business: Getting a business loan from the bank is becoming harder by the day. Did you have a new business idea or side hustle you've been wanting to start for a while but didn't have the capital to do?