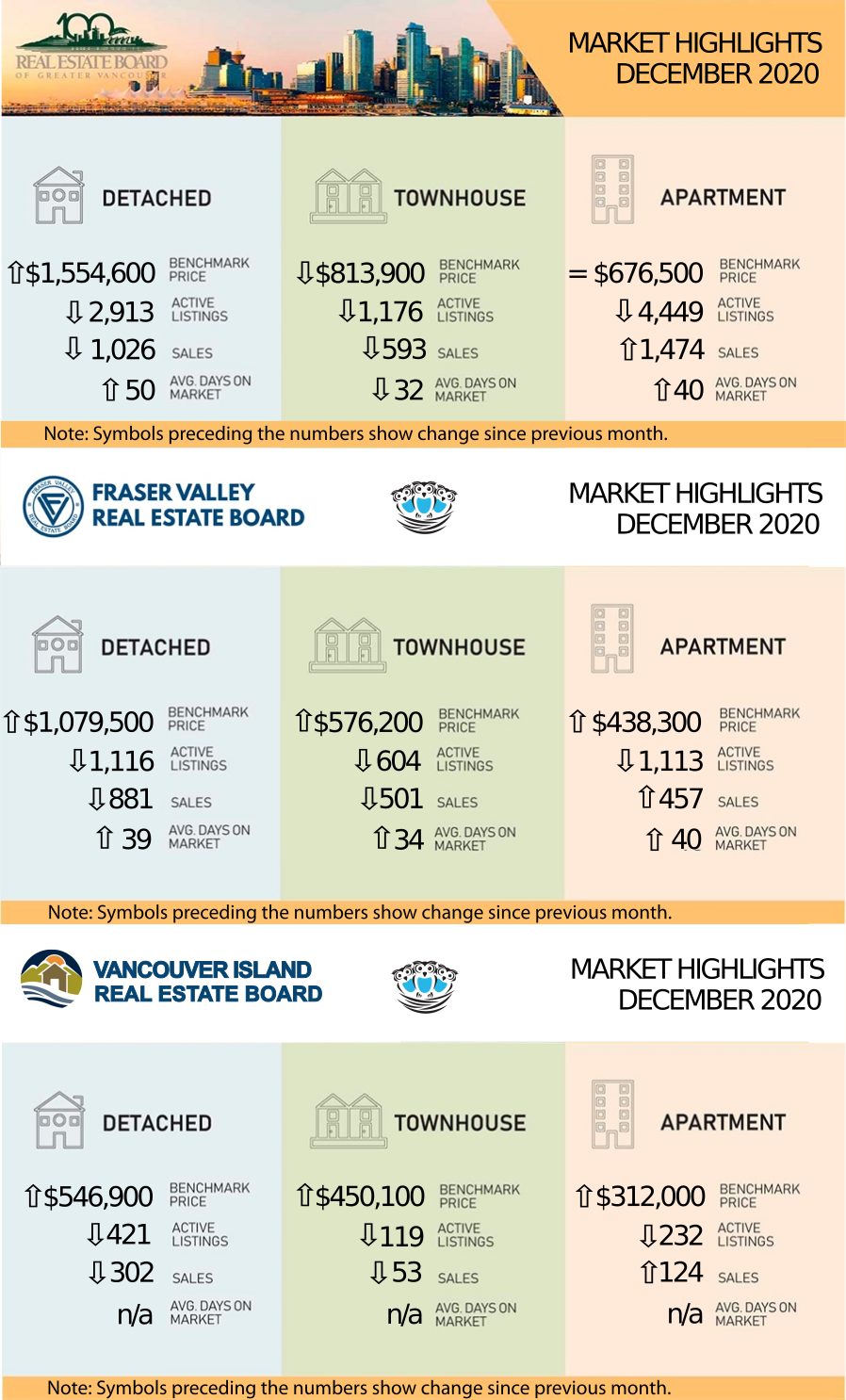 Well, that "H E double hockey sticks" year is finally over! The last month of 2020 managed to cap off a roller coaster of a year with a record number of sales. Low-interest rates are fueling a rush into real estate that we haven't seen for years. As we mentioned last month, townhouses and single-family homes are the primary beneficiaries of this sales growth, with condos falling far behind.
Metro Vancouver housing market shows resilience in 2020
The Real Estate Board of Greater Vancouver (REBGV) reports that residential home sales in the region totalled 30,944 in 2020, a 22.1 percent increase from the 25,351 sales recorded in 2019, and a 25.7 percent increase from the 24,619 homes sold in 2018. Last year's sales total was 2.8 percent below the 10-year sales average.

"When the pandemic began in March, the housing market came to a near standstill. We knew, however, that shelter needs don't go away in times of crisis, they intensify," Colette Gerber, REBGV Chair said. "After adapting to the COVID-19 environment, local home buyer demand and seller supply returned at a steady pace throughout the summer, fall and winter seasons," Gerber said. "Shifting housing needs and low-interest rates were key drivers of this activity in 2020. Looking ahead, the supply of homes for sale will be a critical factor in determining home price trends in 2021."

Last month's sales were 57.7 percent above the 10-year December sales average and is the highest total for the month on record.
For all property types, the sales-to-active listings ratio for December 2020 is 36.2 percent. By property type, the ratio is 35.2 percent for detached homes, 50.4 percent for townhomes, and 33.1 percent for apartments.
Link to the full Greater Vancouver Stats Report
Record-shattering December caps unexpected year in Fraser
Valley real estate
In a year when the real estate market was at a standstill for months due to COVID-19, the total annual
sales in the Fraser Valley still finished 12.4 percent above the 10-year average due to unrelenting, pent-up consumer demand during the second half of 2020.

In December, the Board's Multiple Listing Service® (MLS®) processed a staggering 2,086 sales, the strongest December on record and 81.2 percent above normal for the month. New listings in December, were the second-highest on record at 1,502. By month's end, active inventory finished below typical levels, at 3,949 units.

The total sales volume for the year in Fraser Valley was 19,926; an increase of 28.7 percent compared to 2019's 15,487 sales and placing it fourth-highest for annual sales since 2011
Chris Shields, President of the Board, observes, "The pandemic upended everything in 2020 and how the real
estate market responded to it was nothing short of remarkable. No one could have anticipated a six-month stretch like we've just experienced. Typical seasonal cycles did not apply, how we conduct business had to change to keep the public safe; and most unexpected, has been the unwavering demand for family-sized homes in our region and so far, there is no sign of it slowing down."
Lowest Inventory on Record Closes out the Year
The Vancouver Island Real Estate Board (VIREB) reports that sales of single-family homes in December increased by 34 percent from one year ago and were 28 percent lower than in November.

Last month, 302 single-family detached properties (excluding acreage and waterfront) sold on the MLS® System compared to 226 in December 2019 and 422 in November 2020.
In the condo apartment category, sales rose by 94 percent year over year and 16 percent from November. Row/townhouse sales increased by 61 percent from the previous year but dropped by 41 percent from November.
Active listings of single-family detached properties were 421 in December compared to 541 in November, a 22 percent decrease and the lowest number on record. There were 232 condo apartments and 119 row/townhouses for sale last month, down 24 percent and 17 percent, respectively, from November.
As reported in previous media releases, low inventory continues to be the primary reason behind the weaker sales posted in November and December. The buyers are there, but the listings are not.
Link to the full Vancouver Island Stats Report

The Stats Centre Reports for the REBGV for December are available now on our website at this link under the 

"BLOG AND STATS" heading

.  They are automatically updated every month on our website as they become available

. LINK 
Note that you may have to refresh the screen a few times until all the reports come up. This is a problem with the Real Estate Board website. 
Below is a link to a graph showing the rise in prices in the Lower Mainland just for resale properties (no new homes) over the last year. This link is live so it will update when the new statistics come in each month. LINK to live graph
Other Stats