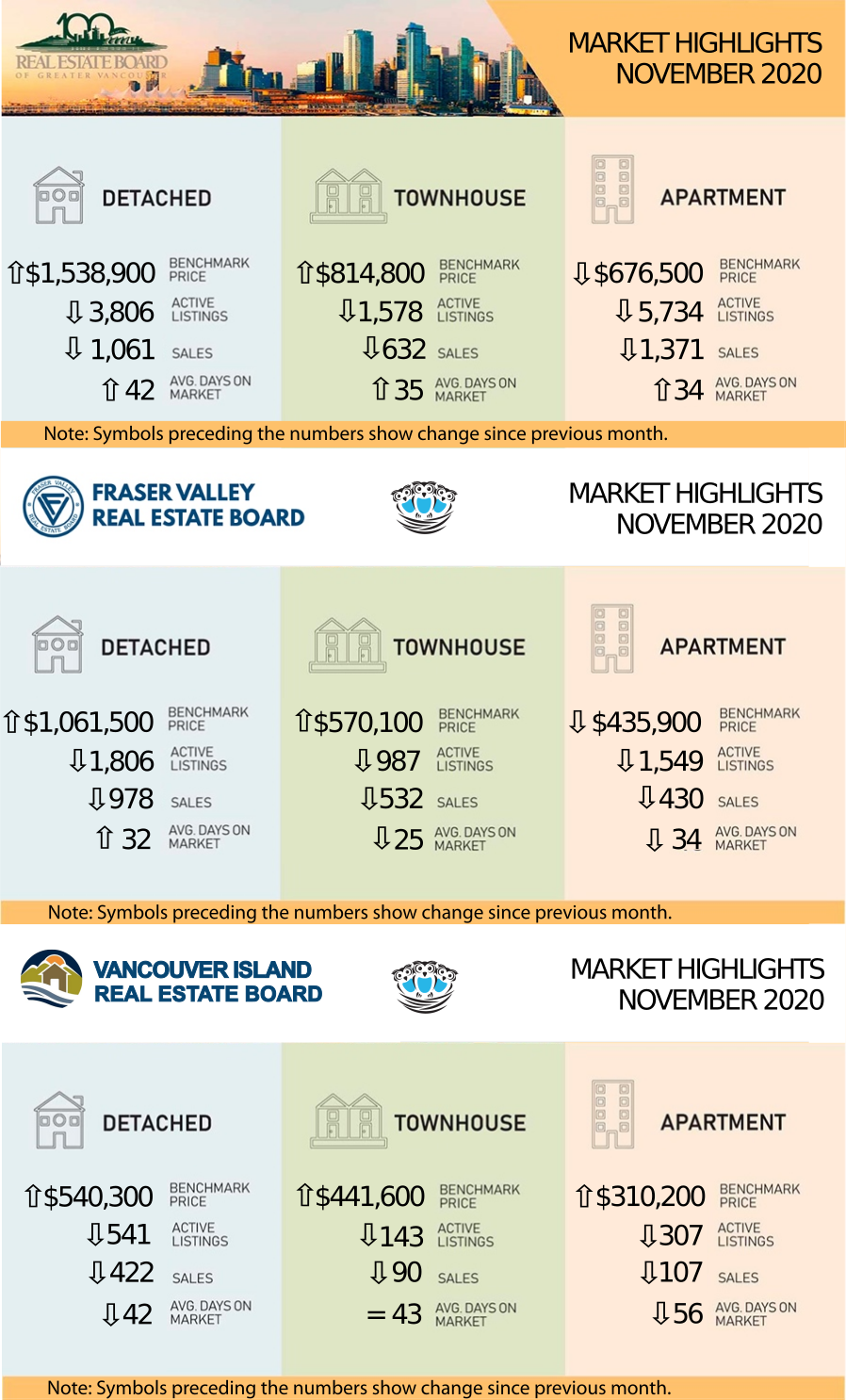 November 2020 exceeded everyone's expectations with sales at record or near-record levels in the townhouse and single-family home markets. We're seeing some desperation again for buyers in this present market who have lost out on many multiple offers. It is an especially difficult situation for those with a fixed completion date because of the sale of their existing home. The only consolation is that the banks are outbidding each other to provide lower and lower interest rates, with HSBC having the record so far with a 0.99% offer!

It's going to be a difficult holiday season for most families as they try to not fall afoul of the Province's COVID restrictions. We'd just like to say "All the best!" to everyone. May 2021 be the year of healing for all of us.
November home sales outpace seasonal norms and long-term averages
Housing demand in Metro Vancouver* continues to outpace historical averages with November sales eclipsing 3,000 for the first time since 2015.

The Real Estate Board of Greater Vancouver (REBGV) reports that residential home sales in the region totalled 3,064 in November 2020, a 22.7 percent increase from the 2,498 sales recorded in November 2019, and a 16.9 percent decrease from the 3,687 homes sold in October 2020.

Last month's sales were 24.6 percent above the 10-year November sales average and was the second highest total in this period.
"Homebuyer demand has been at near record levels in our region since the summer," Colette Gerber, REBGV Chair said. "This is putting upward pressure on home prices, particularly in our detached and townhome markets."

There were 4,068 detached, attached and apartment homes newly listed for sale on the Multiple Listing Service® (MLS®) in Metro Vancouver in November 2020. This represents a 36.2 percent increase compared to the 2,987  homes listed in November 2019 and a 27 percent decrease compared to October 2020 when 5,571 homes were listed.

The total number of homes currently listed for sale on the MLS® system in Metro Vancouver is 11,118, a 3.2 percent increase compared to November 2019 (10,770) and a 10.5 percent decrease compared to October 2020 (12,416).

"The supply of homes for sale is a critical factor in understanding home price trends," Gerber said. "The total number of homes for sale in Metro Vancouver is lagging behind the pace of demand right now. This trend favours home sellers in today's market."

For all property types, the sales-to-active listings ratio for November 2020 is 27.6 percent. By property type, the ratio is 27.9 percent for detached homes, 40.1 percent for townhomes, and 23.9 percent for apartments.
Link to the full Greater Vancouver Stats Report
Unrelenting demand for Fraser Valley detached and townhomes continued in November
For the fifth consecutive month, demand for real estate in the Fraser Valley showed no signs of waning. Overall property sales for the month of November again set a new Board record. Sales records were also broken in September and October; and since July, all activity including new listings, has continued to be inordinately high.

The Fraser Valley Real Estate Board processed 2,173 sales of all property types on its Multiple Listing Service® (MLS®) in November, an increase of 54.7 percent compared to the 1,405 sales in November of last year, and an 8.3 percent decrease month-over-month compared to the 2,370 sales in October.

The Board received 2,217 new listings in November, a 28.0 percent decrease compared to October's intake and an 18.1 percent increase compared to the 1,877 new listings received during the same month last year. For November, it was the second highest volume of new inventory in the last decade.

Chris Shields, President of the Board, observes, "We're running out of superlatives. We expected November activity to moderate due to the season, but the desire for family-sized homes and their benefits continues to dominate. Since the summer, we've seen the strongest demand in our Board's 99-year history specifically for single-family detached and townhomes.

"For example, in Cloverdale, demand for detached homes exceeded supply; and in four of our communities, the sales-to-active ratio for townhomes was 50 percent or more. Meaning, for every 100 active listings, 50 were selling."
Strong buyer demand hampered by low inventory
Last month, 422 single-family detached properties (excluding acreage and waterfront) sold on the MLS® System compared to 318 in November 2019, a 33 percent increase. Sales dipped by 19 percent from October.

In the condo apartment category, sales rose by 65 percent year over year and decreased by 17 percent from October. Row/townhouse sales increased by 84 percent from the previous year but dropped by eight percent from October.

"Although sales decreased in September and October, we attribute it to a lack of inventory, not weakening demand," says VIREB president-elect Ian Mackay. "The buyers are there, but the listings aren't." 

Active listings of single-family detached properties were 541 in November compared to 733 in October, a 26 percent decrease. There were 307 condo apartments and 143 row/townhouses for sale last month, down eight percent and 27 percent, respectively, from October.
Link to the full Vancouver Island Stats Report
The Stats Centre Reports for the REBGV for November are available now on our website at this link under the 

"BLOG AND STATS" heading

.  They are automatically updated every month on our website as they become available

. LINK 
Note that you may have to refresh the screen a few times until all the reports come up. This is a problem with the Real Estate Board website. 
Below is a link to a graph showing the rise in prices in the Lower Mainland just for resale properties (no new homes) over the last year. This link is live so it will update when the new statistics come in each month. LINK to live graph
The indicator that I often use to gauge how hot the market is the number of deals that come together at or above the asking price. This indicates that the seller is firmly in control of the market. It may also indicate a lack of inventory in comparison to the number of willing buyers. The condo market has lagged both the townhouse and single-family home markets in the last few months and it is shown in the numbers below: