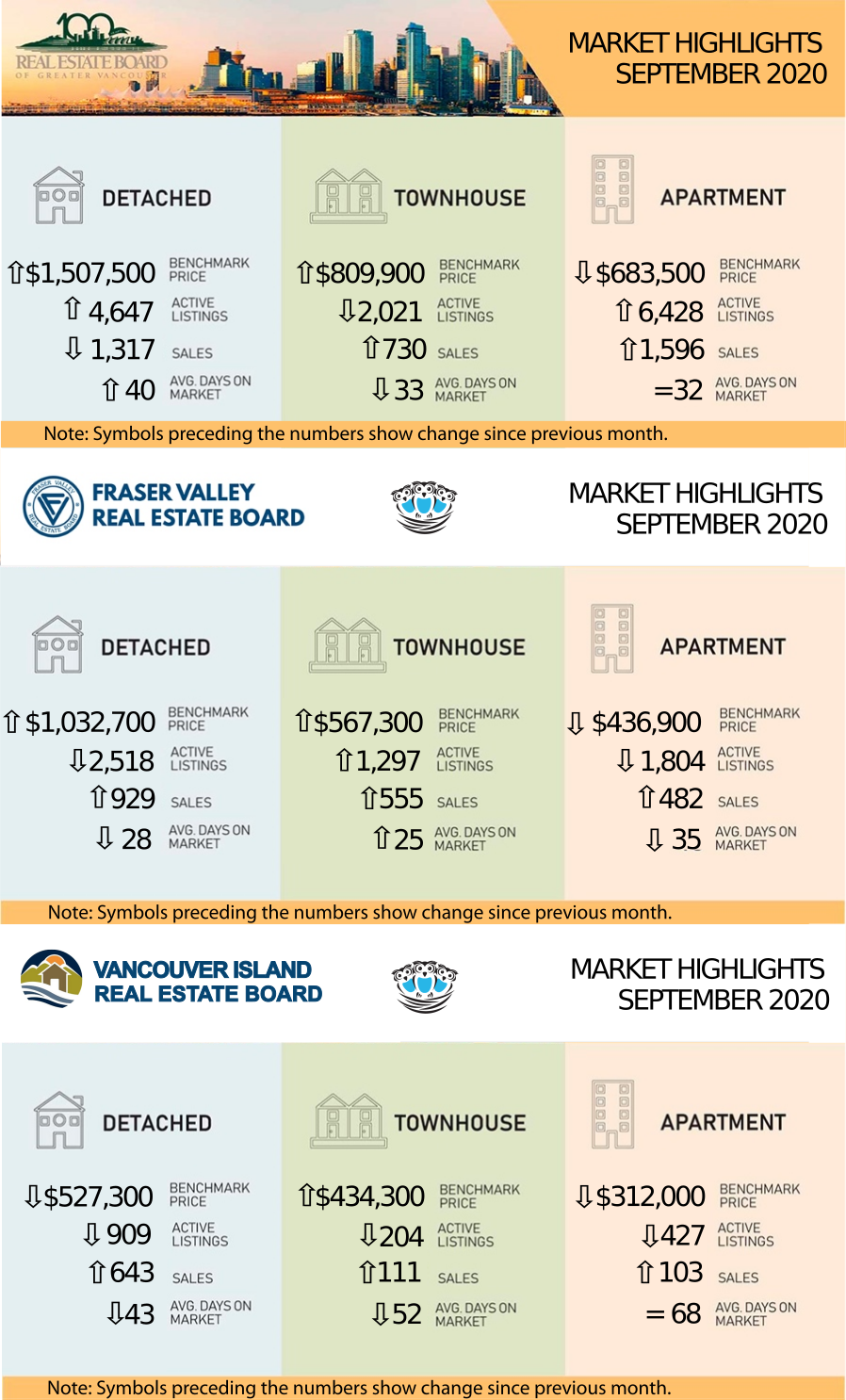 September was a very busy month in real estate in almost all areas. Even the smoke from the fires south of the border couldn't keep the buyers away. Check out the pictures of homes that were listed around the middle of September and there is no blue sky to be seen. I feel bad for those sellers that normally have amazing views from their homes only to have clouds of smoke obscuring that advantage.

Metro Vancouver home sales and listings surge in September
"The Real Estate Board of Greater Vancouver (REBGV) reports that residential home sales in the region totalled 3,643 in September 2020, a 56.2 percent increase from the 2,333 sales recorded in September 2019, and a 19.6 percent increase from the 3,047 homes sold in August 2020.

Last month's sales were 44.8 percent above the 10-year September sales average and is the highest total on record for the month.

"We've seen robust home sale and listing activity across Metro Vancouver throughout the summer months," Colette Gerber, REBGV Chair said. "This increased activity can be attributed, in part, to lower interest rates and changing housing needs during the COVID-19 pandemic."
Housing market activity reaches historic levels in September in Fraser Valley
"The Fraser Valley Real Estate Board processed 2,231 sales on its Multiple Listing Service® (MLS®) in September, an 
increase of 66.1 percent compared to the same month last year and an increase of 9.4 percent compared to August 
2020. This is the highest recorded sales for September in the history of FVREB.

In the last three months, Fraser Valley has seen a defined shift in demand towards single-family detached homes with 
sales in July through to September garnering 47 percent of the three main residential types, compared to 43 percent 
during the same period last year.

Chris Shields, President of the Board, observes, "Our homes have never been more important. Across the Fraser Valley, 
we're seeing a trend towards buyers looking for more space and livability in both single-family homes and townhomes."
Vancouver Island Board: Robust housing market being fuelled by many factors
" The Vancouver Island Real Estate Board (VIREB) recorded 1,287 unit sales (all categories) last month compared to 692 in September 2019, a healthy showing amid the economic downturn caused by a global pandemic. Breaking those numbers down, 643 single-family detached properties (excluding acreage and waterfront) sold in September compared to 324 the previous year. Sales of condo apartments rose by 46 percent year over year while row/townhouse sales increased by 28 percent.


"The strength of our housing market has surprised us somewhat," says VIREB president Kevin Reid. "We frankly did not expect it to recover so quickly from the COVID-19 effect."The Vancouver Island Real Estate Board (VIREB) recorded 1,101 unit sales (all categories)last month, a 39 percent increase from August 2019."

The Stats Centre Reports for the REBGV for September are available now on our website at this link under the 

"BLOG AND STATS" heading

.  They are automatically updated every month on our website as they become available

. LINK 
Note that you may have to refresh the screen a few times until all the reports come up. This is a problem with the Real Estate Board website. 
Here are the full statistic packages for Greater Vancouver, the  Fraser Valley (which includes Surrey, North Surrey, South Surrey/White Rock, Cloverdale, Delta, Langley, Abbotsford, Chilliwack, and Mission), and Vancouver Island (which includes Campbell River, Comox, Duncan, Nanaimo, Parksville/Qualicum, and Port Alberni.) 
Below is a link to a graph showing the rise in prices in the Lower Mainland just for resale properties (no new homes) over the last year. This link is live so it will update when the new statistics come in each month. LINK to live graph
Twelve strange but true real estate stories
(Did Gustave Eiffel build a secret apartment for himself at the top of the Eiffel Tower?)