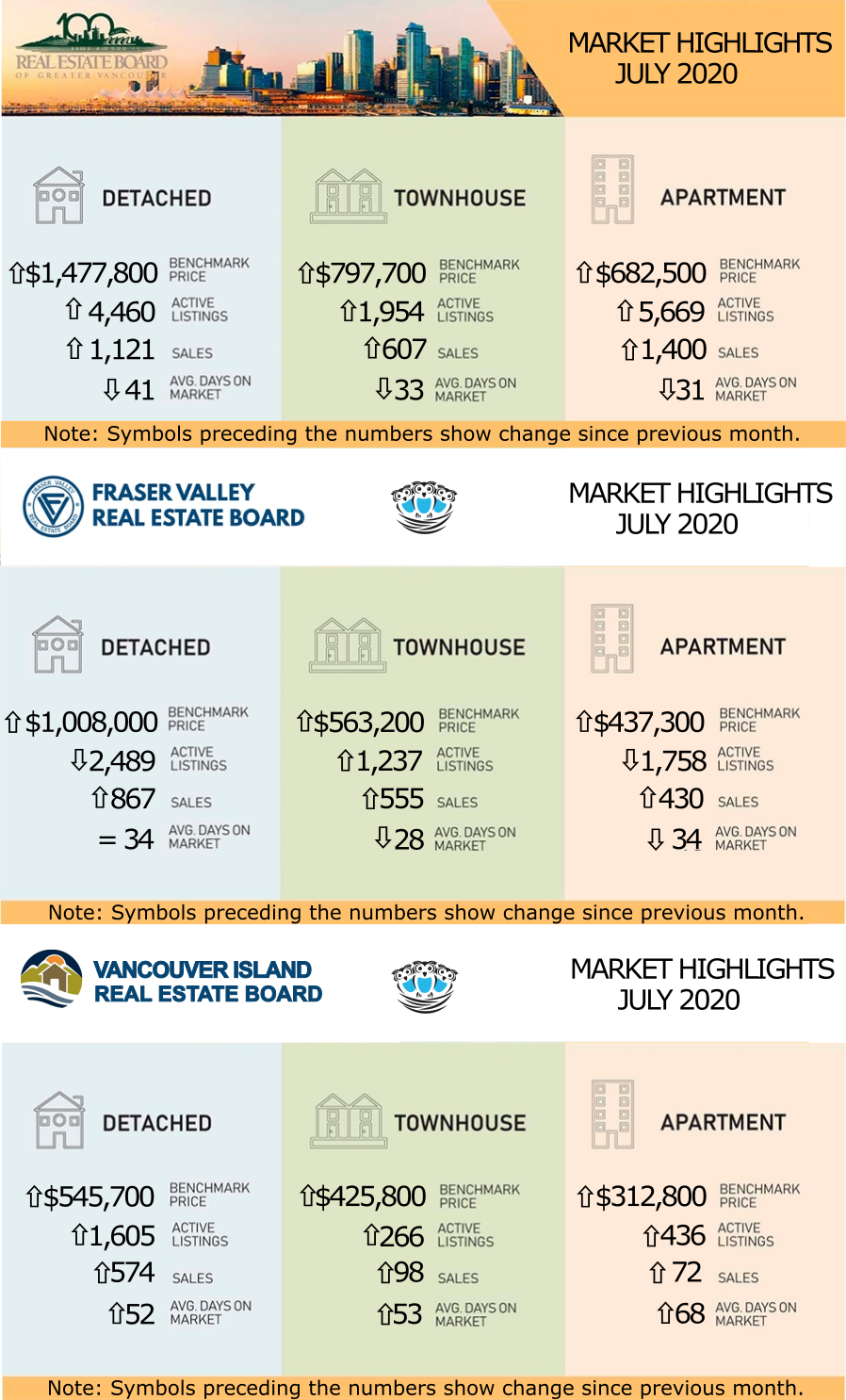 July 2020 continued on the same trend as the previous month as the pent-up buying and selling demand continued and accelerated the strong market activity. We have noticed a slight decrease in activity over the month of August over the previous weeks. It is probably due to many people taking advantage of the last weeks of summer to go out of town or to just relax and suspend their home-buying or selling activity. This is good news for anyone persevering as a buyer through these warm days as it should mean less competition when making an offer.

Lenders are offering amazing rates right now for both insured and uninsured mortgages. It is now possible to get a variable rate mortgage for under 2%! 
Detached Homes lead the market in the REBGV
Homebuyer and seller activity in Metro Vancouver exceeded historical levels in July.
The Real Estate Board of Greater Vancouver (REBGV) reports that residential home sales in the region totalled 3,128 in July 2020, a 22.3% increase from the 2,557 sales recorded in July 2019, and a 28% increase from the 2,443 homes sold in June 2020. Detached homes are the hottest segment of the market with 1,122 sales this July. This represents a 33.3% increase from July 2019. A total of 607 townhomes were sold this July, a 28% increase from July last year. 1,400 condos were sold this past month, representing a 12.6% increase from July 2019.
Fraser Valley detached homes reach the milestone mark of $1,000,0000
The FVREB processed a total of 2,100 sales in July, an increase of 22.2 percent compared to sales in June and an increase of 44 percent compared to the 1,458 sales during July of last year. This month, Fraser Valley hit a million-dollar benchmark price record for the detached houses. At $1,008,000, the Benchmark price for a single-family detached home in the Fraser Valley increased 1.4 percent compared to June and, increased 5.3 percent compared to July 2019. The benchmark for townhomes reached $563,200 - 0.6% increase from last month and a 3.3% increase year-over-year. The benchmark price for condos reached $437,300, a 0.5% increase from last month and a 3.8% increase year-over-year.
Chris Shields, President of the Board, observes, "In the context of the current pandemic environment, our market is significantly ahead of what we anticipated. We're seeing market conditions representing a seller's market for townhomes and single-family homes in the Fraser Valley. We attribute it to continued pent-up demand from what would have been a strong spring market for us; and clearly, near record-setting low-interest rates. Buyers should take note that in some of our communities, the lack of supply and increase in demand is putting upward pressure on home prices. The average price of a detached home in our region set a record high in July, last set two years ago during the same month."
From the VIREB Statistics Report:
" VIREB's housing market continues to recover from the COVID-19 downturn seen in April and part of May. The benchmark price of a single-family home board-wide was $545,700 in July, an increase of six percent from the previous year and two percent higher than in June. (Benchmark pricing tracks the value of a typical home in the reported area.) In the apartment category, the year-over-year benchmark price rose by four percent, hitting $312,800 and up marginally from June. The benchmark price of a townhouse in July rose by four percent year over year, climbing to $425,800 but down slightly from June. "

"Our housing market has seemingly rebounded from the COVID-19 dip we witnessed in April," says VIREB president Kevin Reid. "We believe that the recovery is being fueled by low-interest rates and supply shortages, and we're cautiously optimistic that the turnaround will last." "An interesting development we're noting is that there seems to be more demand for single-family homes and less interest in condominiums and townhouses at the moment," adds Reid. "It makes us wonder whether quarantine and lockdown have instilled a desire for more space among buyers."
The Stats Centre Reports for the REBGV for July are available now on our website at this link under the "BLOG AND STATS" heading.  They are automatically updated every month on our website as they become available. LINK 
Note that you may have to refresh the screen a few times until all the reports come up. This is a problem with the Real Estate Board website. 
Here are the full statistic packages for Greater Vancouver, the Fraser Valley (which includes Surrey, North Surrey, South Surrey/White Rock, Cloverdale, Delta, Langley, Abbotsford, Chilliwack, and Mission), and Vancouver Island (which includes Campbell River, Comox, Duncan, Nanaimo, Parksville/Qualicum, and Port Alberni.) 
Below is a link to a graph showing the rise in prices in the Lower Mainland just for resale properties (no new homes) over the last year. This link is live so it will update when the new statistics come in each month. LINK to live graph
BC Strata Insurance Market "Unhealthy": Study
A recent article in the Vancouver Courier, LINK, exposes the "unhealthy" nature of the strata property insurance market with rates up 40% on average, more than doubling in 6% of buildings. As well, many stratas have opted to try to reduce the rates by taking much higher deductibles on many of the risks. Where a strata might have had a $20,000 deductible for water damage, they could have a $100,000 or higher deductible. Essentially, this pushes the extra costs onto the strata lot owner by forcing them to have that additional coverage on their own personal policies.
From the article:
Among key report findings, based on a survey of 6,000 strata and townhouse properties, are:
• an average increase of 40% year-over-year to strata insurance premiums province-wide;
• a 50% increase in Metro Vancouver;
• 54% of strata properties experienced a premium increase of less than 30% compared to premiums the previous year;
• 31% of strata properties saw increases in the 30-50 % range;
• 9% faced year-over-year increases of 50 -100%; and
• 6% saw increases in excess of 100% compared to the previous year.
We wish everyone continued good health through these difficult times.
Cheers,
Barry, Olga, and Alice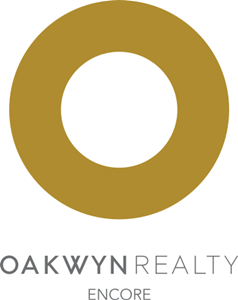 #6-228 Schoolhouse Street, Coquitlam, BC, V3K 6V7