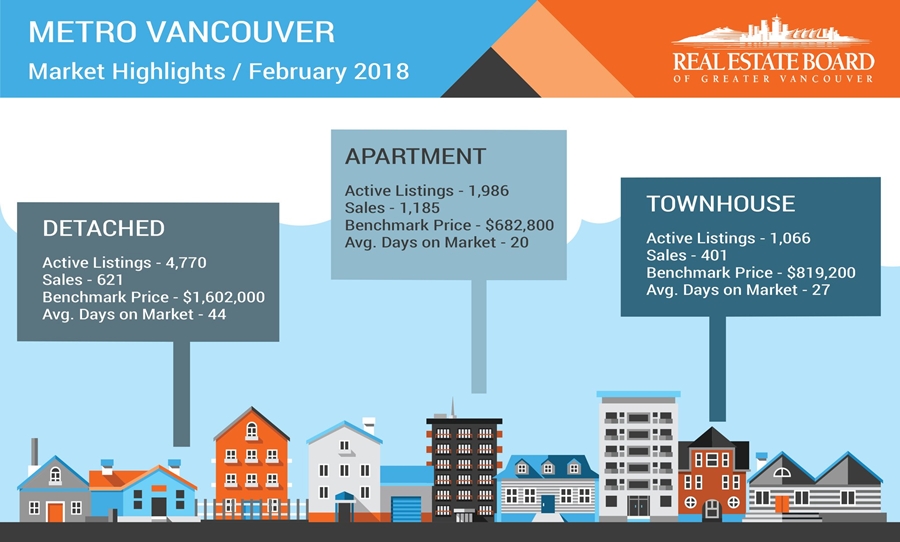 February 2018 brought record snowfall to the Lower Mainland and Fraser Valley areas in contrast to our soggy January.

This chill is also indicated in the Lower Mainland housing market as houses in particular have seen a drastic drop in the number of sales. February's sales of houses were almost 40% below the 10 year average for February. Levels like this have not been seen for many years. Despite this statistic, the Housing Price Index (HPI) for Lower Mainland houses crept up by 0.4% over January's HPI.

As a side note, the HPI numbers are based on the completion date of the sales, rather than the date that the sales contract became firm and binding. This means that there is a lag of 1 to 3 months in the HPI as most sales contracts allow this amount of time between the contract becoming firm and the transfer of the Title with the new owners taking possession.

For example, last month's HPI numbers are based on sales that could have happened from October to January.

The Fraser Valley sales were still above the 10 year average, with an almost equal division between attached and detached sales (52% of the total sales were townhouses and condos). The sales to active ratios for townhomes and condos were 67% and 75% respectively, while single family homes were around the 20% mark. 
Here are a few tables to better show what the most recent market statistics are doing.

As an example of reading the statistics below:  for one bedroom units in Metro Vancouver, 49 of the 68 sales (72%) were at or above the asking price (104.1% of the asking price, on average) and were on the market for an average of 10 days in the last week of February.

Red numbers
means the number is lower than the previous month.
Blue numbers
mean that the number is higher than the previous month.
Green numbers
mean that the number is the same as last month.
Metro Vancouver
Attached
Property Sales in the last week of February
Fraser Valley 
Attached
 Property Sales in the last week of February
Metro Vancouver
Detached
 Property Sales in the last week of February
Fraser Valley 
Detached
 Property Sales in the last week of February