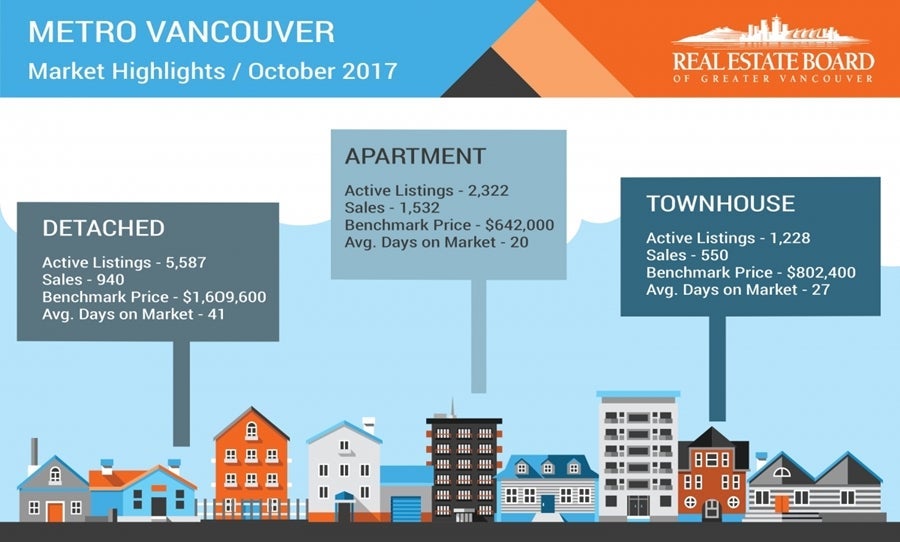 Wow! What a beautiful time of the year to be in Vancouver! The mountains had their first dusting of snow and the autumn leaves are extraordinarily vivid this season LINK to Global News.

Prices are dropping in the single-family home segment in most areas of the Lower Mainland, albeit by a very small margin. Down-sizers, in particular, are being affected as the prices of townhouses and apartments are rising while the value of their single-family home is shrinking. This may also affect families who are sharing the proceeds of their sale with their children by helping them with their down-payments.

Here are a few tables to better show what the most recent market statistics are doing.

For example, for one bedroom units in Metro Vancouver, 62 of the 86 sales (72%) were at or above the asking price (102.9% of the asking price, on average) and were on the market for an average of 15 days in the last week of October.

Metro Vancouver Attached Property Sales in the last week of October
From the REBGV's October Stats:
For all property types, the sales-to-active-listings ratio for October 2017 is 33.1 percent. By property type, the ratio is 16.8 percent for detached homes, 44.8 percent for townhomes, and 66.0 percent for apartments.
Generally, analysts say that downward pressure on home prices occurs when the ratio dips below the 12 percent mark for a sustained period, while home prices often experience upward pressure when it surpasses 20 percent over several months.
Note that the previous month (September 2017), the ratios were 29.6% for all properties, 14.6%
for
detached homes, 42.3% for townhomes, and 60.4% for apartments.
My prediction for November is exactly the same as for the last two months, that is, a continued weakening of the market for single-family homes but a continued demand for attached homes (condos and townhouses) resulting in increased upward pricing pressure but at a slower rate than before because of affordability concerns based on the new mortgage rates (and expiring mortgage rate-holds.)
Note that the upcoming mortgage changes have caused a "bump" in the market as buyers race to buy a property before their buying power is radically reduced.
In my opinion, the last two increases in the mortgage rates and the higher standards for mortgage qualification, as well as stiffening monetary controls from China will eventually flatten the market.
Included below are the latest statistics for real estate in the REBGV (Real Estate Board of Greater Vancouver) and FVREB (Fraser Valley Real Estate Board) areas. You will find a clickable link to each area below which will open up as a separate PDF file.
Click on the links
(in blue)
below for the statistics package for your area:
(The links each take a few seconds to open as they are files stored in my Google Drive.) 
Here are the full statistics packages for:
Greater Vancouver
The Fraser Valley
 (which includes Surrey, North Surrey, South Surrey/White Rock, Cloverdale, Delta, Langley, Abbotsford, Chilliwack, and Mission.)
Below is a link to a graph showing the rise in prices in the Lower Mainland just for resale properties (no new homes) over the last year. This link is live so it will update when the new statistics come in each month. 
LINK to live graph
Please feel free to contact us if you would like specific information for your sub-area or if you would like a market evaluation of the value of your home.
Cheers,
Barry, Olga, and Alice